Last week I visited Decorex at Olympia in London. Decorex is Europe's leading interior design event, and it has been running for 44 years. It's a great chance to see all the latest products, meet my suppliers, find new brands and suppliers and listen to some talks by leading names in the interior's world.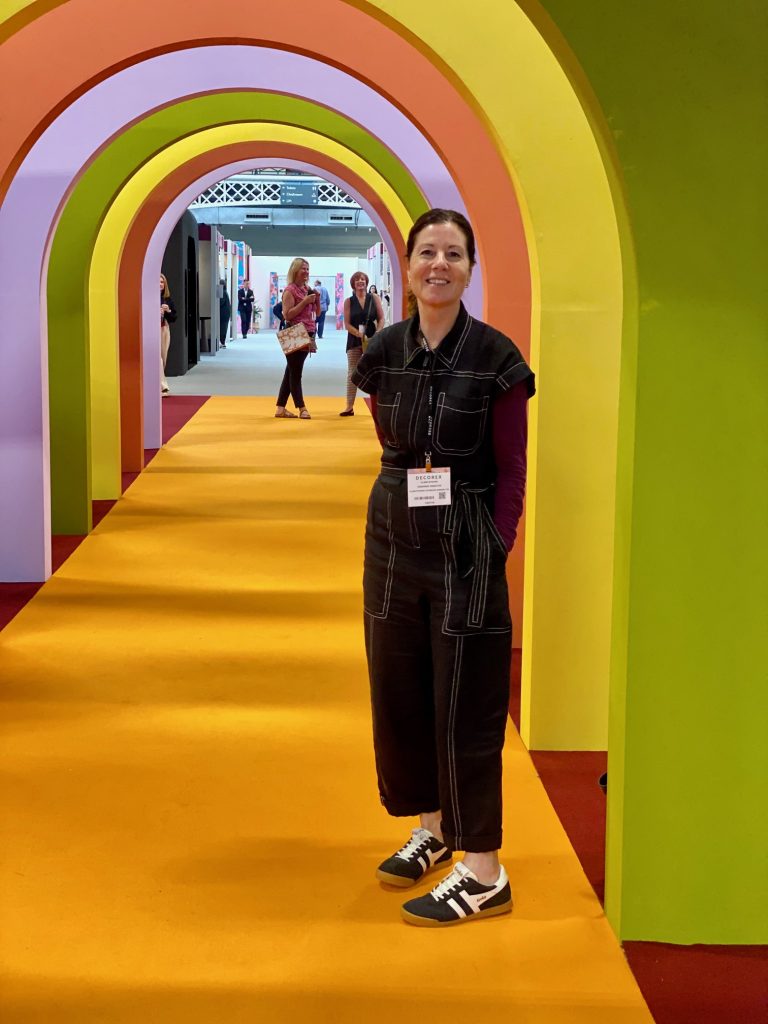 Here are a few highlights from the show:
Little Greene
Little Greene announced a new capsule collection and it's good enough to eat. Sweet Treats is a curated collection of warm, neutral shades of honey, caramel and chocolate, each colour inspired by delicious desserts and some of the world's most tasteful sweet treats. Mouth-watering names including 'Madeleine', 'Galette', 'Affogato', 'Muscovado' and 'Ganache' bring these enticing colours to life. This palette of nine versatile colours will bring warmth to your home.
I loved the stand. Such fun!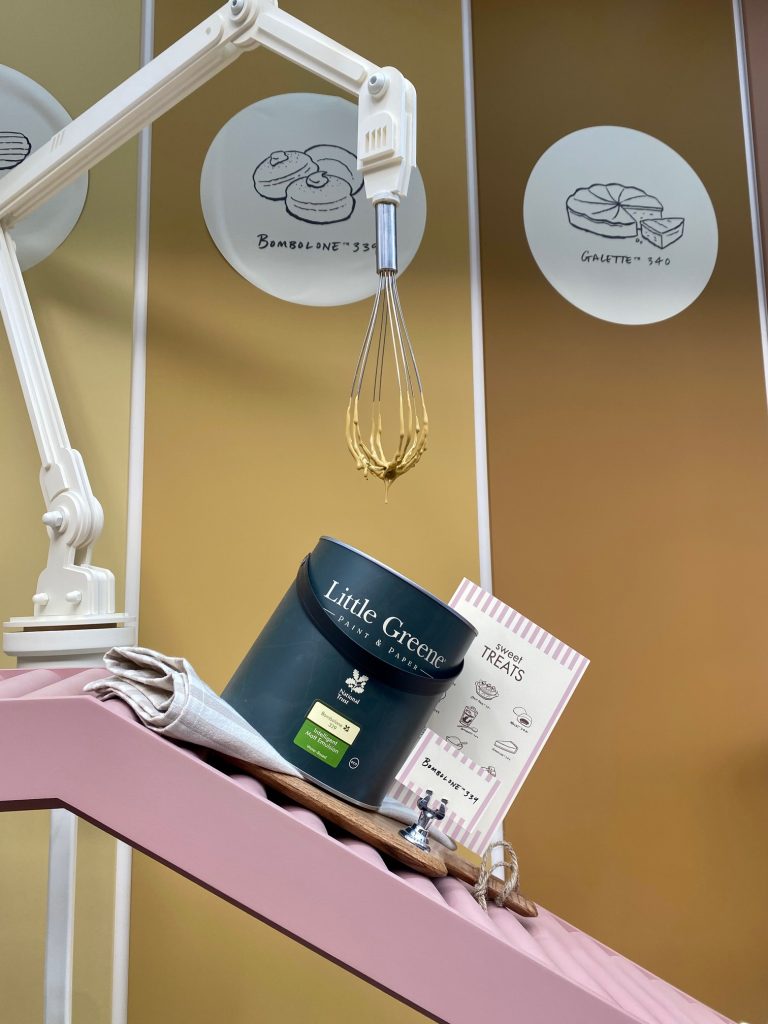 Ruth Mottershead, creative director says "These beautiful, brown-based hues can be used in every room. Due to their gentle and subdued nature, they are the perfect choice for bedrooms, bathrooms and living rooms, or any space where you wish to create a restful feel."
Original BTC
Original BTC manufacture relaxed lighting for traditional and contemporary homes inspired by Britain's post-industrial history – and they always have wonderfully inspiring stands. This year they showcased, their new chandelier the Cranton 25 Pendant. This hexagonal design features three tiers with overlaying bone china disks and will bring a touch of glamour to a bedroom, hallway or dining room with smaller dimensions.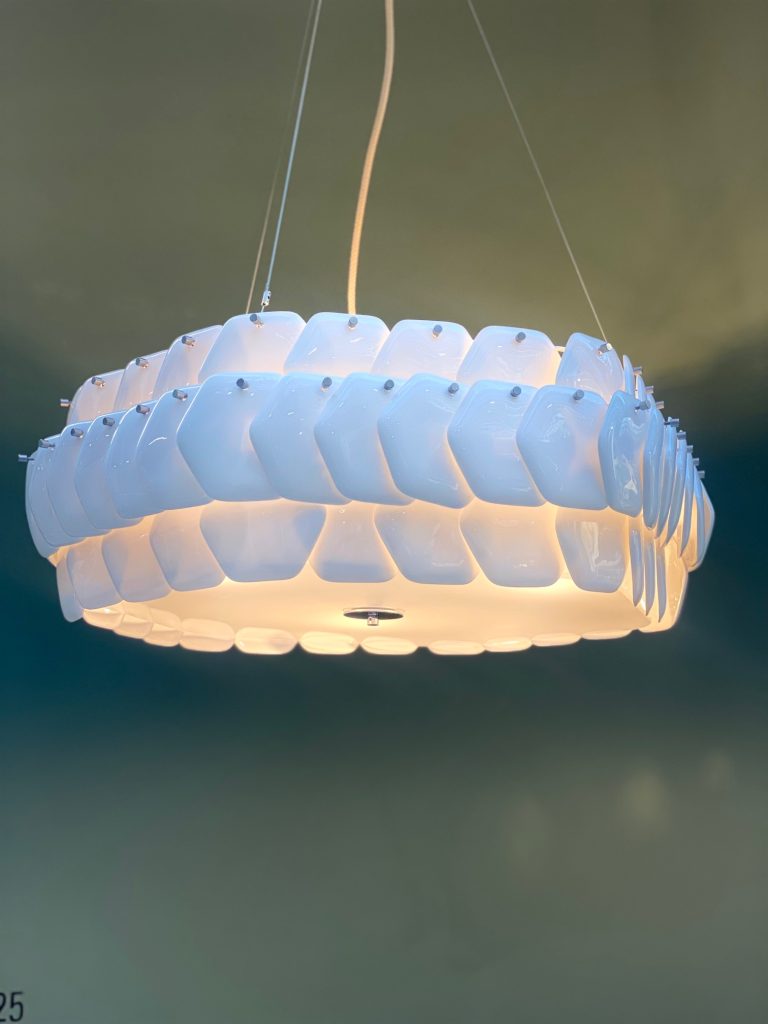 I was very excited by Blossom, their first portable, cordless light. Portable lights are huge in the interior's world and their design, with its fluted bone china shade, is inspired by the plum blossom, the national flower of Taiwan. There are three brightness levels from a soft, warm glow to sufficient light to dine or entertain. It comes in olive, red or cream. Charged using a USB charger, it lasts for 20 hours on the lowest brightness setting. They are really lovely little designs. I can't wait to use one in an upcoming project.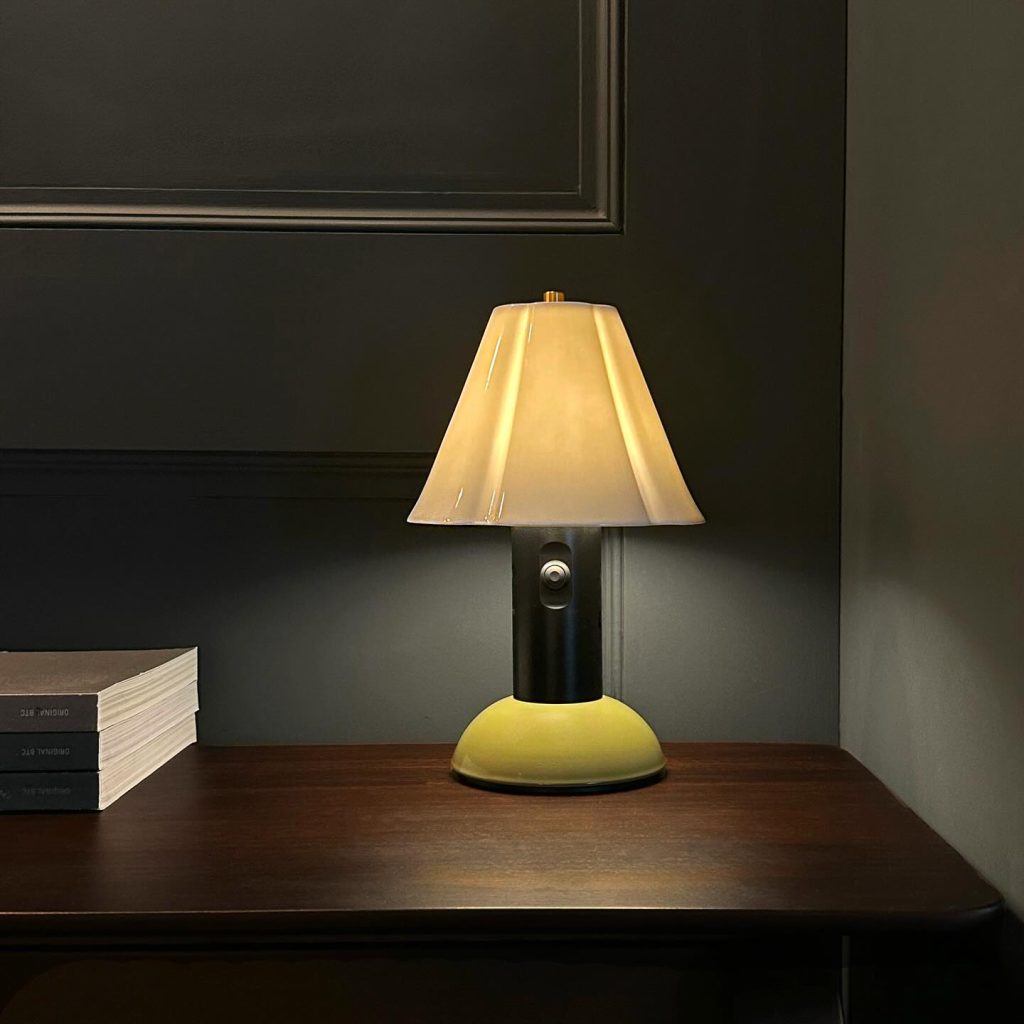 Pooky Lighting
I use Pooky in many of my projects. At the show they showcased their new sustainable lighting range of beautifully organic, all natural pendants. It is a joint venture with Collaborative Craft Projects, a homeware brand in Zimbabwe that works to financially empower local craftsmen and protect traditional practices. The result is a gorgeous collection of 4 pendant lights handmade from the sustainably source Ilala plant.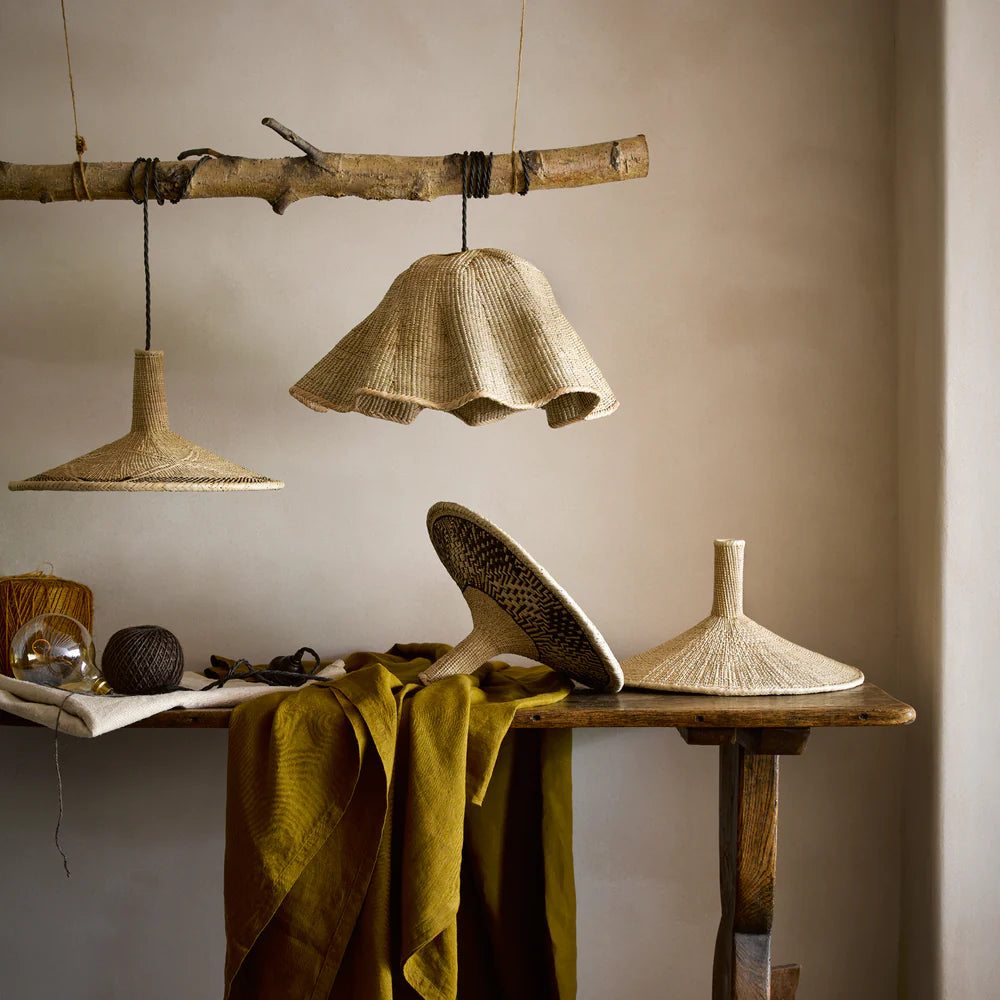 Each design takes inspiration from beautifully handcrafted baskets created by the women involved with CCP and is transformed into a striking shade design. The natural weave of the pendants transmit light wonderfully throughout a room when on, but each pendant also dangles delicately as a piece of art in its own right when not in use.
House of Hackney
House of Hackney's stand is always a shrine to maximalism, and this year was no exception.
House of Hackney was showing their new Gothic Garden collection. Featuring a carefully curated collection of artworks and homeware, there were darkly decadent floral prints from Valero Doval, enchanting illustrative tableware by ceramicist Freyja Lee and Elizabethan-inspired original oil paintings by Lizzie Riches.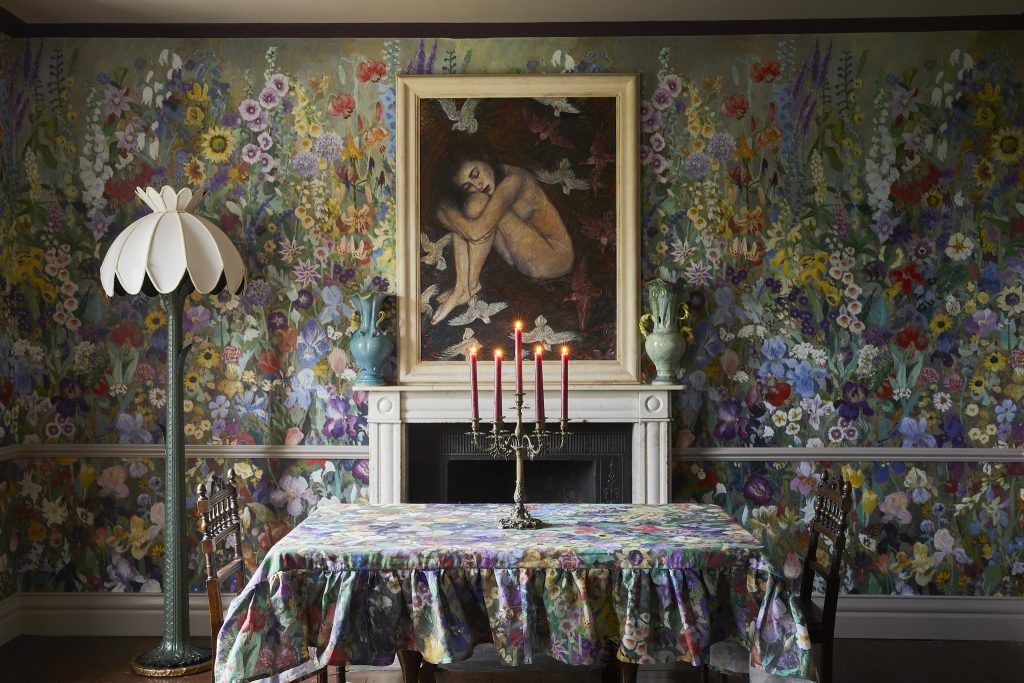 House of Hackney say "enter a gothic garden of neoclassical romanticism, mysticism and medievalism; dark desires and forbidden pleasures; The Sublime and the Beautiful. Enchanting, mysterious and just a little bit dangerous…." I loved it!
The Odd Bed Company
The Odd Company make mattresses, beds & headboards handcrafted and made to order in Yorkshire. They are a family business and use natural materials and traditional techniques. They were established in 1985 and have a roster of impressive clients, including Soho House and Number One in Bruton, near me. I particularly liked their headboards, which are made to order and can be designed to suit your bed size or ceiling height. I loved this headboard on display on the stand.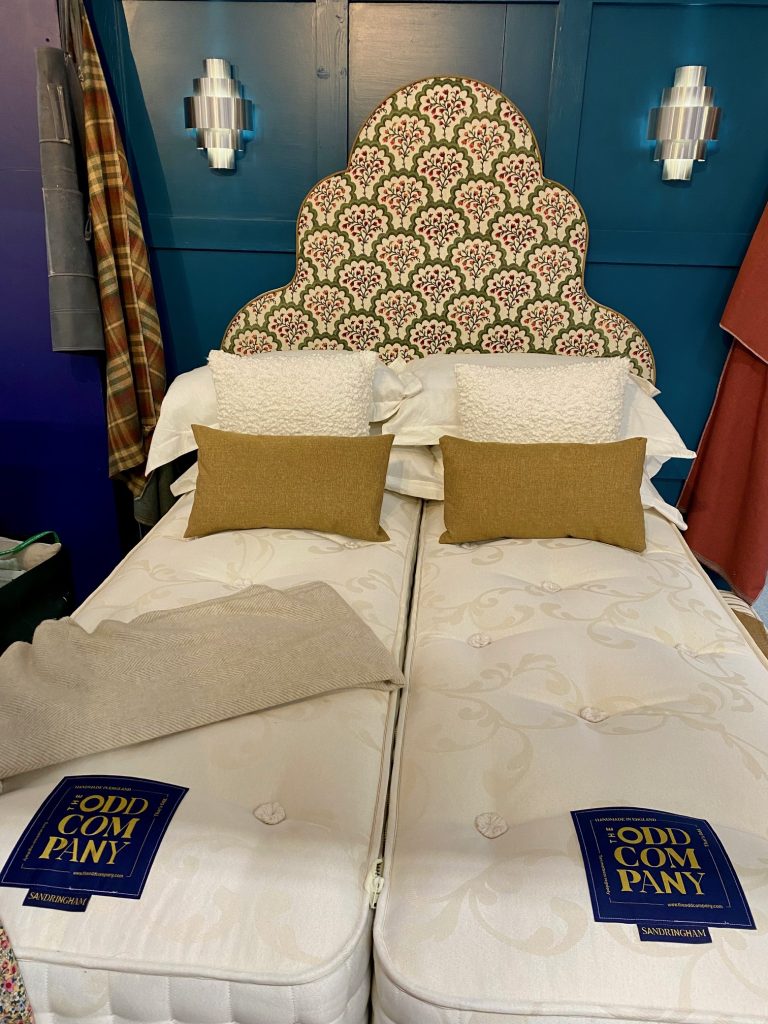 Thank you for my lavender bag too!
Linwood Fabric
Linwood is a British brand that places creativity and innovation at the core of everything that it does. With a firm belief that colour and pattern bring joy to a scheme, they draw on classic English style and imbue it with a contemporary spirit, producing exclusive collections of fabrics, wallpapers and cushions that brim with personality and charm.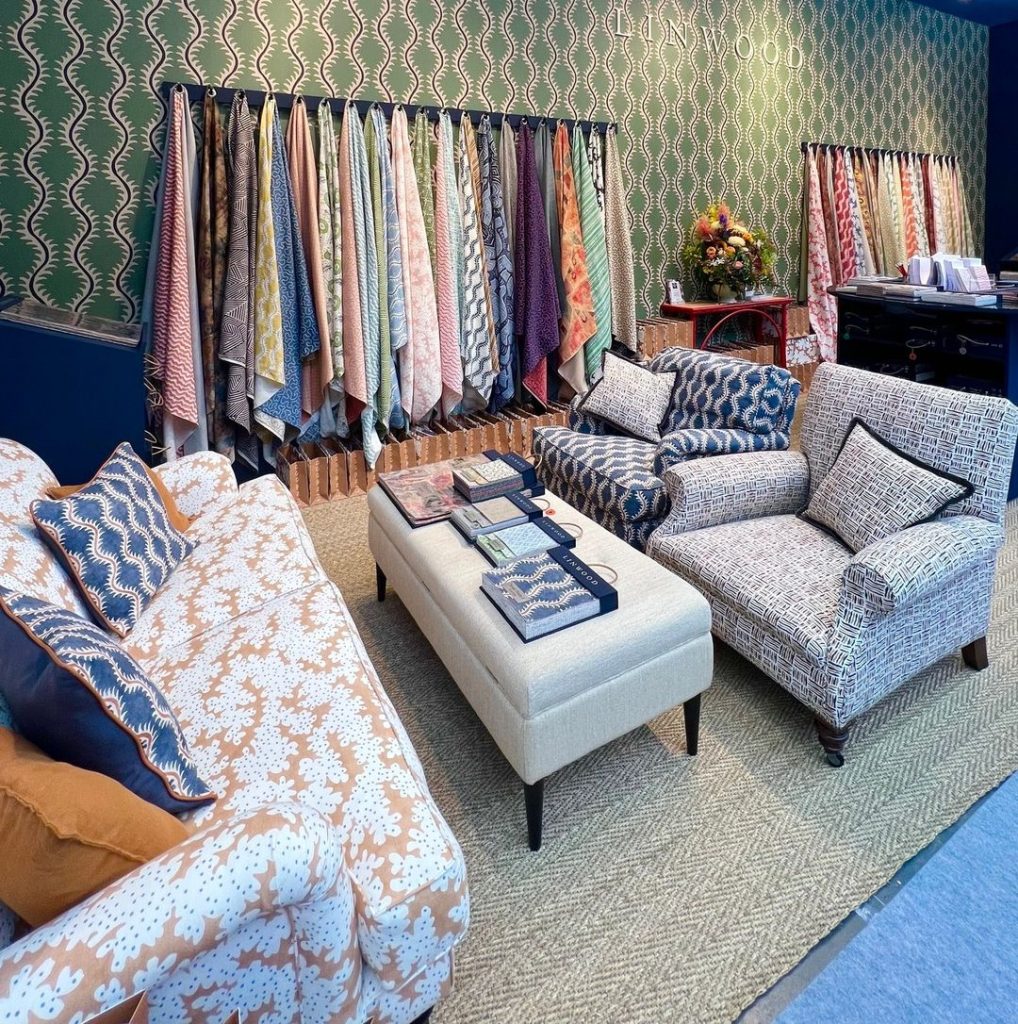 Their stand at Decorex was buzzing with everyone excited about their four new fabric collections: Small Prints II, Odyssey, Tango Weaves II and Orta.
Odyssey is a collection of printed and woven velvets shot through with colour. There are 11 designs, including a distressed-style printed velvet which takes its cue from a classic kilim.
I particularly liked their Small Prints II collection of five free-flowing geometric patterns featuring fun squiggles and undulating lines. I think they will bring a playful, distinctive style for some of my clients.
Pure White Lines
Founded in 2012, Pure White Lines evolved from a passion for all things antique and unusual and their use in modern homes to create something that no one on the high street was offering. The result is lighting and furniture which is dramatic and different.
Now the collection includes a large range of reproduction lighting, furniture, and décor. From 70's inspired Murano glass chandeliers to reproduction 19th century globe lanterns, gorgeous Leonardo Sofa's to Pasadena dining tables.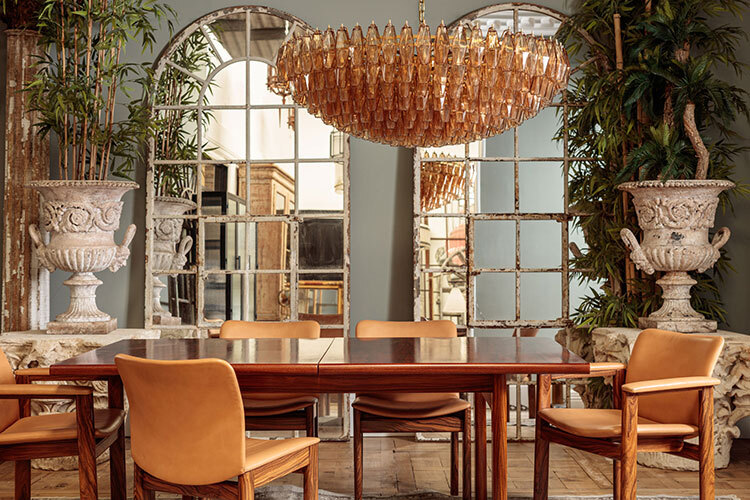 Their stand was, as always, amazing. Their stunning glass chandeliers would look great in a high-ceilinged Georgian house or a commercial property like a restaurant.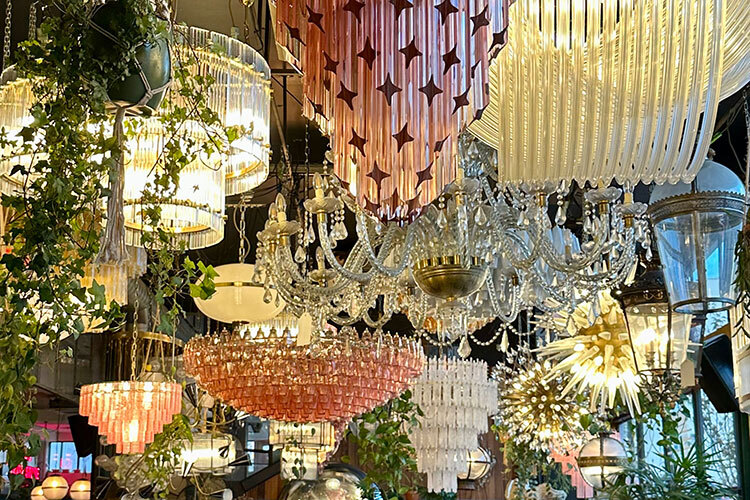 Coordonné
Coordonné create wallcoverings, fabrics, decorative paints and homeware. I used their Edo Tapestry design in a recent project in Bath. Made to measure, this stunning design based on a mythical oriental tapestry features a pair of exotic dark blue peacocks perched on a branch surrounded by white peonies and colourful birds and butterflies.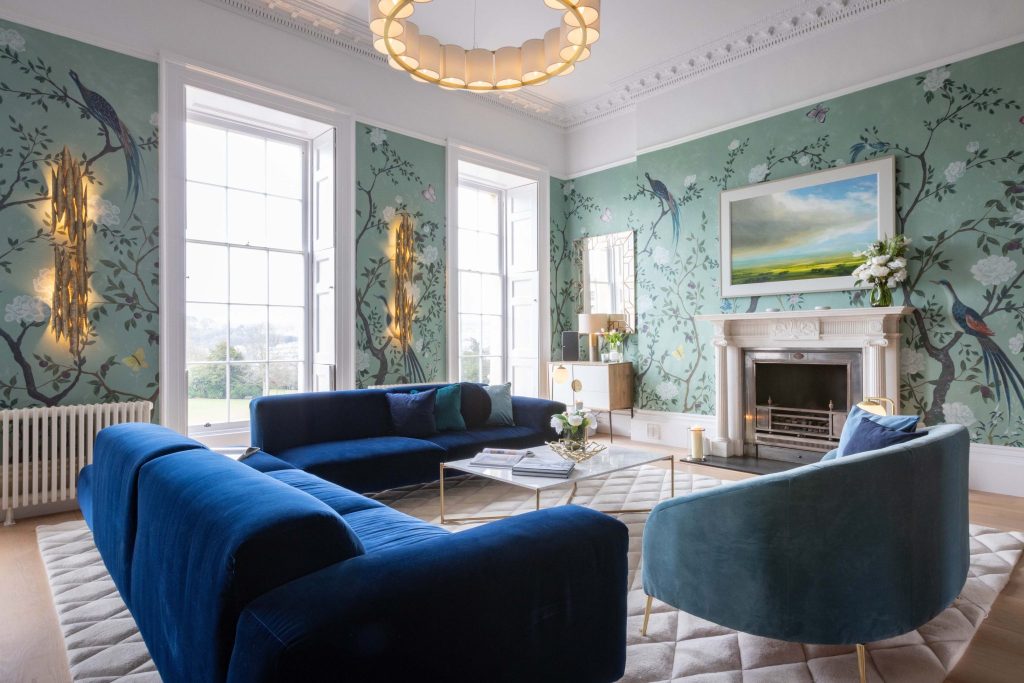 It was great to meet with the Coordonné team, who are based in Barcelona, and see their new wallcovering ranges. The company has its own manufacturing line and can produce designs in lots of different finishes. All the murals can be adapted to the wall's exact measurements, so you get a bespoke look.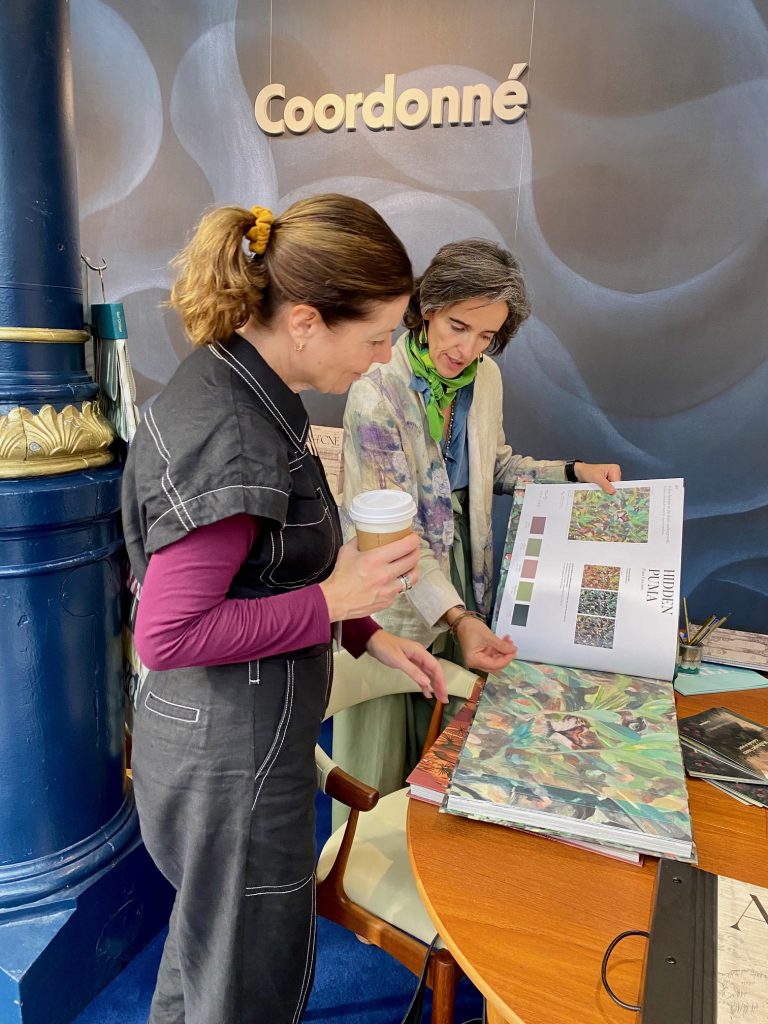 Sebastian Cox
Sebastian is a regenerative designer, craftsman and environmentalist working with UK woodlands and wildlands
This Adzed drinks cabinet was inspired by a piece created for Make Hauser & Wirth three years ago. The sycamore in the frame is rippled, so is flecked with a silvery grain. The body of the cabinet, including the curved doors, is hand carved from lime. The doors made such a satisfying click when opened and shut. I think Sebastian is one to watch!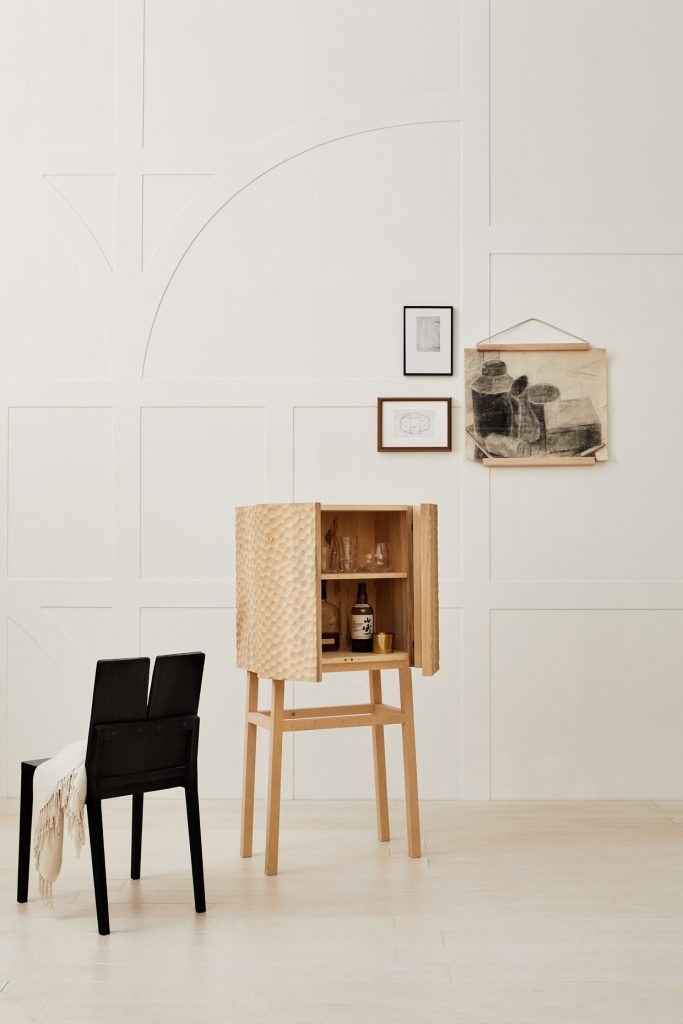 Vandra Rugs
So many of my projects involve sourcing rugs so I am always looking for new and interesting suppliers. Vandra Rugs create luxurious hand-woven rugs combining design with the highest level of craftsmanship. As a Swedish heritage luxury lifestyle brand, they are also very interested in being as sustainable as possible, which I like. All rugs are made to order, in their atelier in the Carpathian Mountains in the Ukraine. The rugs are made from cotton and linen as well as wool felt and Carpathian yarn.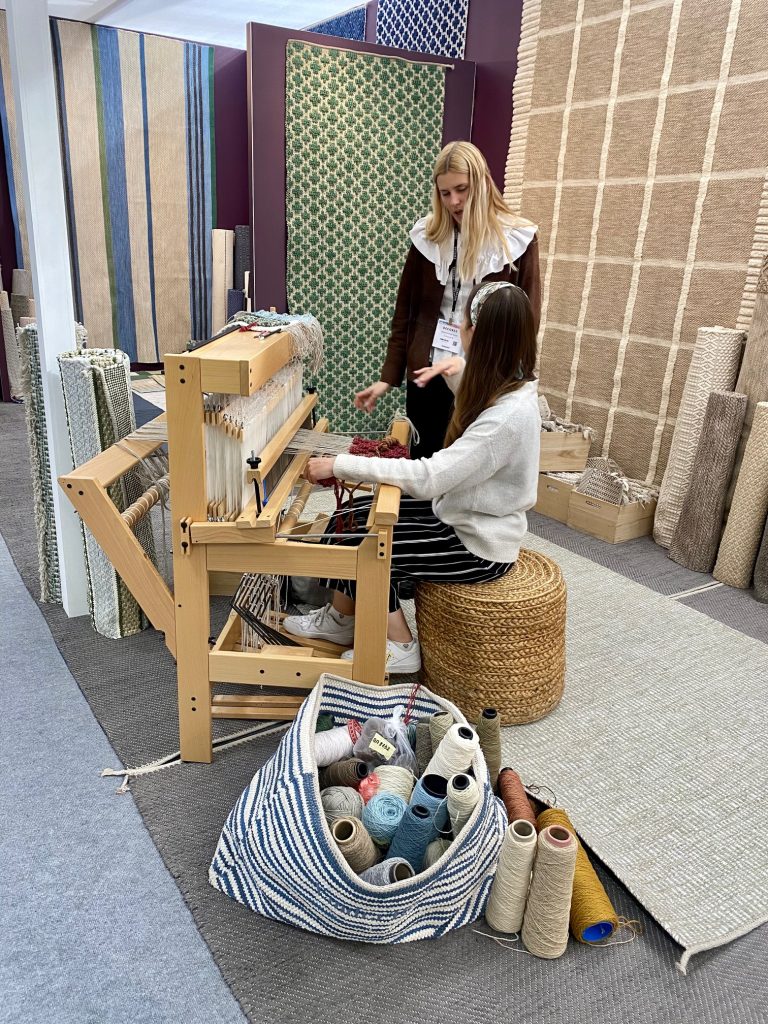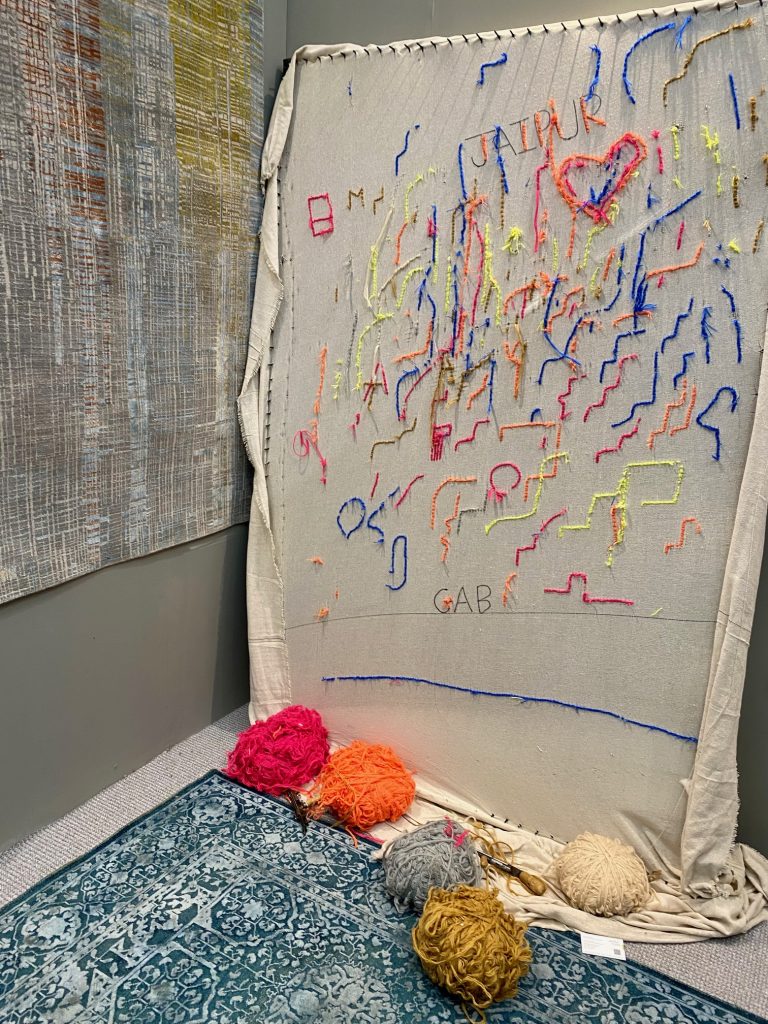 Until next year…..