This beautiful three storey Georgian house has charm rather than grandeur and is comfortable and contemporary in a relaxed way.
On the upper floor is a guest bedroom, a bathroom and a third bedroom which the client uses as an office, yoga studio and craft room combined.
In the pretty guest bedroom, we wallpapered the walls in Divine Savages Crane Fonda design in Palm Green. This signature wallpaper from the creative duo features the elegantly fabulous Grey Crowned Crane amongst lush palm trees and is manufactured using intricately engraved rollers and hand-mixed paints.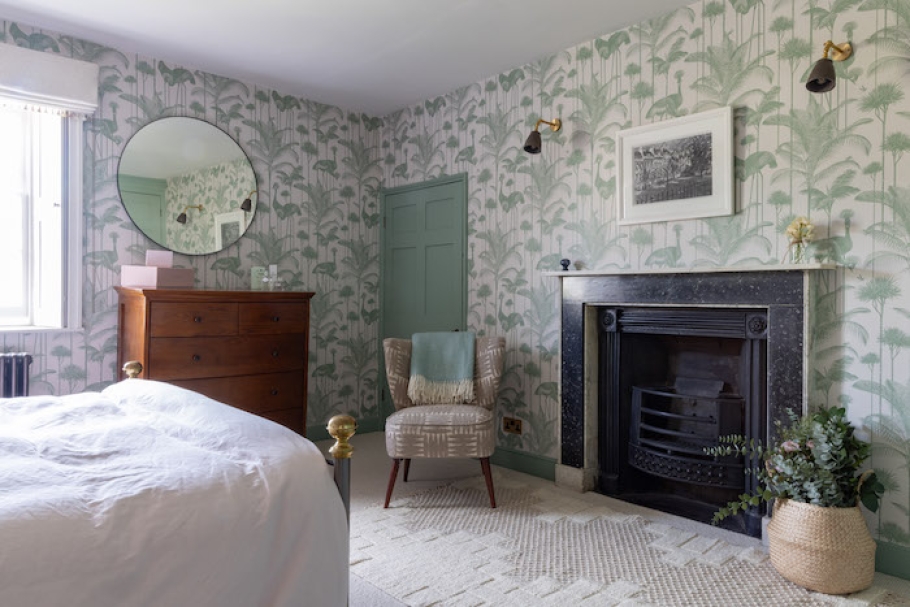 The ceiling was painted in Little Greene Rolling Fog in Pale whilst the doors, skirting and woodwork was painted in Farrow & Ball's Breakfast Room Green – a cheerful green named after the usually east facing rooms designed for eating the first meal of the day.
We also designed the bespoke fitted wardrobes, beautifully made by Newmans of Bath, who also provided the building work.
We made a Roman blind in Linwood's Sienna in Almond. This textural bouclé fabric combines linen, cotton, and viscose yarns to create a soft and durable fabric with a luxurious feel.
In keeping with the period feel, we sourced a large iron bedstead from The Wrought Iron Bed Company. With a tall headboard and low tailboard, simple cast iron feet and hand-spun finials, the Isaac iron bed is a bit grander and more imposing than many original beds you will find.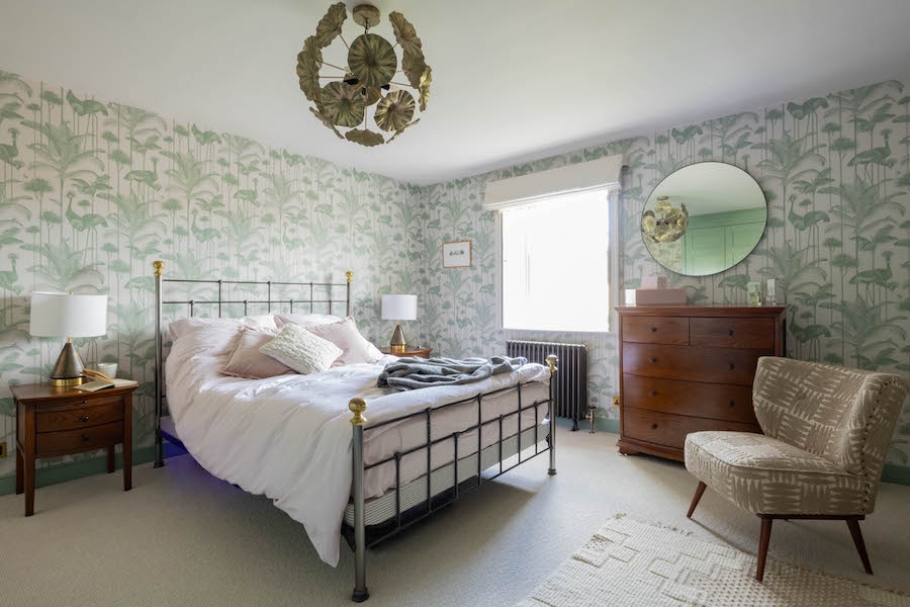 The dark oak Winchcombe chest of drawers and bedside tables are from The Cotswold Company. Inspired by an original piece of French antique furniture, this is a timeless and thoughtfully designed range with a rich and distinctive finish. 
The flooring was Crucial Trading's Treasure carpet in Sea Salt. A light yet luxurious neutral-hued Aria rug from Graham & Green, featuring a geometric pyramid design and a tassel fringe at the edges, was laid over it by the fireplace.
Lighting was provided by a Graham and Green iron and brass Waterlily pendant, West Elm glass table lamps with linen shades as bedside lights, and Freddie wall lights in pewter cast stone and brass from Felix Lighting.
We dressed the room with cushions, a round mirror from Graham & Green and a throw.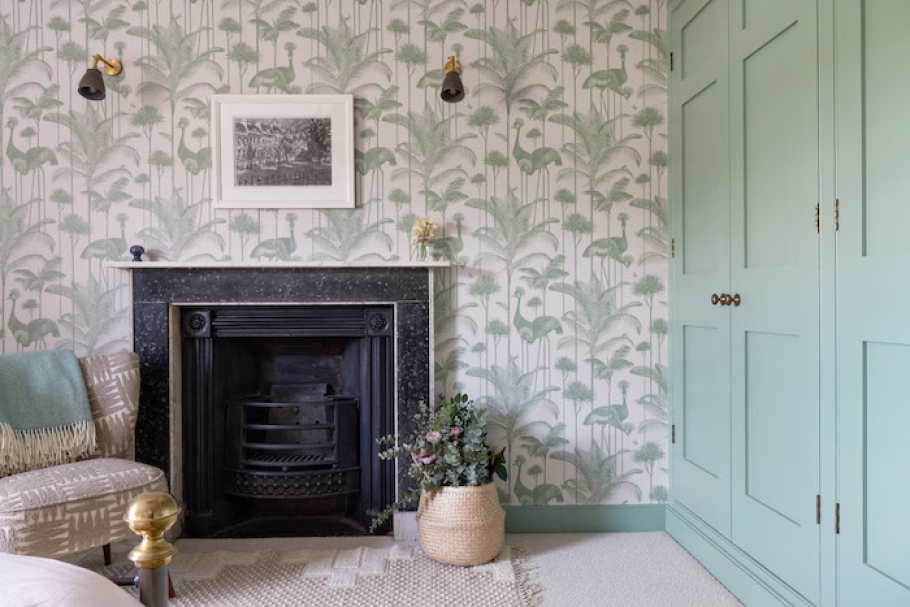 In the guest bathroom, the woodwork and walls were painted in Farrow & Ball's Skimming Stone – a stony off-white which takes its name from a 19th century skim, or plaster colour. The ceiling was painted in Little Greene Rolling Fog Pale.
The window treatment was, like most of the house, a made-to-measure Roman blind. For this room it was made in Linwood's Freya fabric in Biscuit, which is woven to create a tweed-style look.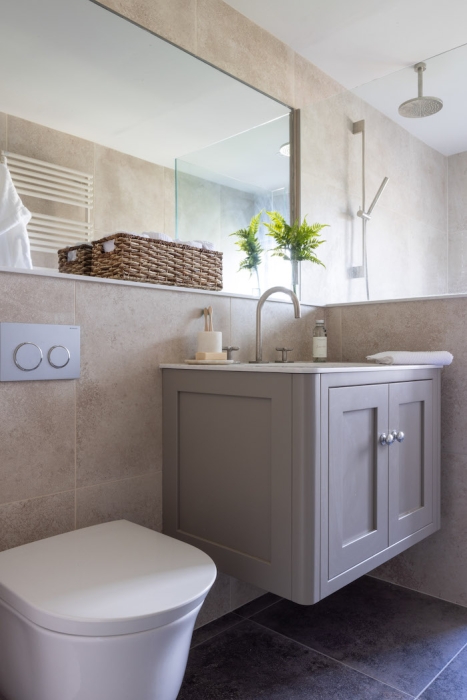 The third room on the upper floor was turned into a multi-functional space where the client could craft, practice yoga and catch up on work.
We painted the walls in Little Greene's Clay Deep and the ceiling and woodwork in Farrow & Ball's Wimborne White. This just off-white is named after Wimborne in Dorset which is home to Farrow & Ball. It is a versatile shade which, with the addition of the smallest amount of warm yellow pigment, is just a little softer than pure white.
The Roman blinds were made in Design Archive's Tree of Life fabric, developed from a classic Tree of Life mid-19th century historical document.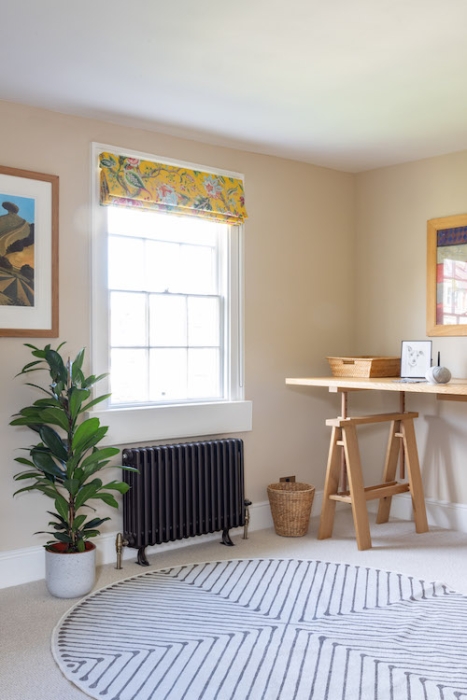 The furniture we chose was multifunctional and a mix of modern and antique – a mahogany chest of drawers from Vinterior, and a Konk LoHi adjustable desk in Oak & Walnut which acts as a sitting or standing desk, or a craft table.
A West Elm mid-century modern bookshelf provides more storage, whilst an armchair from Love Your Home in green velvet is a comfortable place to relax.
Over the Crucial Trading's Treasure carpet in Sea Salt, we laid a Jonathan Adler Inkdrop rug in camel and ivory.
On the upper landing the stunning lighting over the stairs was the Jim Lawrence Ava Triple Pendant in Antique Brasswhich we had made bespoke to create a longer drop down the staircase.
The top floor is a lovely place for a guest to stay and our client to work from, or practice yoga or crafts overlooking her pretty established garden.