"Where do you get your inspiration from"?, is one of the questions I get asked most often.  Like many interior designers my answer is always, "from all over the place!". However, there is one place where I get a lot of décor inspiration from and that's from location houses.
Location houses are houses that the owners rent out occasionally for photoshoots so they are real homes, but beautifully designed. I've had a little browse to find you 20 gorgeous rooms I think really work. Let's look at the first 10.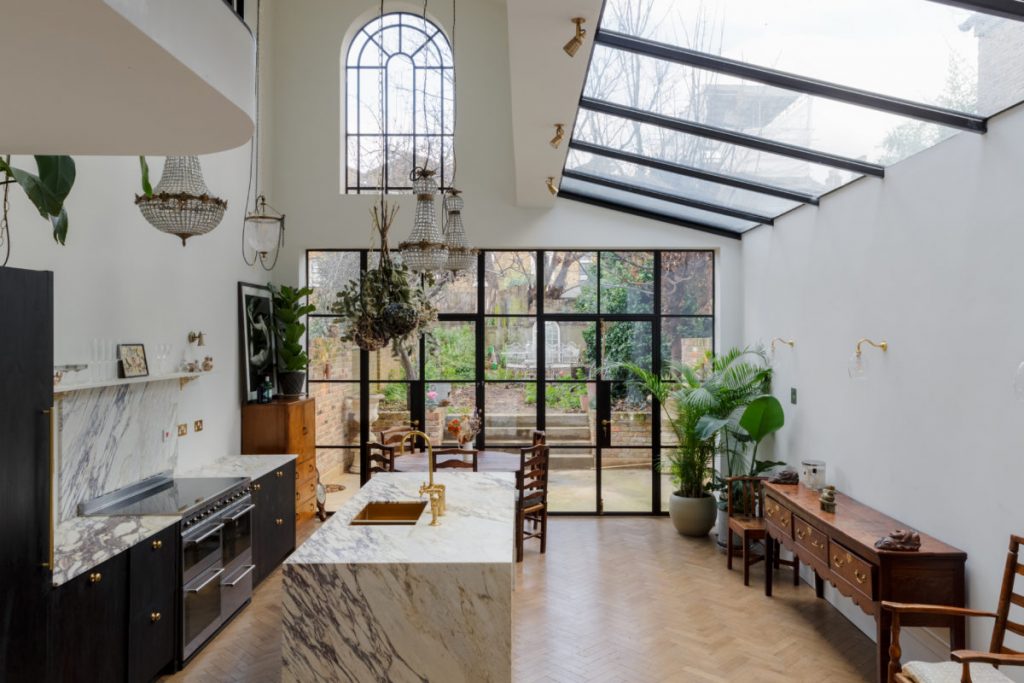 I love this kitchen design for the mix of styles in a typical extended London town house. Crittel doors, parquet flooring, marble worktops, a navy kitchen, amazing lights and some freestanding vintage pieces all work brilliantly together in this light airy kitchen.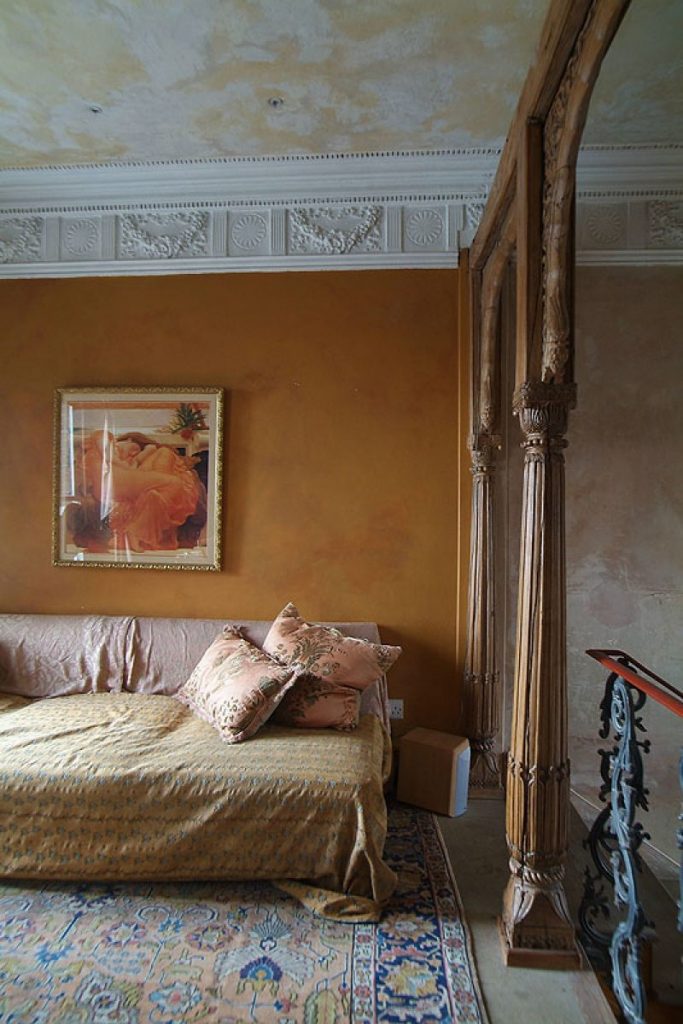 I chose this room because I love the daring wall colour next to the more traditionally beautiful ceiling and cornicing. They could have gone for a muted shade but this rich yellow makes it something special. The colour is picked up in the ceiling colour, the picture, the throw and cushions and the faded vintage rug. Clever.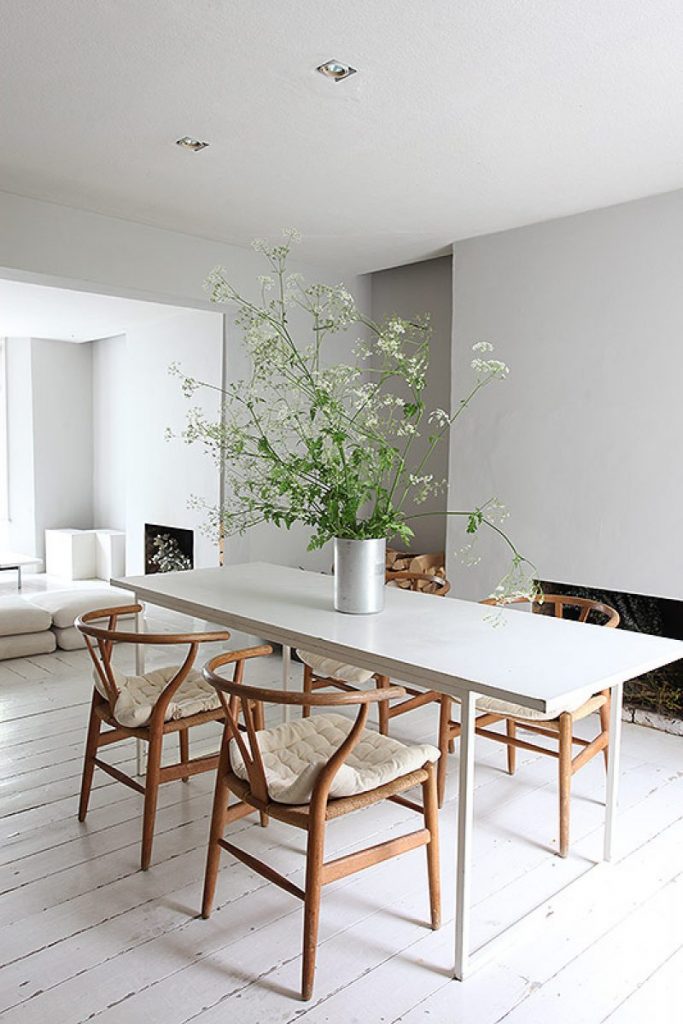 An exercise in less-is-more. The wonderful wooden wing back chairs are left to take centre stage in this otherwise minimal white interior. Sometimes gorgeous classic design is all you need.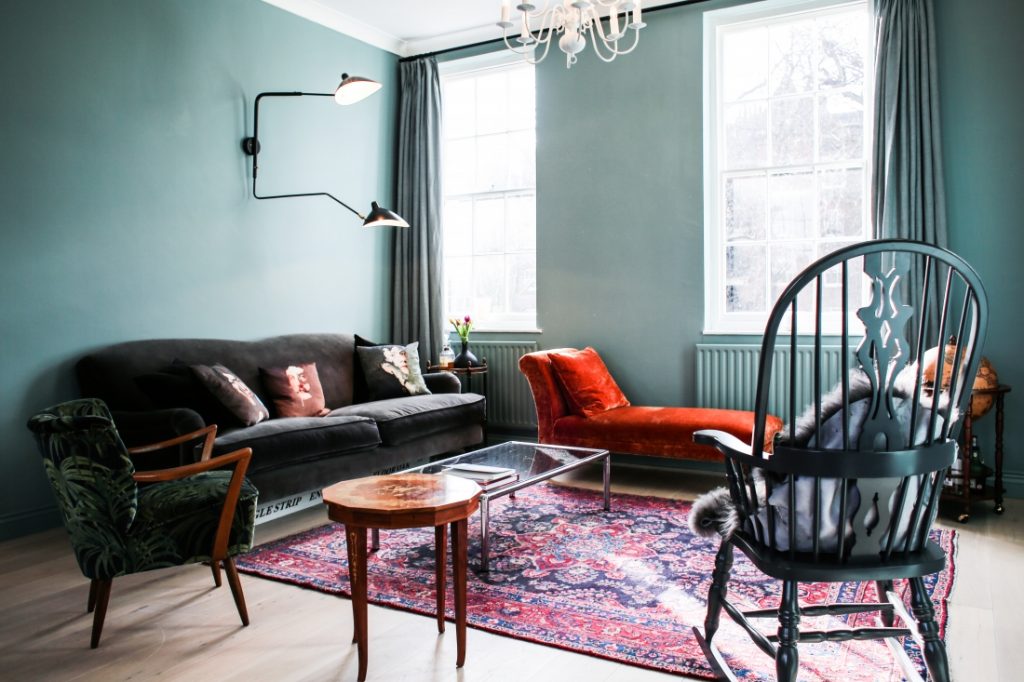 This is all about surprising colours and a mix of different furniture styles. Blue walls, a dark grey velvet sofa, that orange chaise and a multi-coloured rug all work together because the rug picks ups all the colours and they work well together tonally. The mix of furniture styles also works because are all curved in shape – a good design trick.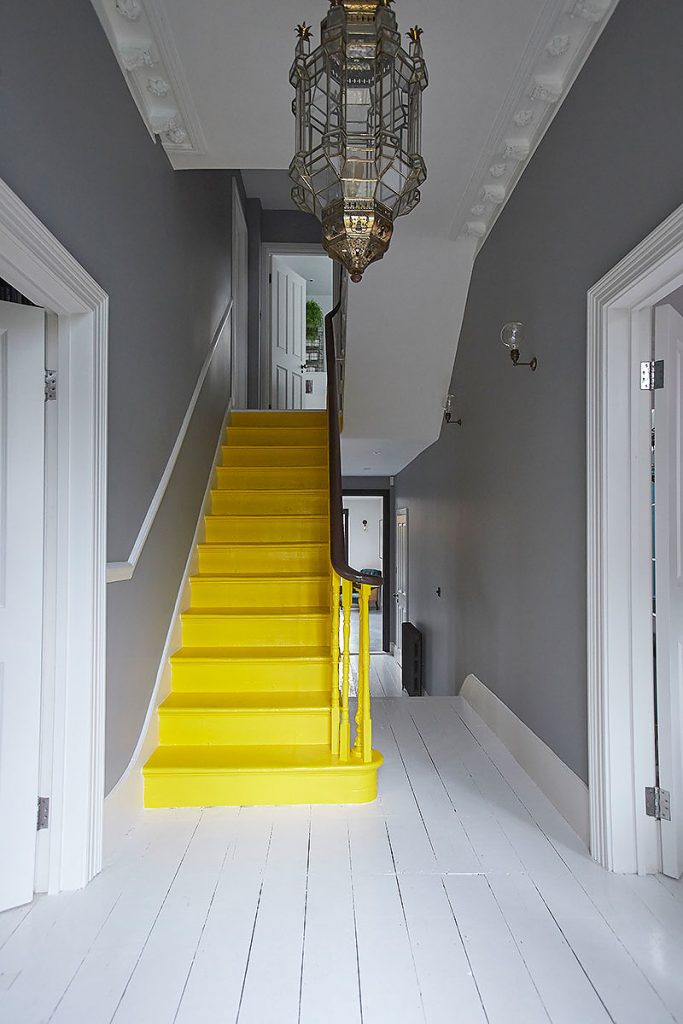 This image shows that sometimes being bold in the most unexpected ways can really pay off. This is a classic narrow hallway with wooden floors and a lack of natural light. Painting the staircase that acid yellow turns it from predictable to jaw-dropping!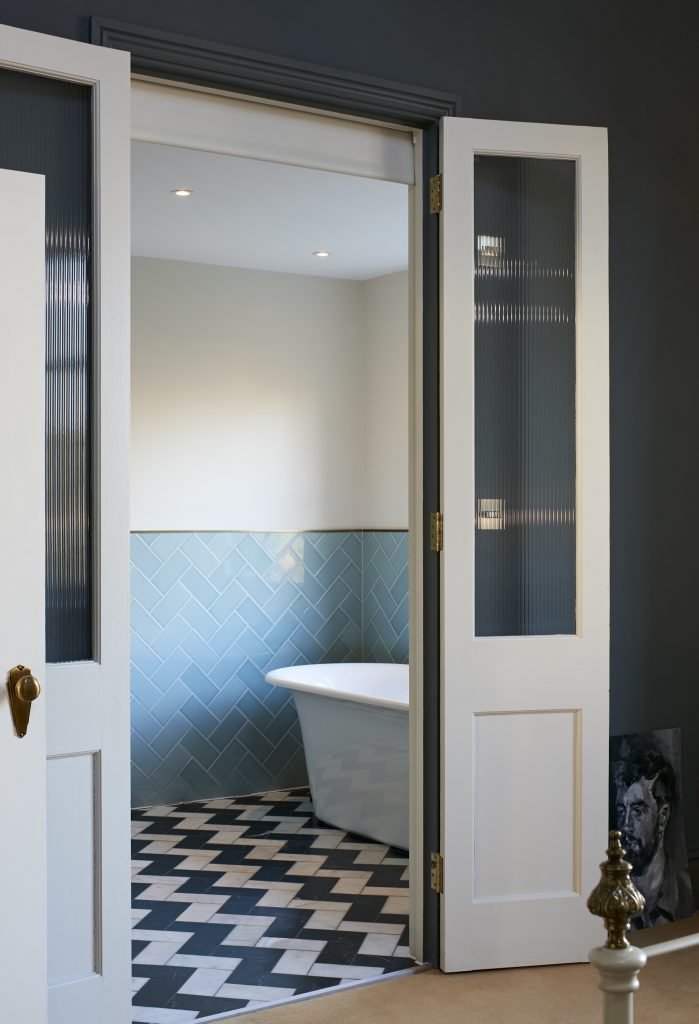 This Victorian Villa has been beautifully styled to reflect its period features alongside its modern architecture. Here original doors, a very modern bath and clashing tiles create a really special bathroom.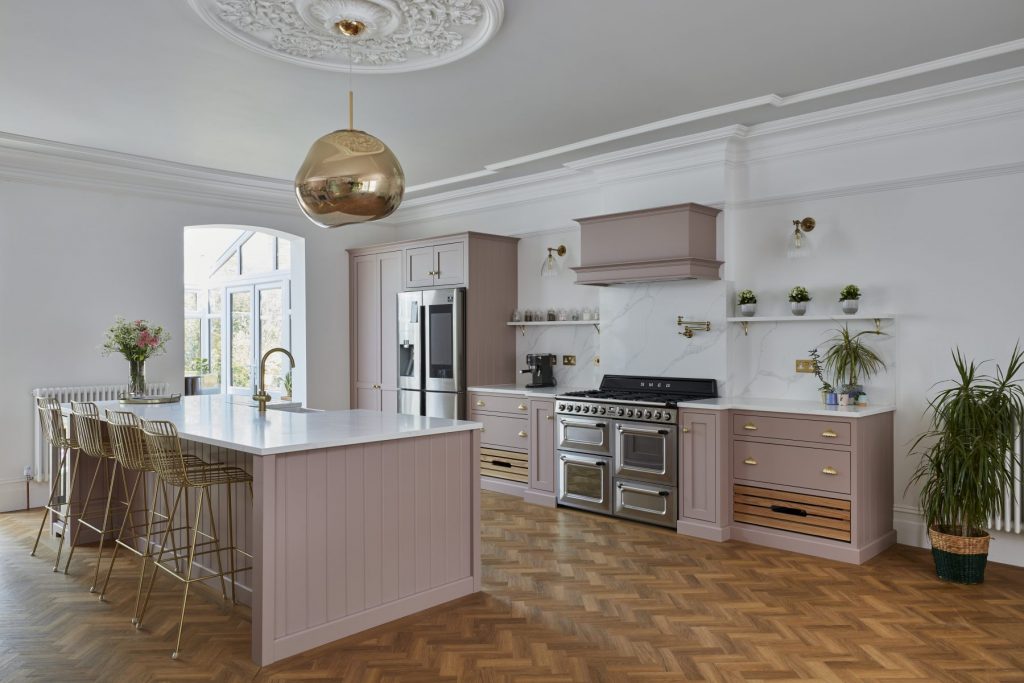 This room shows you don't have to play save when it comes to kitchen colours. This large kitchen painted a wonderful soft pink still manages to look classic and traditional despite its rather unconventional colour. Keeping the walls white and the floors in classic parquet is the key!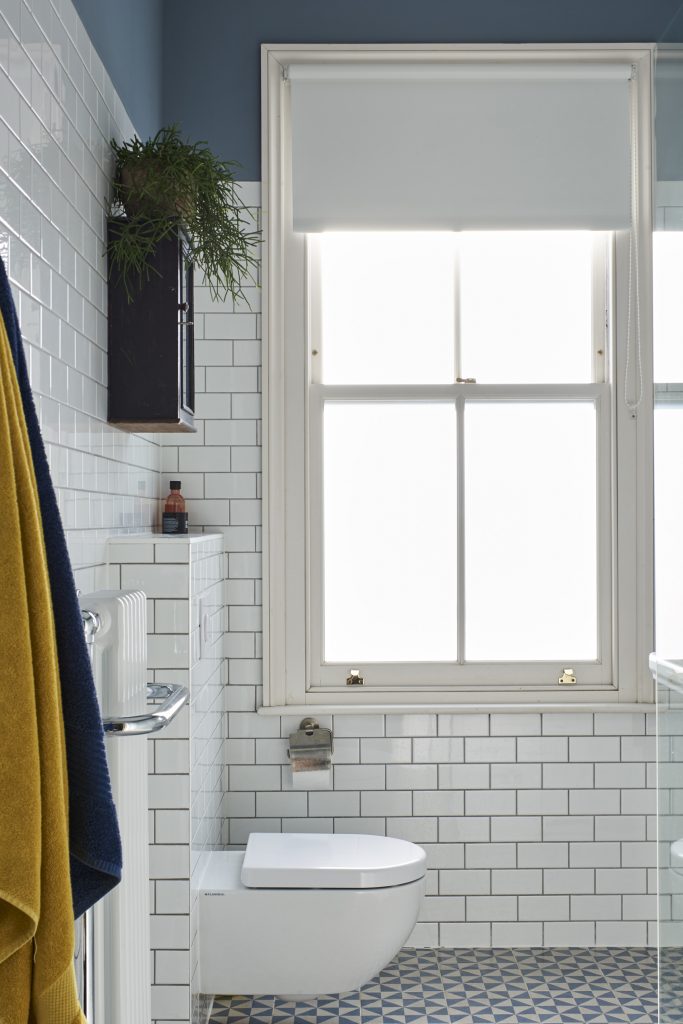 This is a simple bathroom but has lots of nice tricks. An interesting floor tile design works well against those classic metro titles, those deep blue walls are a surprise, a lovely vintage cabinet softens the look and towels in rich contrasting shades takes it from boring to stunning.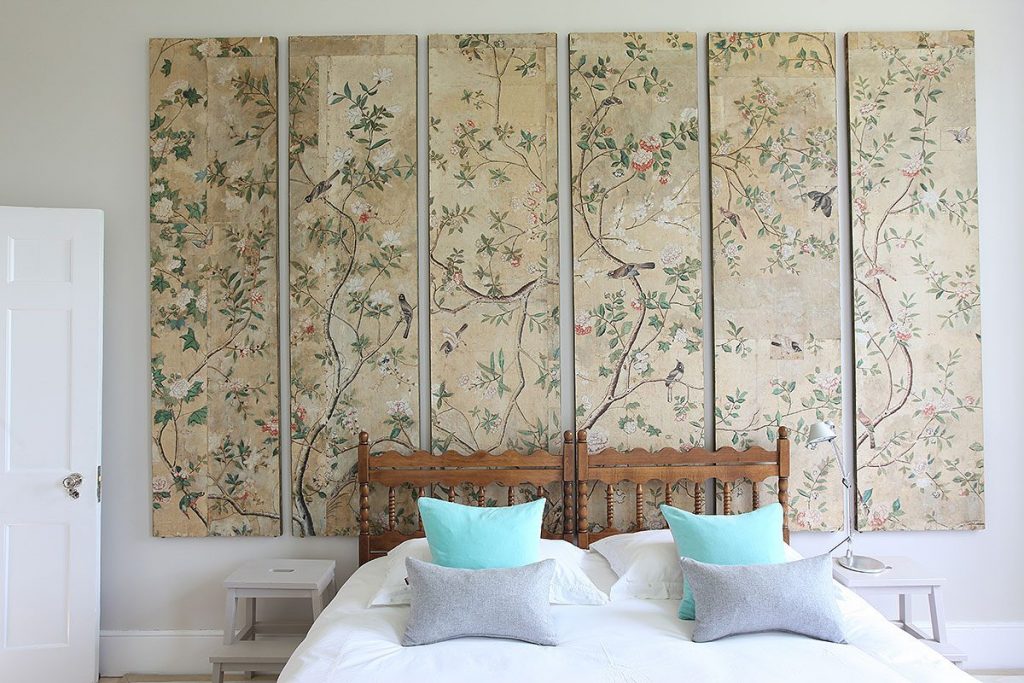 Chinoiserie is having a moment and this is a great way to use it – plus wallpapered panels are easier to change than a completely wallpapered room if you tire of the paper! An antique bed, painted Ikea stools as bedside tables and those bright blue cushions let the design sing.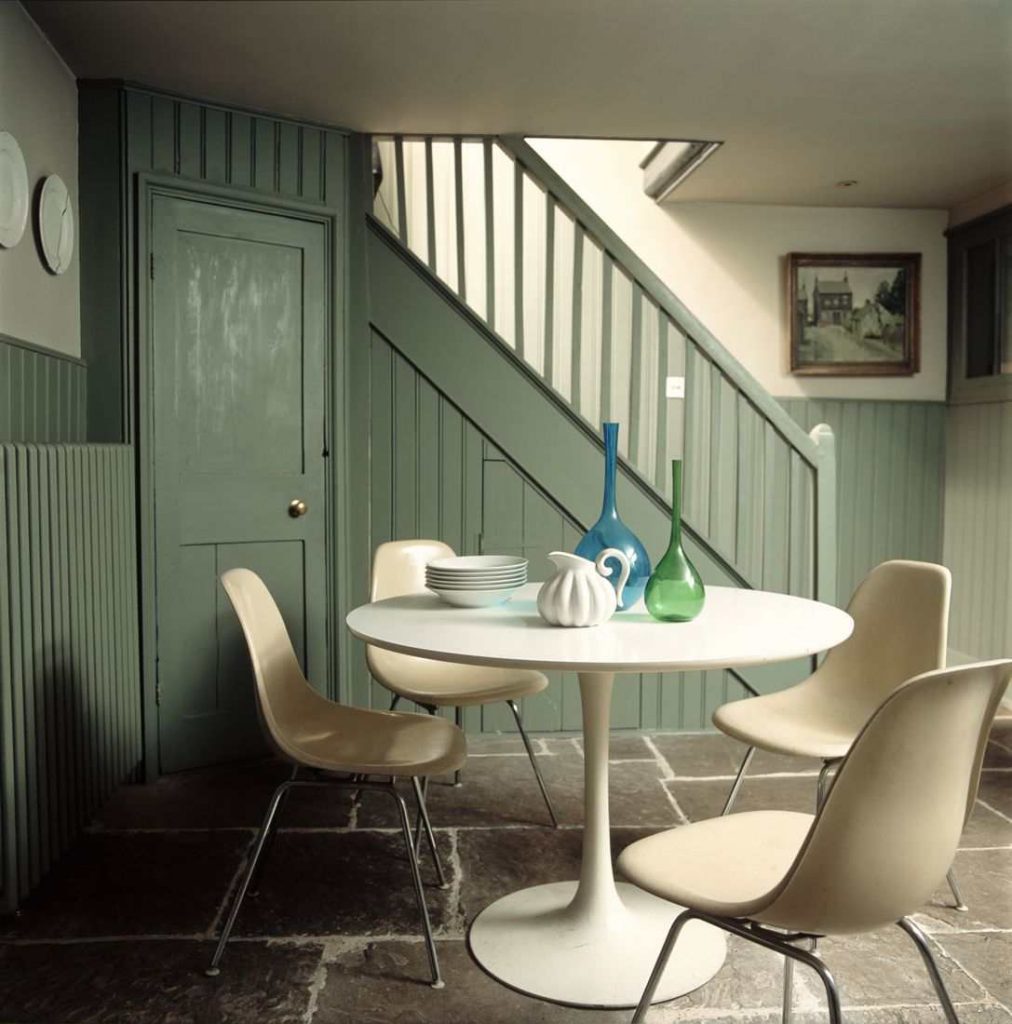 This Huguenot silk weaver's house was built in 1722 with original stone flags in the kitchen. I love the way 20th century design classics like a Saarinen tulip table and Eames chairs work so beautifully with the bones of the original house.
Next week we'll look at some more amazing rooms. If you see something you love, save the image and add to your mood board when discussing your design with your interior designer.