I love interiors magazines and blogs and I get lots of press releases from interiors brands, but the two other places I get lots of inspiration from are hotels and location houses.  There ae a few agencies specialising in location houses and you can lose a few hours just browsing through the wonderful homes they have available to rent for photoshoots. Here are 10 more gorgeous rooms I think really work.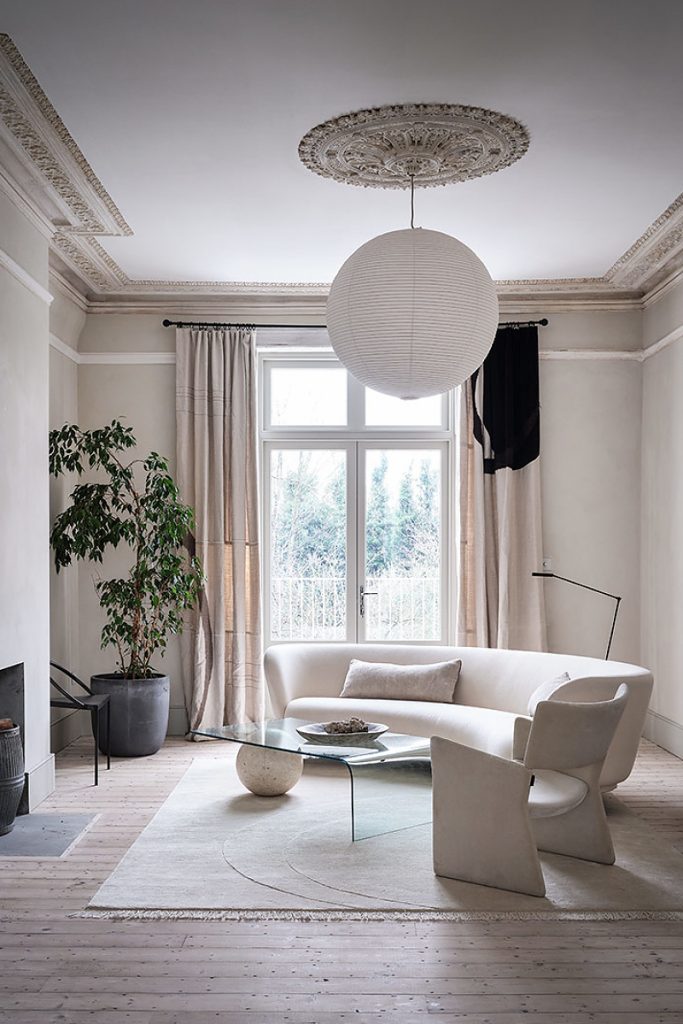 In this wonderfully serene room, the different pieces of furniture all work together because they are all curved. The soft curves of the chair and sofa work with the glass table with it's ball foot, the round concrete vases and the big paper lantern. A lesson in simple design executed beautifully.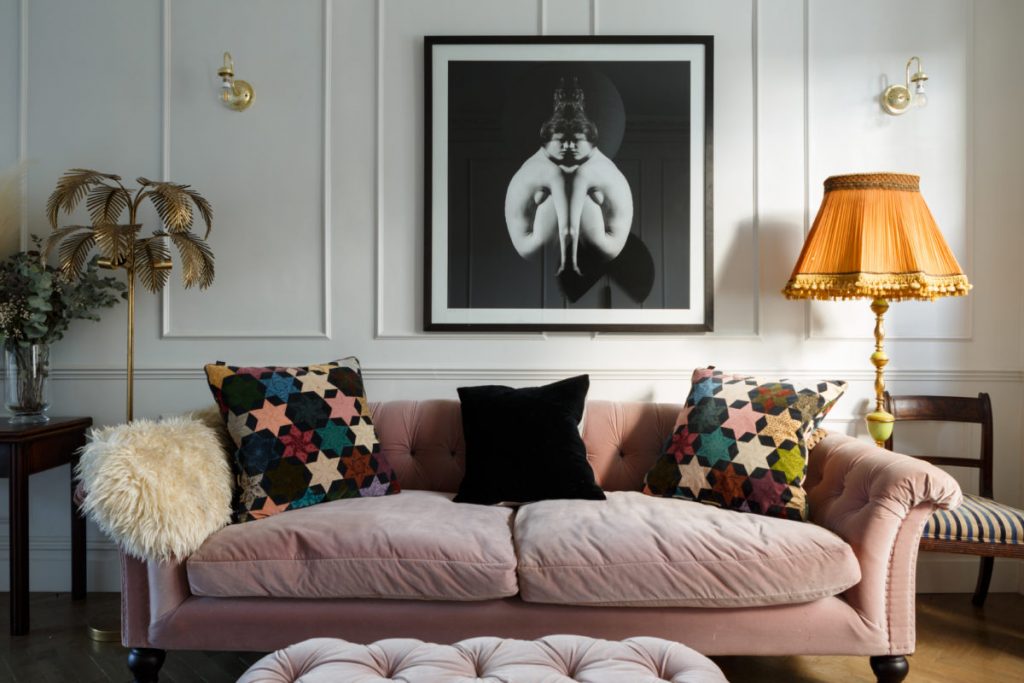 Panelling can really add a different dimension to a room. If you don't have original panelling, it is quite easy to fake with MDF and some glue. This room shows that symmetry doesn't have to mean mirror imagery. Note how the picture is set to the right of the centre of the sofa and the lamps and furniture on either side are not identical.
This lovely romantic bedroom works because all those wonderful muted tones work so beautifully together. Soft blush walls, faded apricot velvet chairs, a pale linen bedspread and that stunning vintage rug. The graphite door and dark grey sofa (just seen) stop it being bland. I love how that little vintage picture propped up on the mantlepiece features all the colours. Clever!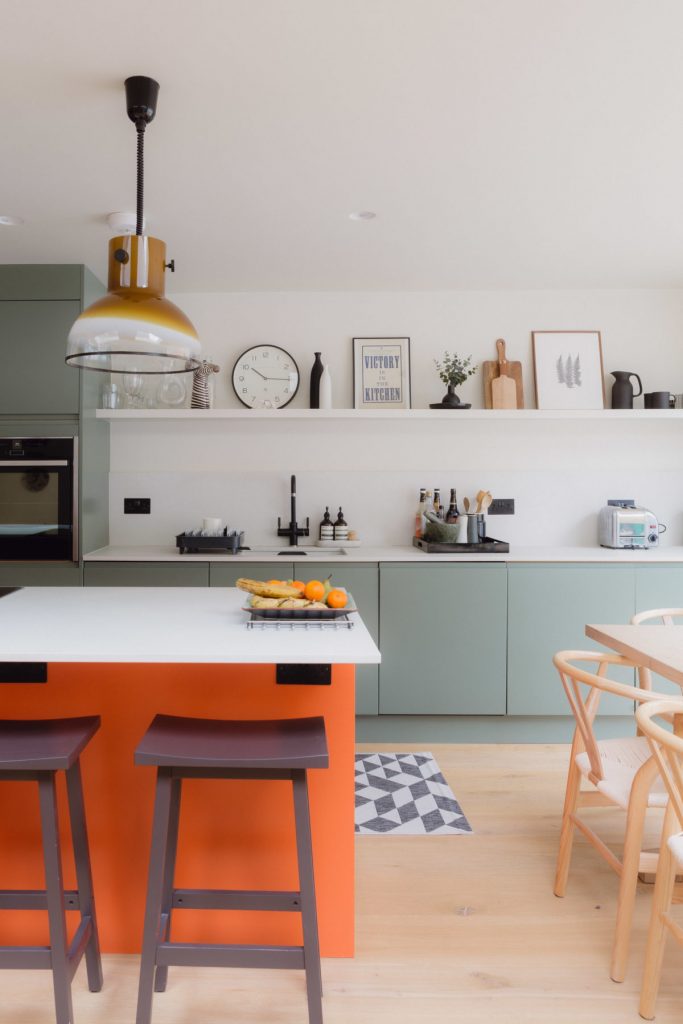 It's all about that orange colour on the island unit in this room. If you were in any doubt about whether to try a daring colour on your own kitchen island, I think this should help you decide! It also shows that you don't need to use a toning colour for it to work.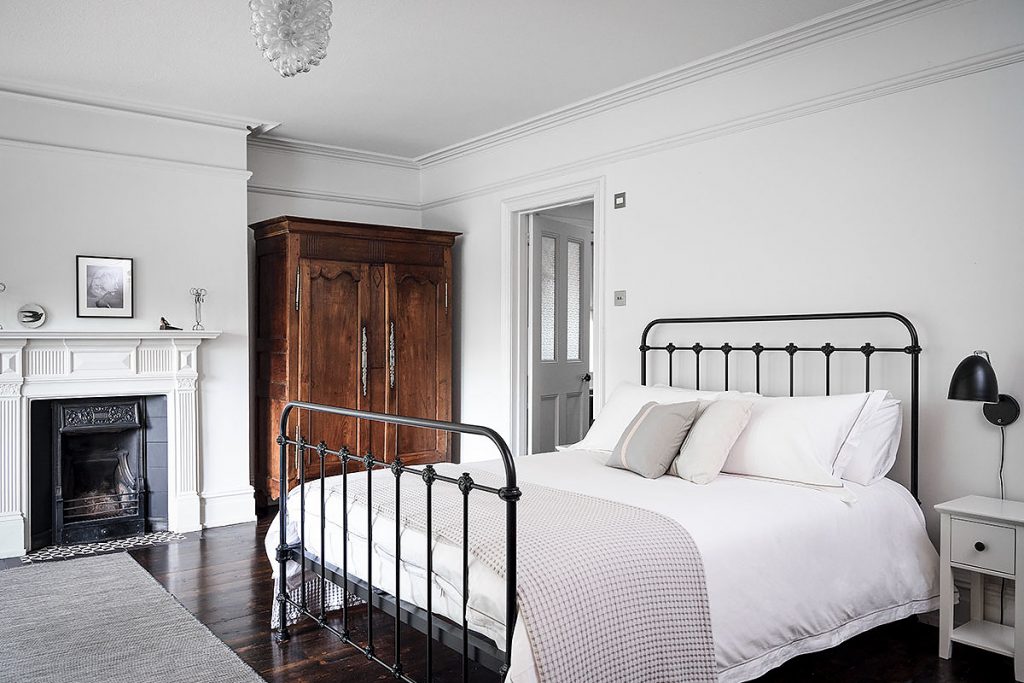 This is about vintage. If you love collecting flea market finds, using just one or two statement pieces is the way to really showcase your treasures. A big hospital style iron bed and an old laundry chest look wonderful in this otherwise pale and simple room.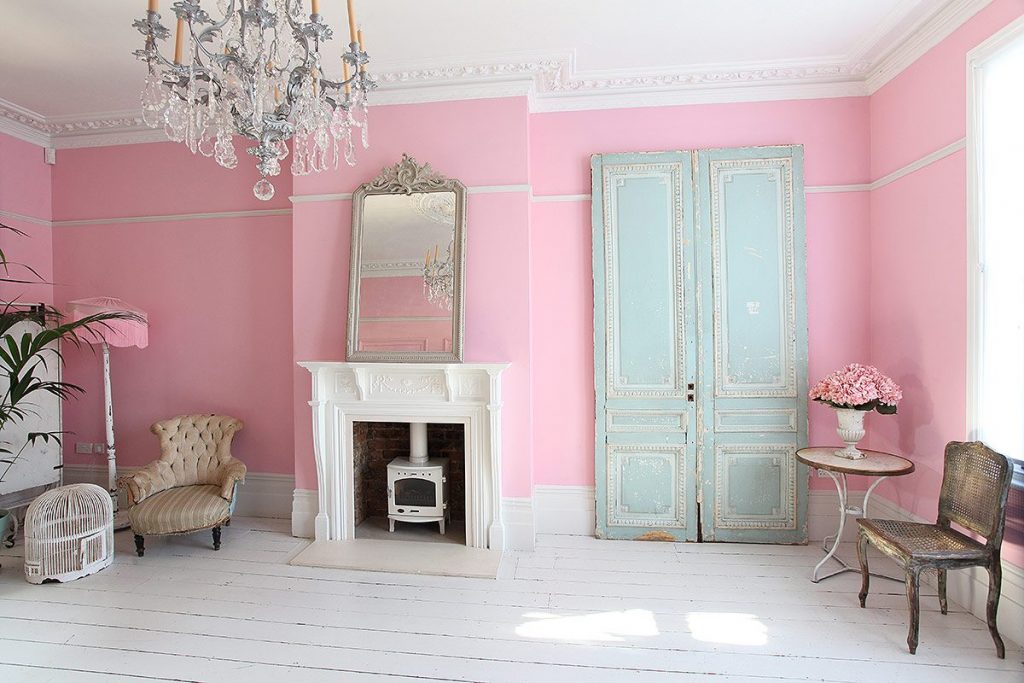 Another room full of vintage finds. Here they all sit against an incredible pink backdrop. The chair, table, birdcage, mirror and even those wonderful old doors look incredible against the strong colour. The lampshade and flowers in the same pink make it look considered rather than random!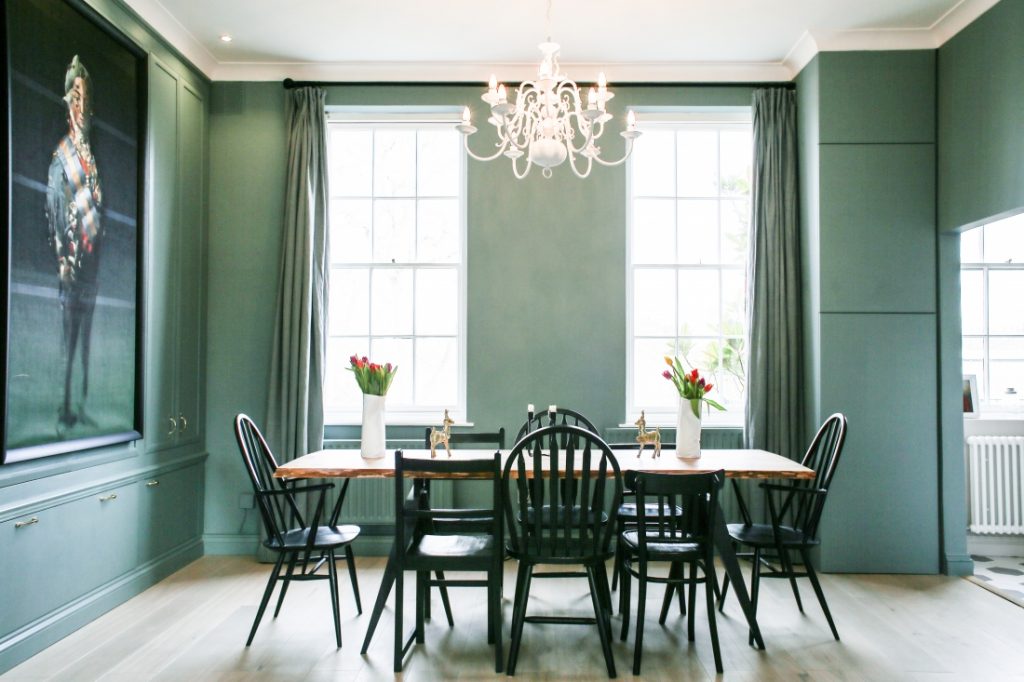 The reason I've chosen this room is to show that a wonderful colour is sometimes all you need. This dining room is very simply furnished but it looks wonderfully opulent because the colour just takes your breath away. Note how they have hung curtains in the same colour and the painting echos the same dramatic shade.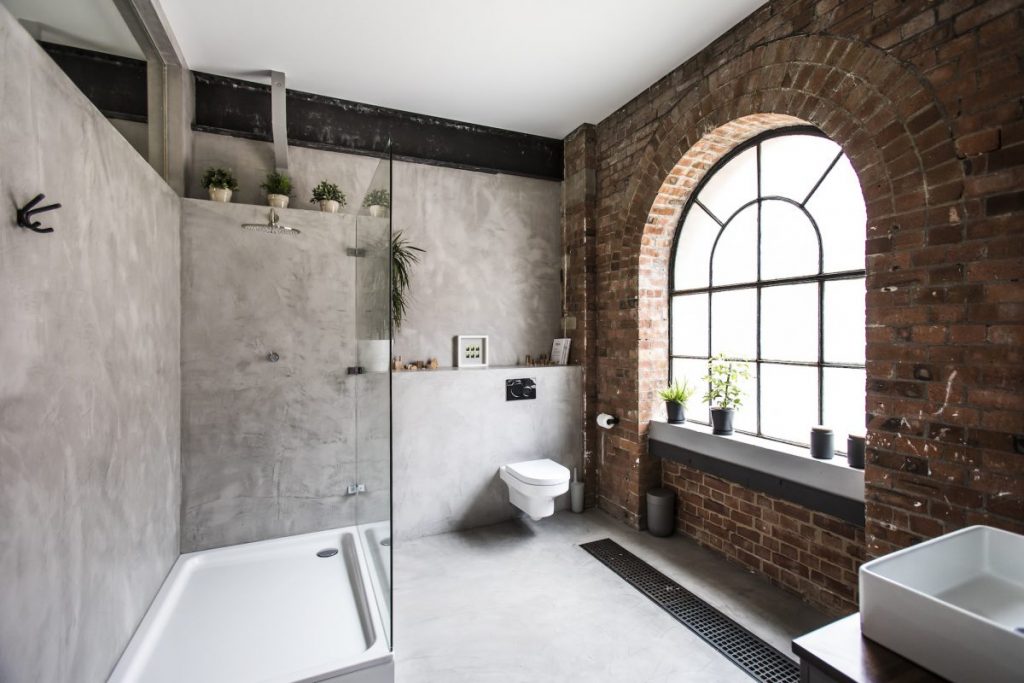 This apartment in a converted dog biscuit factory has huge double height ceilings and incredible old windows. This bathroom shows how if you have features like brick walls or very big windows, you should work with them The bathroom fixtures are very contemporary but contrast perfectly against the industrial backdrop.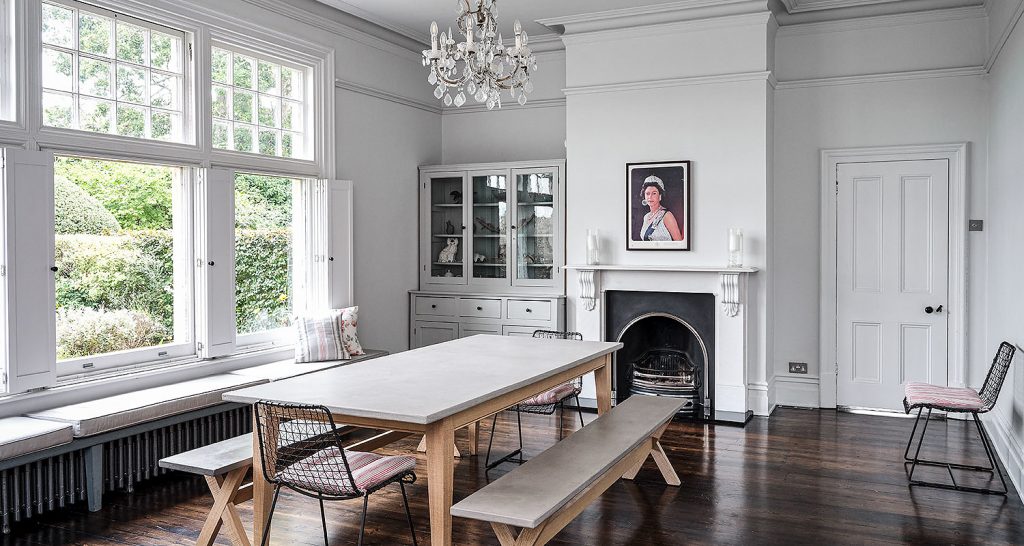 Now this is a huge room but what I love about it is that the owners have resisted the temptation to fill it with lots of furniture. The benches instead of lots of chairs, one simple built in cupboard, those simple Bertoia chairs casually dotted around – it's beautifully understated. The HRH image adds s bit of punk chic!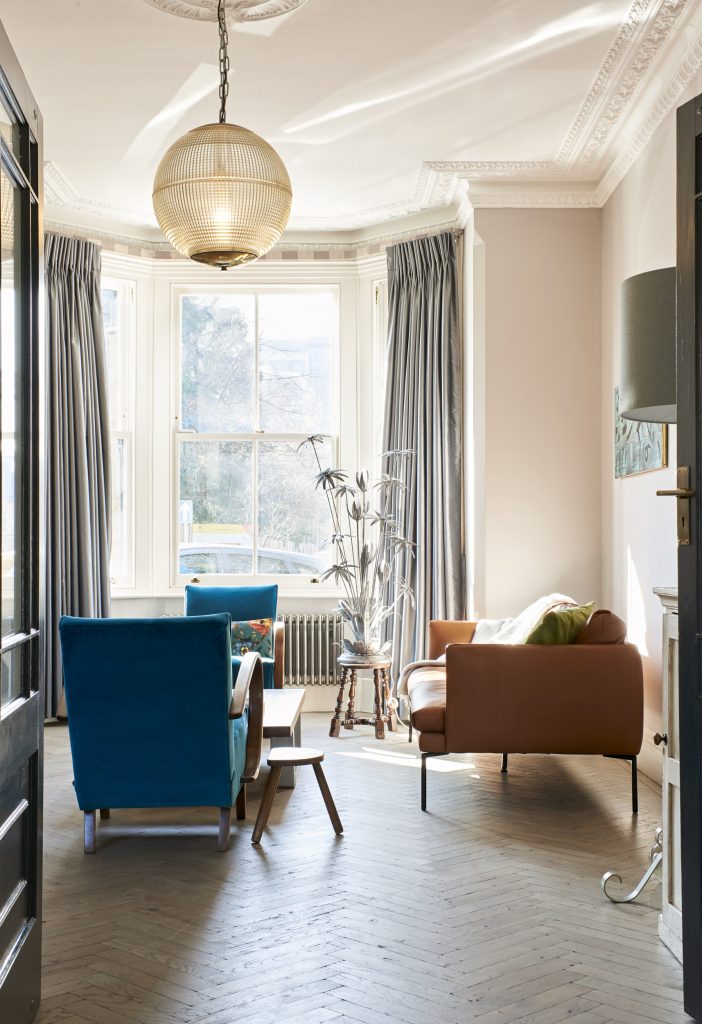 This room is another room that shows how mixing different styles of furniture and different colours can work together if you are considered with your choices. Pretty pale pink walls, grey curtains and a parquet floor are the neutral backdrop to an interesting collection of furniture. A very stylish modern leather sofa is the star of this room and the tan colour acts as another neutral which means the two turquoise chairs look completely in place here.
If these rooms have inspired you to make some changes to your home, why not drop me an email to talk about your ideas?