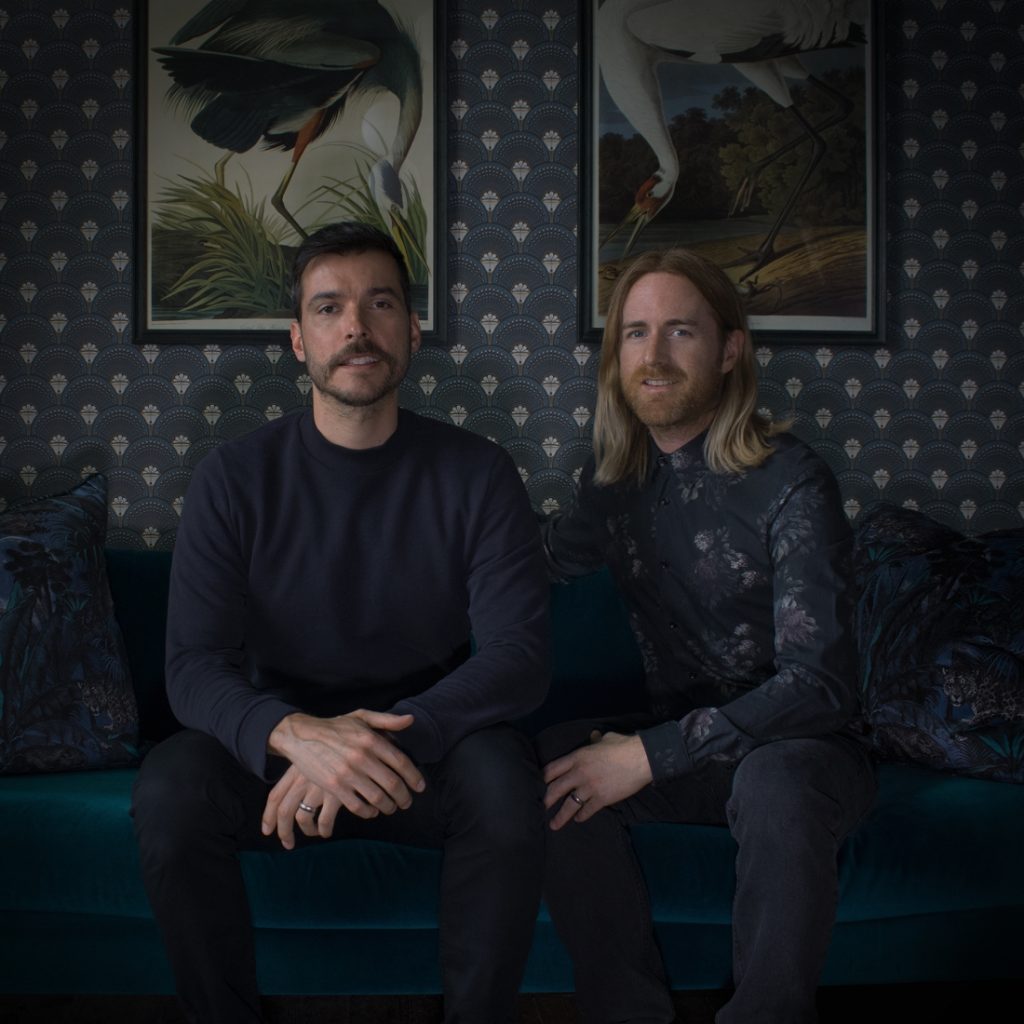 Wallpaper and fabric designers Divine Savages are husbands Jamie Watkins and Tom Kennedy. With successful careers in fashion and design, they founded Divine Savages in 2017 determined to do interiors their way. They take inspiration from history, culture, fashion and the natural world to create a melting pot of ideas, which they then use to design exquisitely crafted wallpapers and fabrics, glamorous home accessories, fabulous gifts and limited-edition art prints. 
I've used their bold colourful wallpapers in some of my projects and I was so excited when they moved to my home town of Bath, where they are renovating a Victorian villa. 
Here are favourite designs from www.divinesavages.com
Faunacation 'Twilight'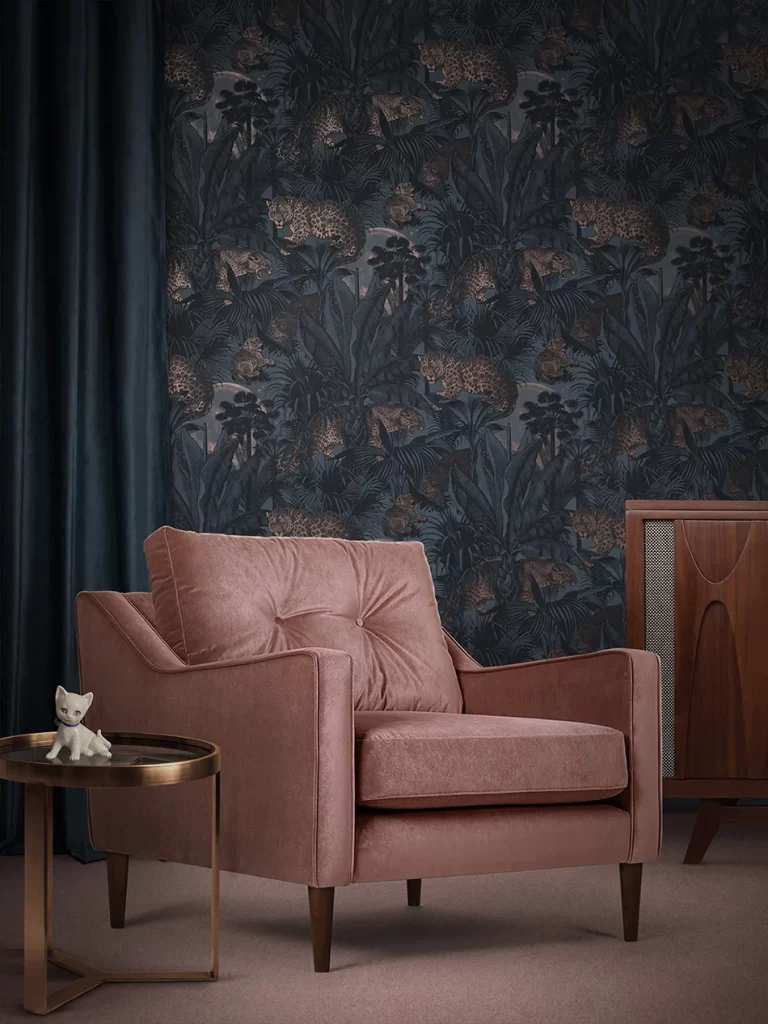 One of the company's iconic designs, Faunacation is a jungle wallpaper design featuring tropical palms, lush foliage and big cats. The Twilight colourway is a glamorous combination of deep blue tones and metallic copper detailing. I love this design in bedrooms and bathrooms; it works particularly well in period homes.
The Fierce & The Fabulous Pink Panthera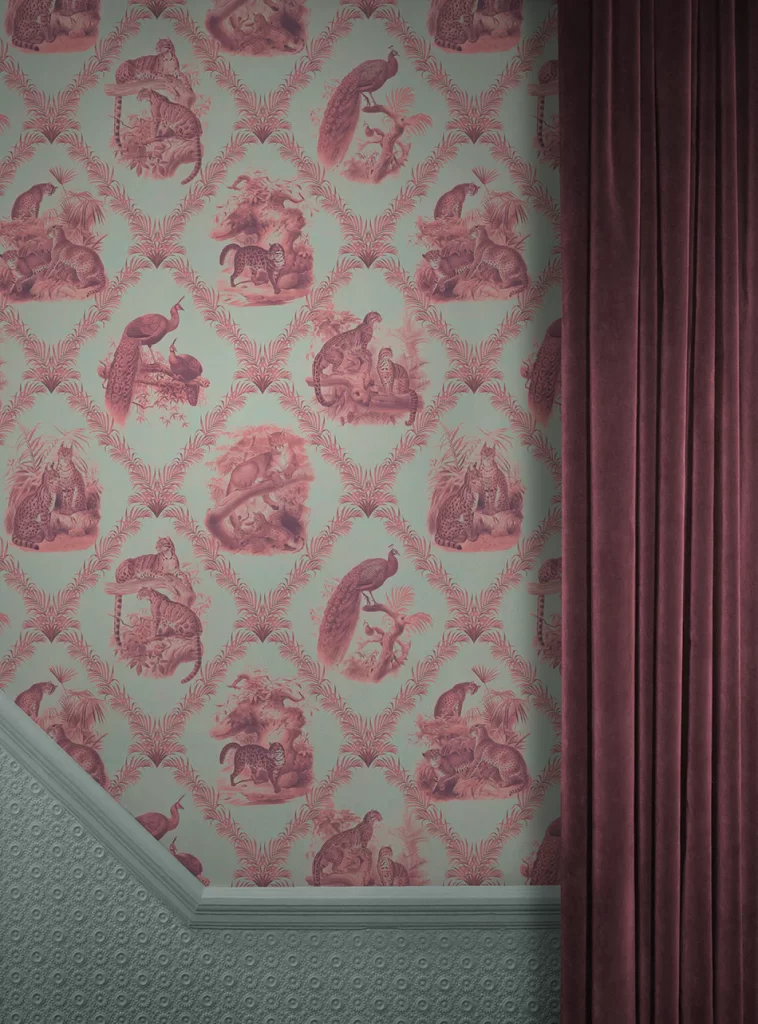 Pink Panthera features a mix of pink detailing perfectly paired with a duck-egg blue background. Original illustrations are from the archives of London's Natural History Museum and showcase fierce cats and fabulous peacocks for a wallpaper that brings the wonder of nature into your home.
Extinctopia 'Rhubarb & Custard'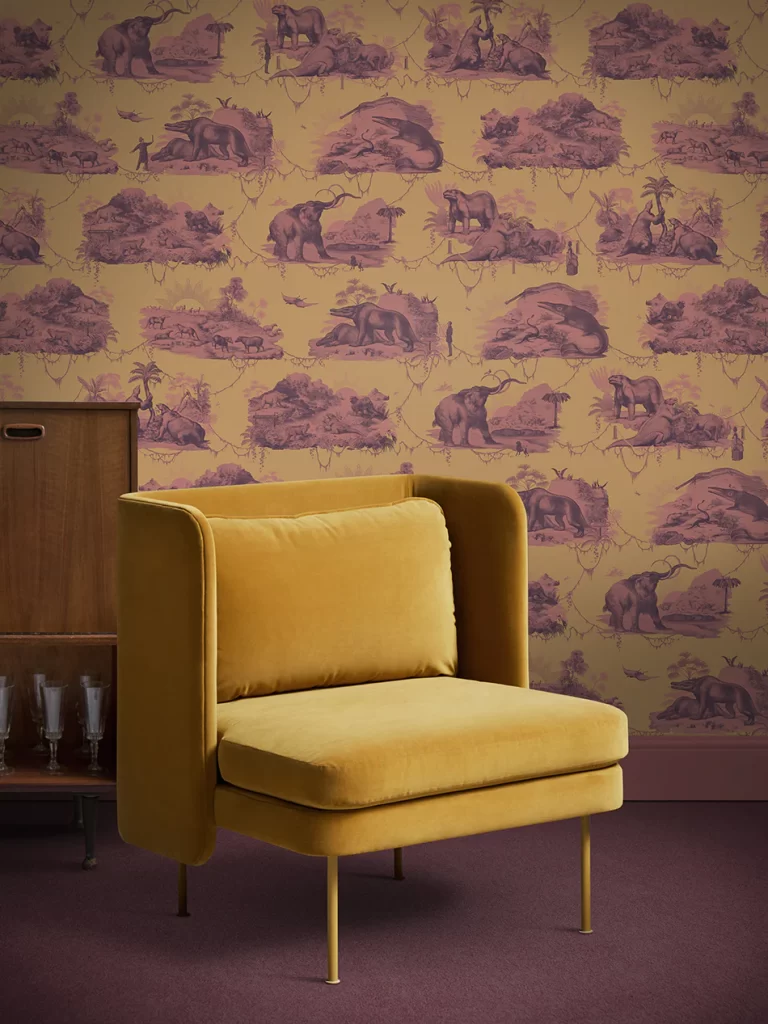 With it's Warhol-inspired palette of violet and red on a golden yellow background, the Extinctopia wallpaper design takes inspiration from the elaborate Victorian theme park once housed at Crystal Palace. The design features a fabulous collection of prehistoric beasts, skulking in the bushes and frolicking in the water.
Safari Soirée 'Forest Mist'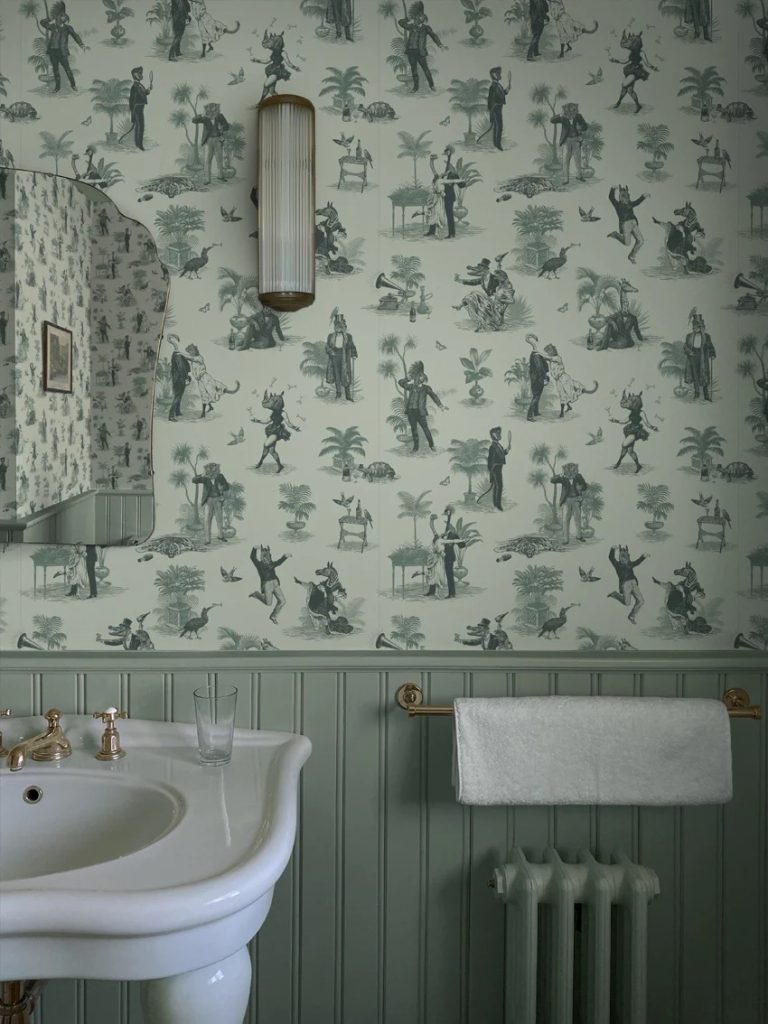 This toile inspired wallpaper design features a mischievous cast of divine savages!  It is both elegant and playful and will bring character to any room.
Crane Fonda 'Coral'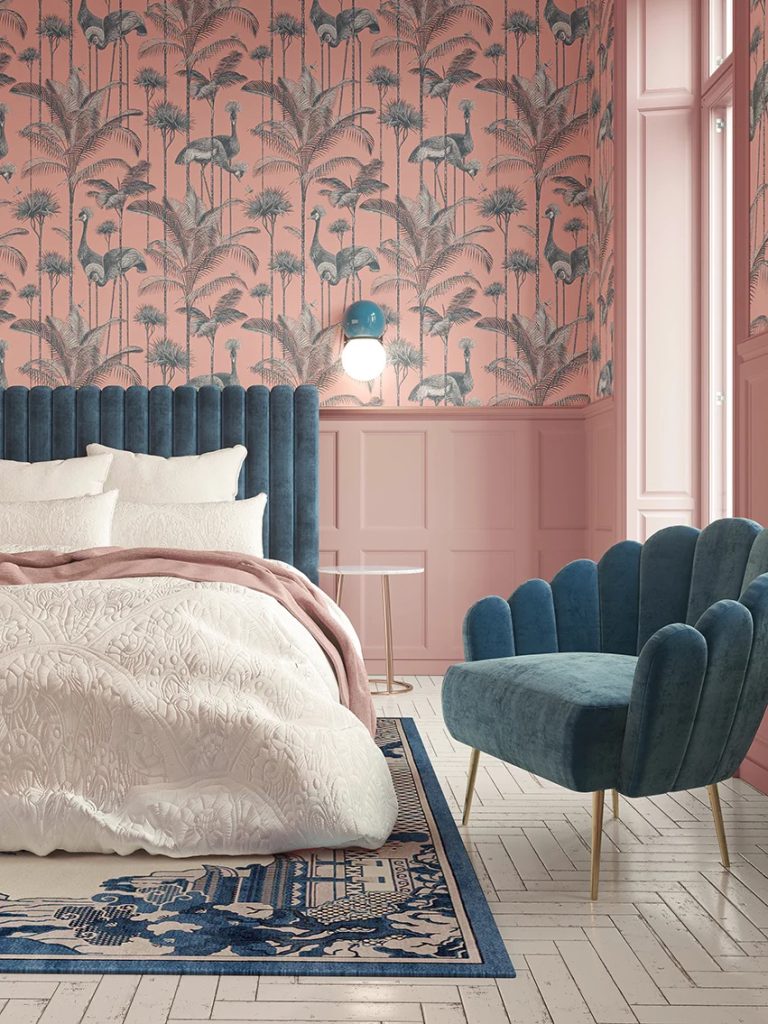 Featuring the Grey Crowned Crane amongst lush palm trees, this design works well in both modern and traditional homes. It comes in a wonderful selection of colourways including copper and this pretty coral.
Bye Bye Birdie! 'Delft'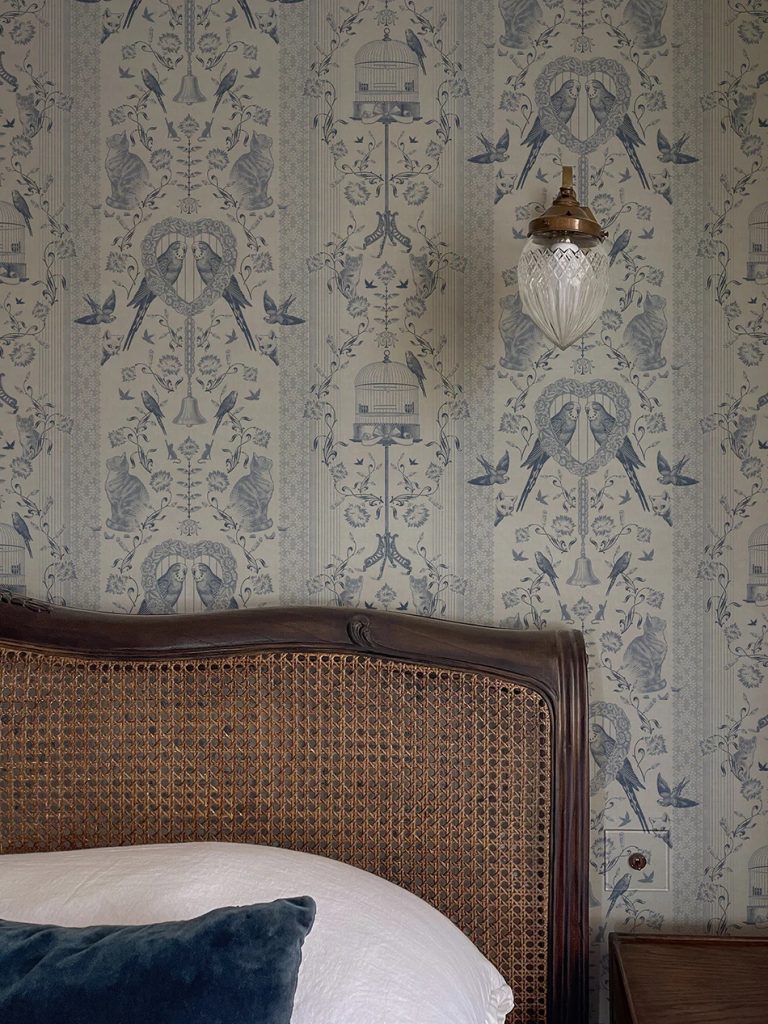 This pretty romantic wallpaper in blue and white looks wonderful in a bedroom. It is a whimsical design featuring cats chasing budgies (guess the inspiration for this one!) and also comes in other colourways for a slightly edgier or brighter look.
Little Botanize 'Historic Sage'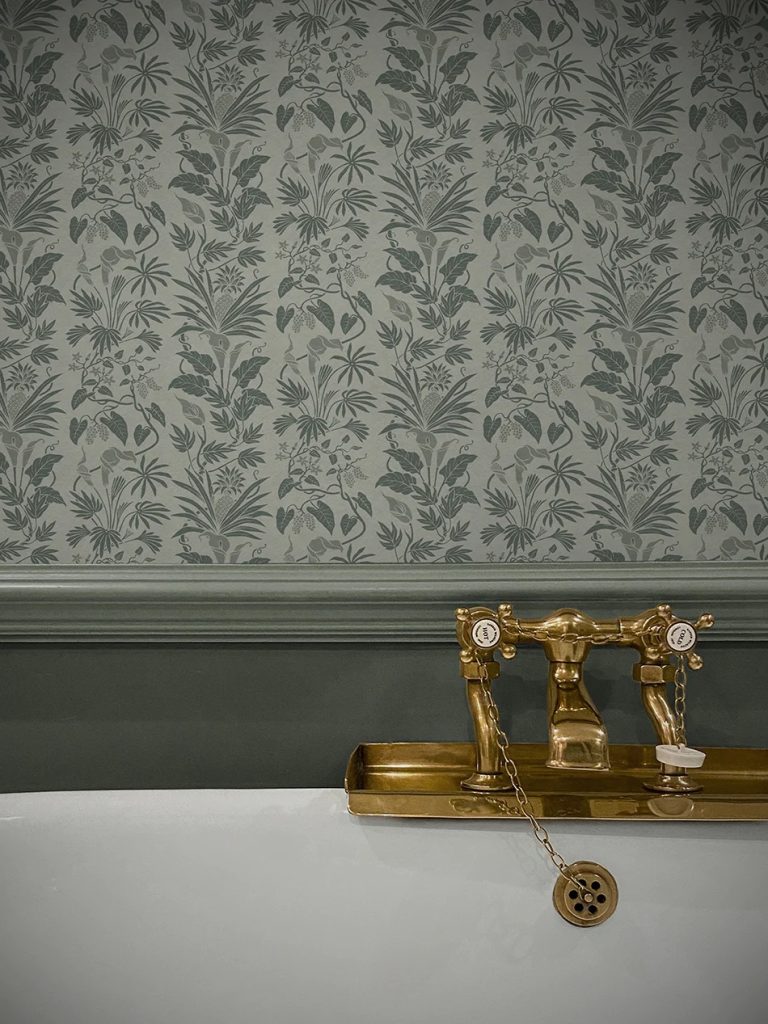 This beautiful botanical wallpaper was inspired by the ceiling of Hintze Hall in London's Natural History Museum which is adorned with illustrated panels showing plants from across the world. The pretty trailing plants in a palette of sage greens create a delicate pattern which is pretty, yet sophisticated.
I love the Divine Savages look – it's fun, quirky and glamorous!