There's nothing I love more than an interior design match made in heaven – the perfect marriage of the best designers with British brands. Joining forces to pool experience and resources has empowered many designers to create beautiful pieces. The interiors market is increasingly full of smaller capsule collections between influencers, artists and makers and brands. Call it the era of the micro-collaboration.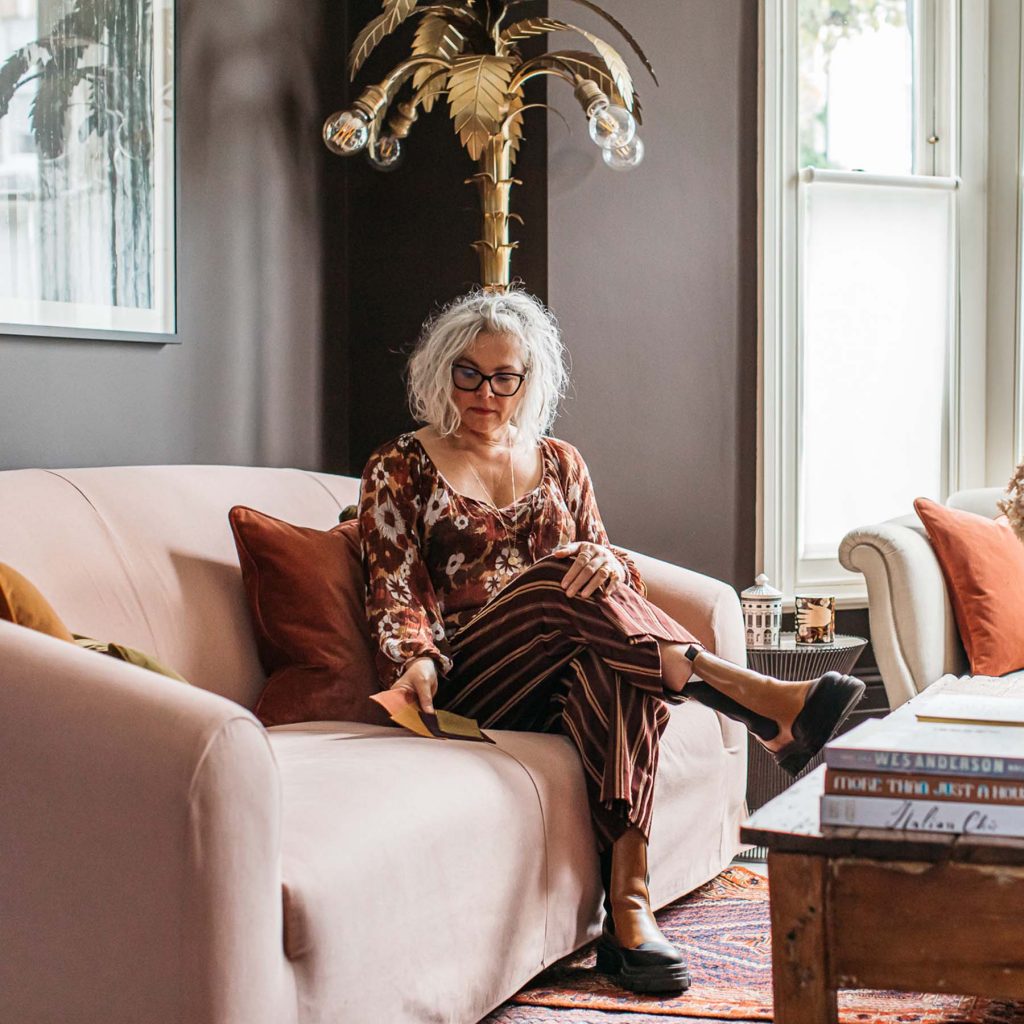 As design guru Charles Eames once said: "Any time one or more things are consciously put together in a way that they can accomplish something better than they could have accomplished individually, this is an act of design."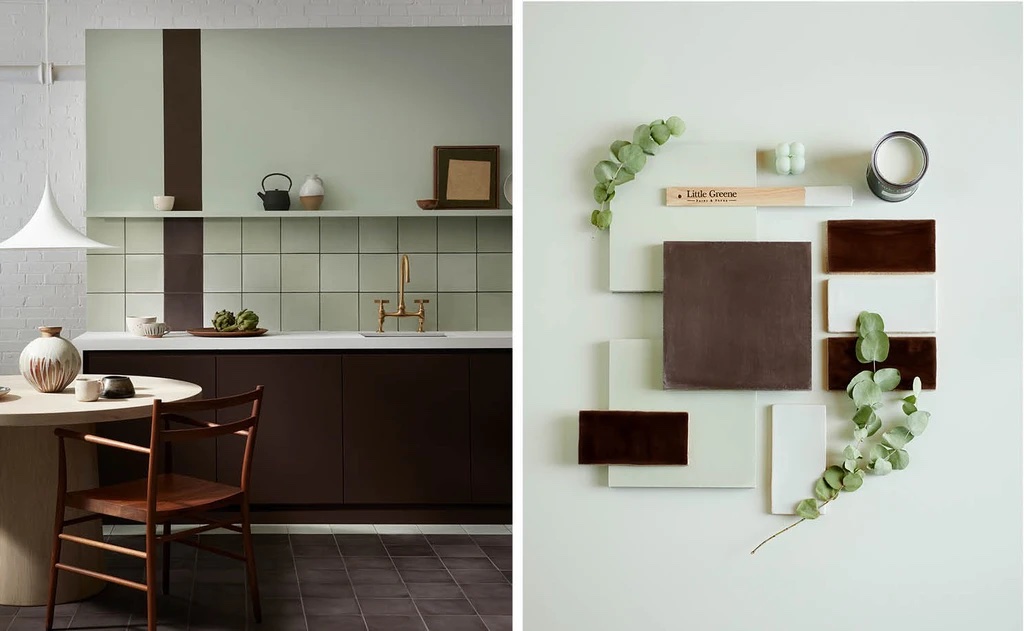 Here are some of the companies who have been collaborating with creatives. Paint, wallpaper and fabric brands are the masters of the art, but there are many companies seeing the potential for interesting partnerships.
IKEA
Surprisingly IKEA has been doing interesting collaborative collections for the last few years and was a pioneer of the concept. It started with British designer Ilse Crawford's minimalist, nature-heavy furniture and decor. Their latest collaboration with Sonos shows them teaming up with the speaker brand to create the Symfonisk picture frame WIFI speaker. It can be hidden within the home, hung as a piece of art or propped on a shelf. There are different designs to suit your style.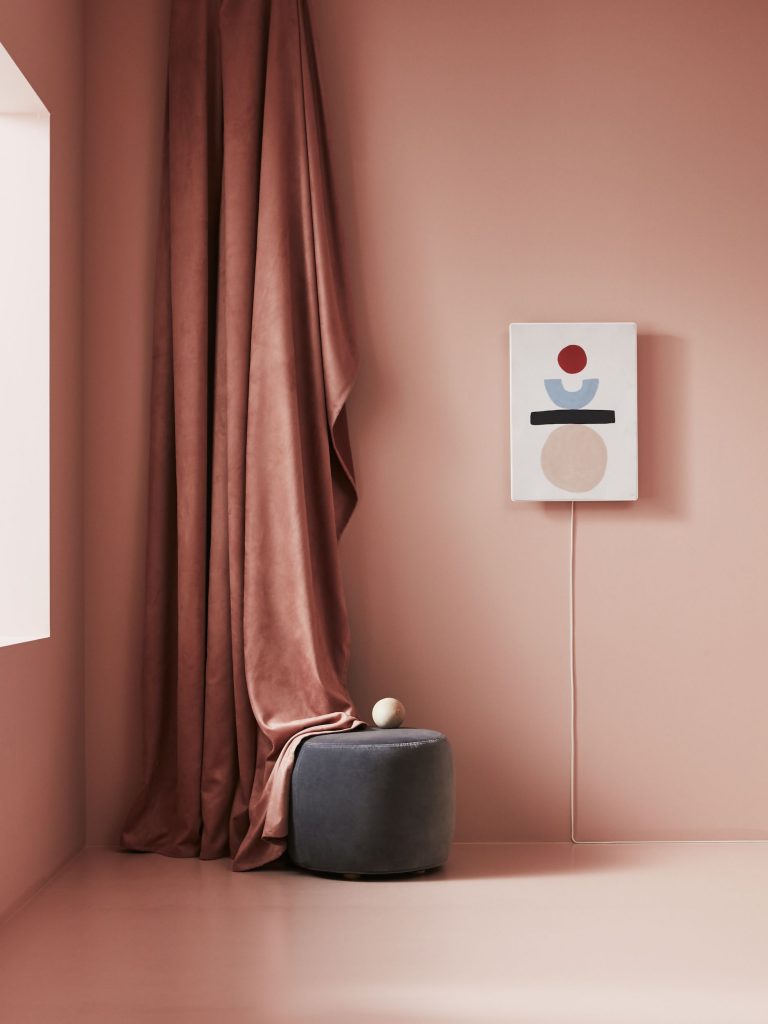 However, my opinion the latest collaboration is the best yet. Dame Zandra Rhodes has designed a line of 26 homeware products for Ikea, a decision she made after painting her Billy bookcase "an iridescent Frida Kahlo blue". The limited edition collection, Karismatisk, features Zandra's brilliant bold, expressive style. The collection uses recycled materials where possible and there are collectable handmade rugs, vases and lampshades.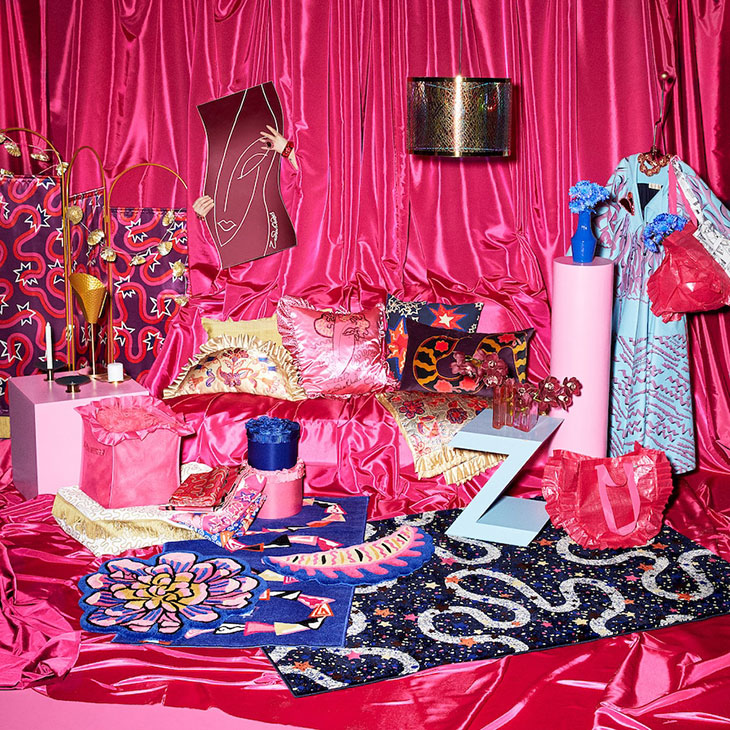 Anthropologie
Anthropologie was one of the first global brands to really embrace the concept of collaborating with artists. One of my favourites is still one of their first ones, with Parisian artist Nathalie Lété. Nathalie works in a wide range of media, from painting to ceramics to textiles. Her surreal imagination creates a fantasyland with doll-like heroines, larger-than-life blooms, enchanted forests and lots of parlor cats. Her unique aesthetic has garnered her a cult following and her designs for Anthropologie are the perfect balance of charm and eccentricity.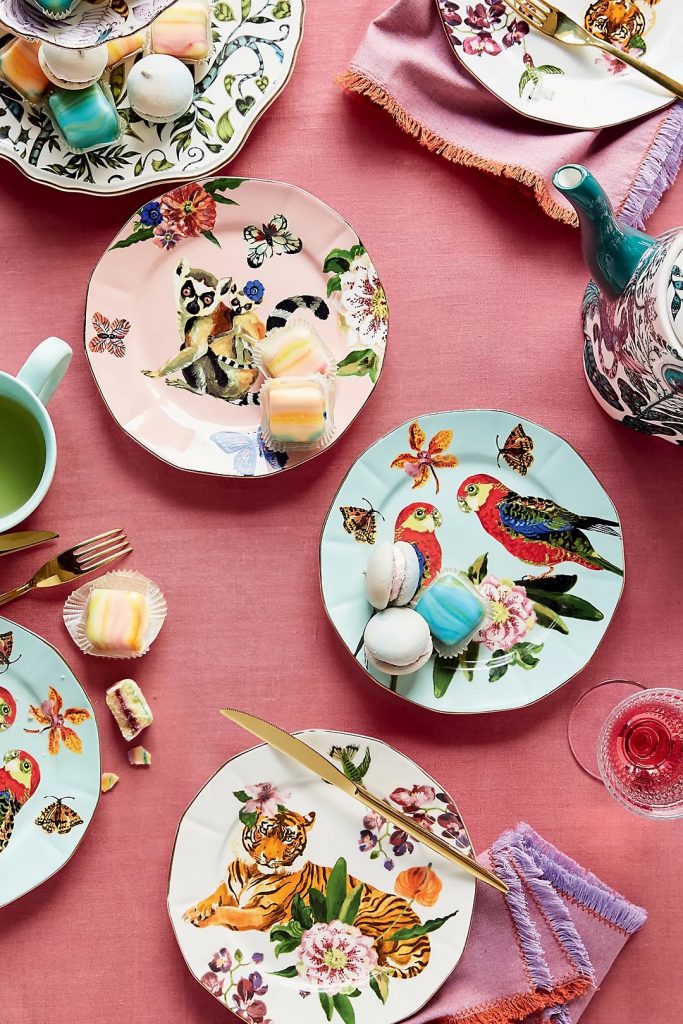 Bert & May
The team at artisan tile company Bert & May are also experts at working with brands that match their aesthetic.
The Arch Collection of encaustic tiles was designed by Bert & May alongside cool interiors magazine, Livingetc and is a celebration of both brands' love of clean architectural lines. The range is made up of soft, yet striking patterns such as columns, gentle arches and playful circles in a muted palette for a laid-back contemporary look.
The Bert & May x Little Greene collection features eight of Little Greene's classic colours on two of their signature tiles – their chalky cement squares and glossy glazed herringbones. These special new tiles have been to sit alongside Little Greene's paints, as well as their existing tile collections, perfectly.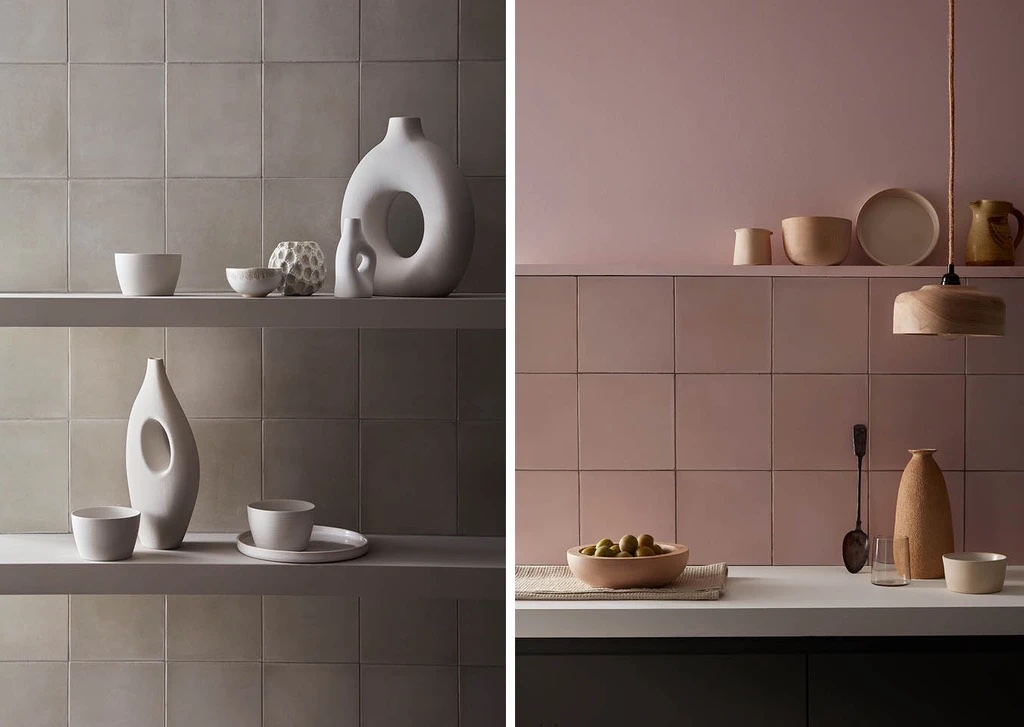 Blinds2Go
At Blinds2Go the iconic country patterns from quintessentially British designer Emma Bridgewater are now available as blinds. Handpainted florals all the way through to kitchen favourites, this collection brings patterns made for a family home. The collection features modern classics such as the pretty Starry Skies, quirky Cats and nature inspired designs including Ladybird, Bumblebee, Sweet Peas, Sunflower, Figs, Lemons and Garden Birds.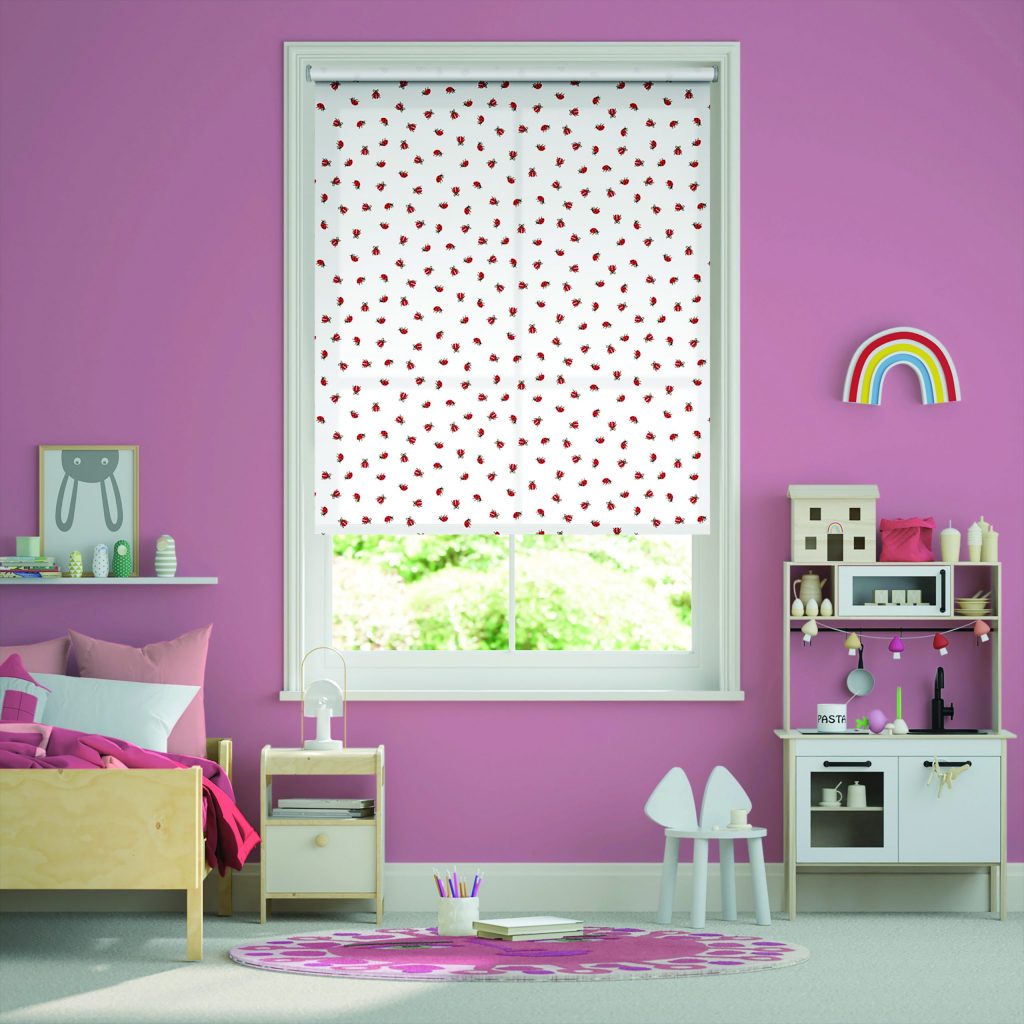 Sofa companies are often great at collaborating with influencers and Instagrammers.
Sofa.com
Erica Davies is a fashion journalist turned interiors blogger who has added fabric designer to her growing list of talents. Erica has designed two excitingly wild prints exclusively for sofa.com, Jungle Cat and Wild Thing. Each is available in two colourways, a soft blush shade called Pink Elephant and Hippo, a cool grey-blue. Erica's take on an animal print is a versatile, slightly abstract version of a print that mixes well with existing furniture pieces. Wild Thing is a re-working of a vintage floral pattern she discovered in an old painting – with the same abstract feel.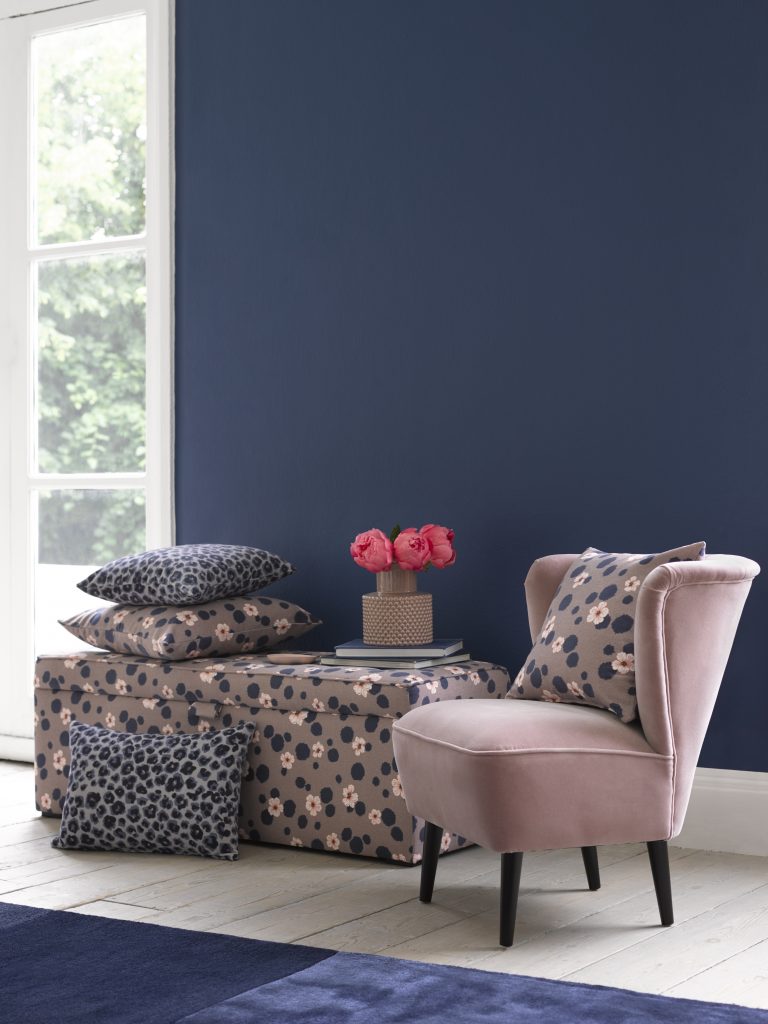 Sofas & Stuff
Blogger Emily of The Pink House is all about taking interiors inspiration and advice from fabulous people and places and using it to make your place amazing. She collaborated with Sofas & Stuff to create a range handmade in Britain, comprising of 2 armchairs and 2 luxury, feather-filled cushions. The limited edition showcases Emily's love affair with all things foliage plus, of course, plenty of pink.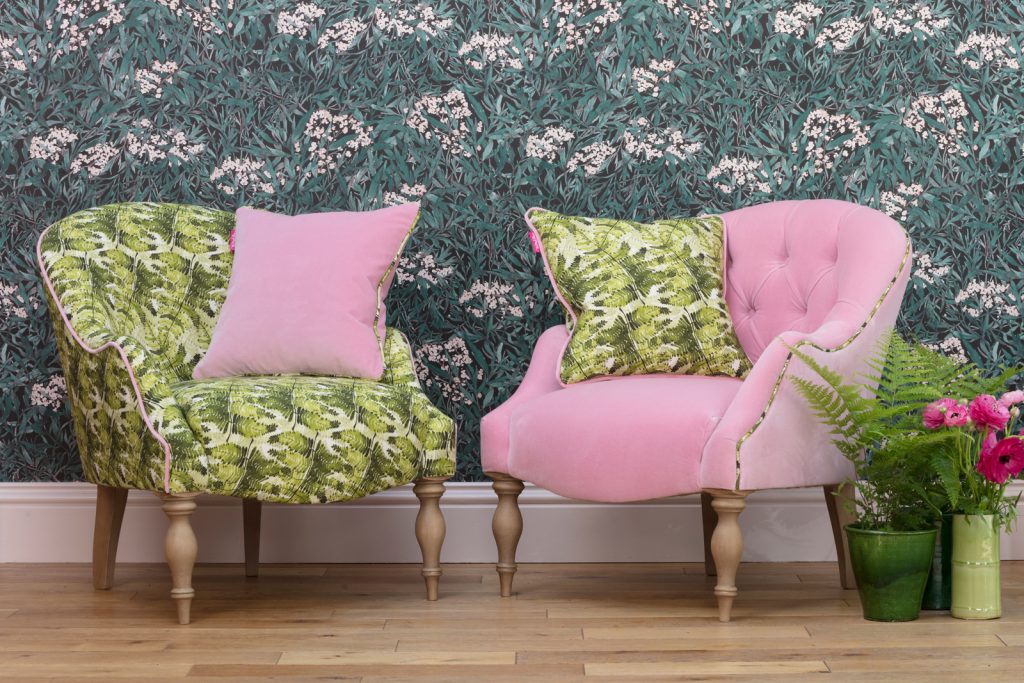 Love Your Home
Love Your Home is run by husband-and-wife team Leigh Harmer and Abi Boura. Abi was style editor for Elle Decoration and the team have just launched a a clever collaboration with award-winning interiors journalist Kate Watson-Smyth from @mad_about_the_house. The collection combines their shared passions for design, quality and the ever more important need for true sustainability and centres around the 'Vita' sofa. The Vita is a timeless design that is built to last a lifetime and is available in both a fixed recycled velvet cover and loose recycled cotton cover that can be easily switched. The fabrics come in a range of warm, earthy tones inspired by Kate's home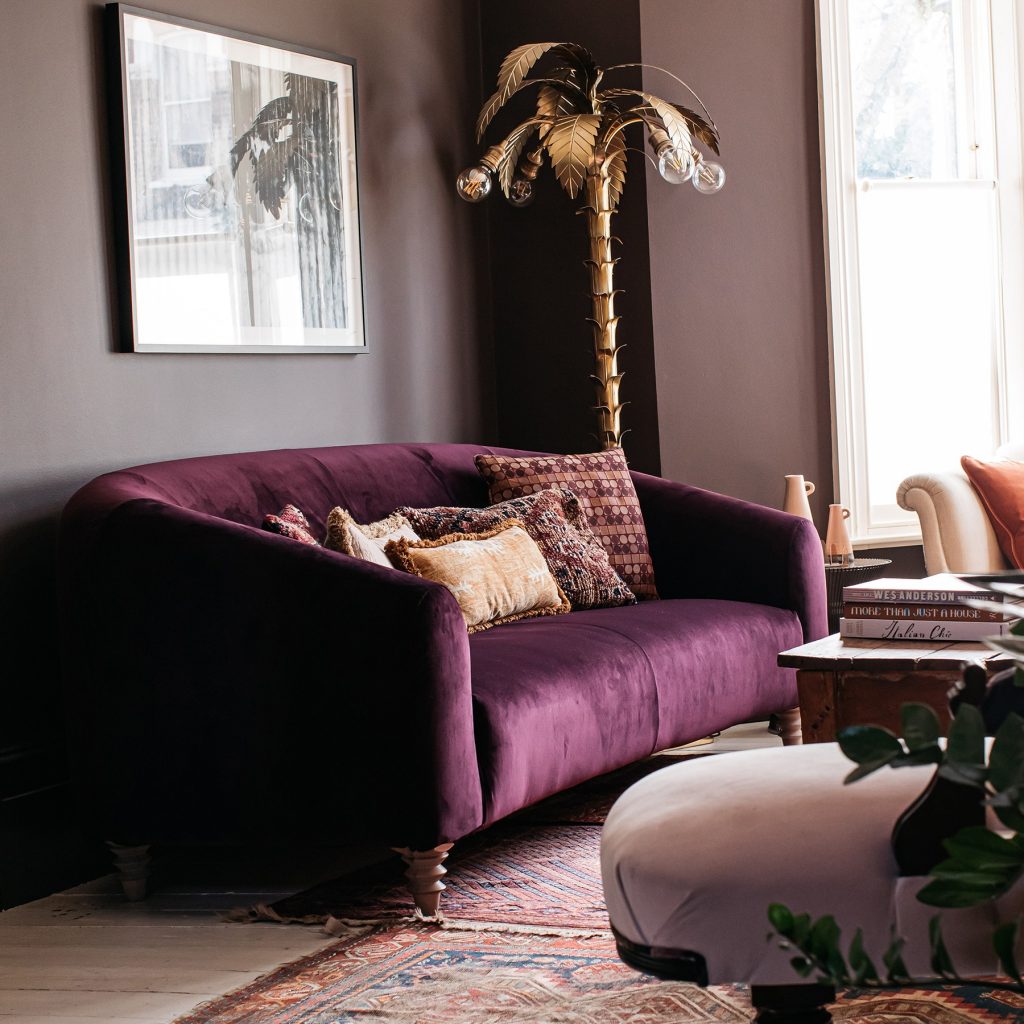 Paint and wallpaper companies are also the perfect fit for collaborations.
Little Greene Paint Company
Paint company Little Greene research, discover, reformulate, and publish original paint colours and bygone recipes, many of which were originally found in National Trust properties. Along with collaborating on paint colours, they have also collaborated to bring two collections of National Trust Papers. The second collection comprises 42 colourways and each wallpaper has been redrawn and recoloured. Design elements are taken from Georgian and Victorian block-printed papers and also from older, decorative objects including a leather wall-hanging and a 15th century tapestry. The contemporary interpretation of each design makes this a truly timeless collection of papers for homes of all architectural styles. Patterns include the delightful, trailing 'Massingberd Blossom' from Gunby Hall in Lincolnshire, the playful and charming 'Burges Snail' from Knightshayes Court, authentic late Georgian 'Beech Nut', uncovered at Oxburgh Hall in Norfolk, 'Mandalay' a tree of life design taken from a leather wall hanging purchased by Rudyard Kipling, scrolling damask design 'Tulip,' small-scale print 'Moy' and delicate botanical 'Millefleur' inspired by a lovingly conserved tapestry at Montacute House.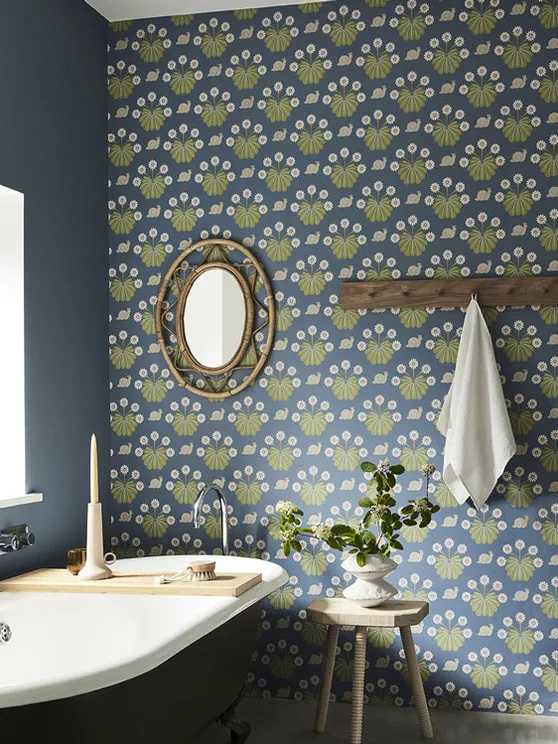 Farrow & Ball
To celebrate its 75th year, Farrow & Ball has joined forces with Liberty to create a stunning curated collection of 15 paint colours from the firm's archive of much-loved colours hand-picked to complement iconic fabric designs. From the edgier but complex tones of Pantalon and Chemise to the simple appear of Archive and Clunch, these colours and prints may have their roots in the past, but they're perfect for the contemporary home.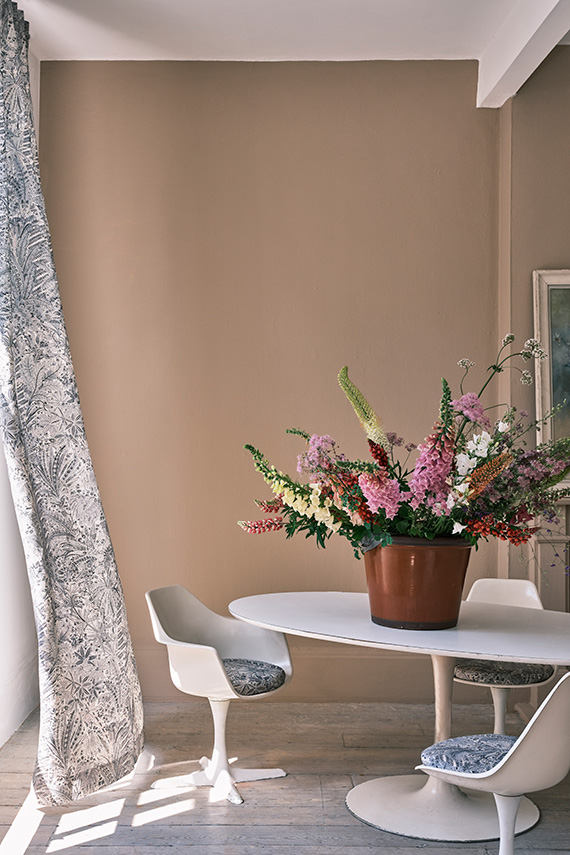 Lick
Lick's latest, and boldest colour palette, Maximalist Brights, was created by need-to-know designer, Yinka Ilori. This eclectic palette consists of five vibrant paint colours and two geometric-patterned wallpapers designed by Yinka. Inspired by his Nigerian heritage and the colourful, patterned fabrics West Africa is famous for, the Yinka Ilori x Lick collection reflects his love of colourful, graphic prints and joy-inspiring style. All the pieces were created during the first stages of lockdown when Yinka, like many of us, dreamt of escaping outdoors and appreciating the smaller things in life.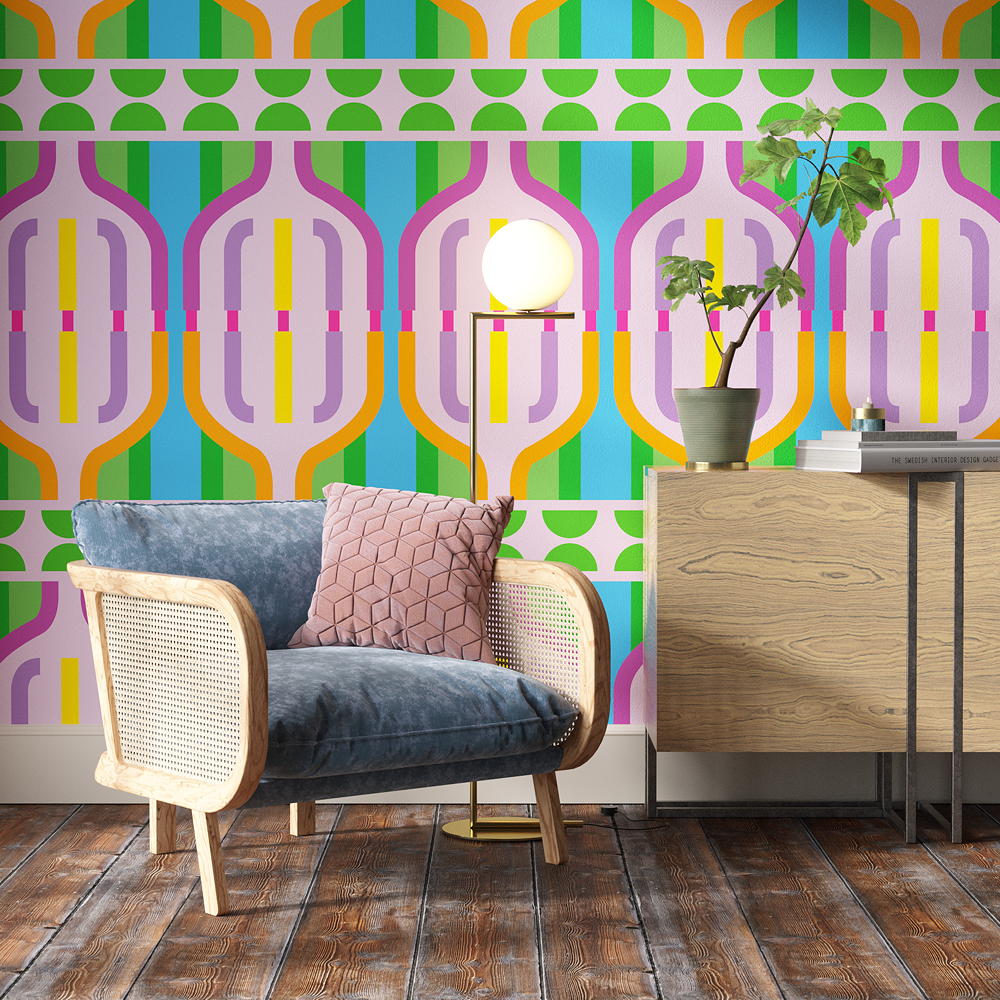 Lick have also collaborated with fashion designer, Jessica Russell Flint, for a collection of six maximalist wallpapers. The six exclusive wallpaper designs fall under three main patterns: Chinoiserie, Palm Leaf and Stargazer. She's designed each one in two different colourways to help them work with different styles, different spaces and different degrees of natural light in a room.
Woodchip & Magnolia
British design house Woodchip & Magnolia joined forces with Pearl Lowe – former singer/song writer, dress designer, author, and all-round vintage style queen – to create a collection of four fabrics and wallpapers with a vintage twist. Comprising of four designs (Cameo, Selwood, Heirloom and Betty), the whole collection is unmistakeably 'Pearl' in style – the designs reflect her life-long passion for vintage, faded glamour, heritage prints, flapper-girl decadence and country house opulence –all mashed up with a smattering of pure rock n' roll.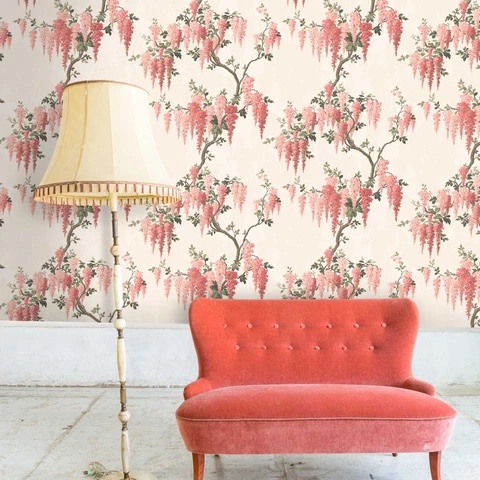 Rugs are almost works of art nowadays and lend themselves brilliantly to creative and interesting designs.
Obeetee Rugs
The partnership between renowned British designer Matthew Williamson and Indian rugs manufacturer Obeetee is all about creating an exciting collection encapsulating a unique design aesthetic. The Matthew Williamson brand ethos is one of positivity, optimism and joy through design. Comprising of eight intricate designs, his new collection of rugs reflects the fashion designer's daring and decadent use of colour and pattern. Across the collection there are varying inspirations, including Indonesian dying techniques, the natural world, Moorish design and sun-steeped landscapes.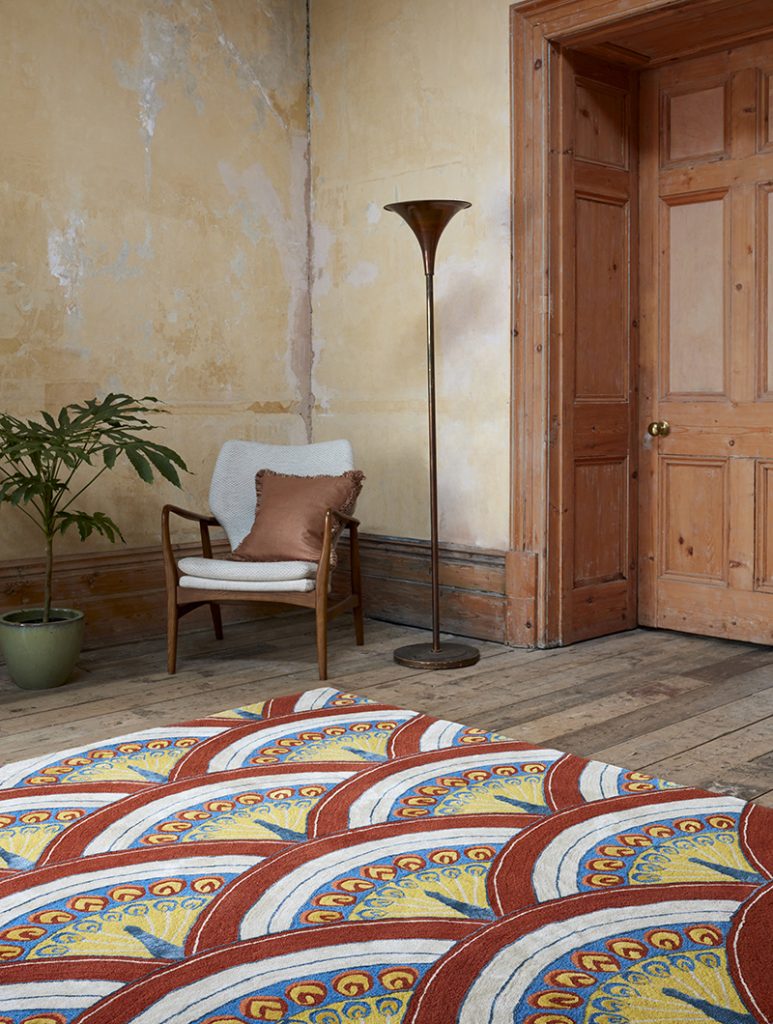 The Rug Company
The Rug Company has worked with noted fashion and interior designers like Vivienne Westwood, Paul Smith and Alice Temperley for years. One standout among its many collections is the richly patterned group of silk rugs by the late Alexander McQueen, hailed as one of Britain's greatest avant-garde fashion designers. Using some of the world's oldest traditional skills, The Rug Company has translated McQueen's visionary designs into modern masterpieces.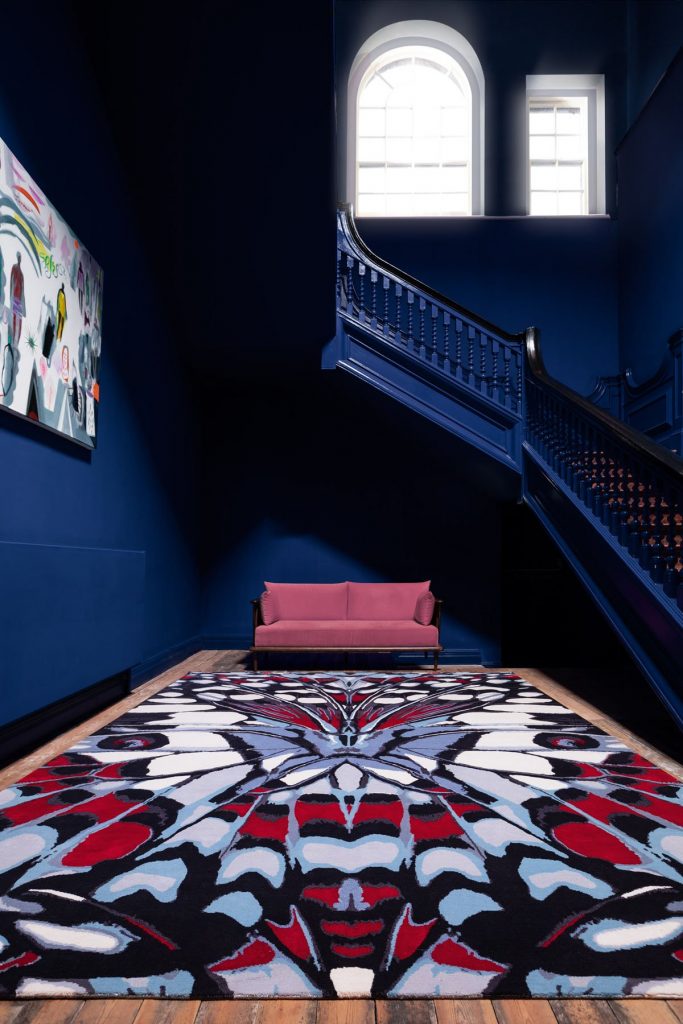 The firm has also collaborated with quirky London-based artist and designer, Luke Edward Hall. He has worked with a variety of companies and institutions including Burberry, Christie's and the Royal Academy of Arts already and his colourful aesthetic is informed by a love of history, an appreciation of beauty and a sense of playfulness.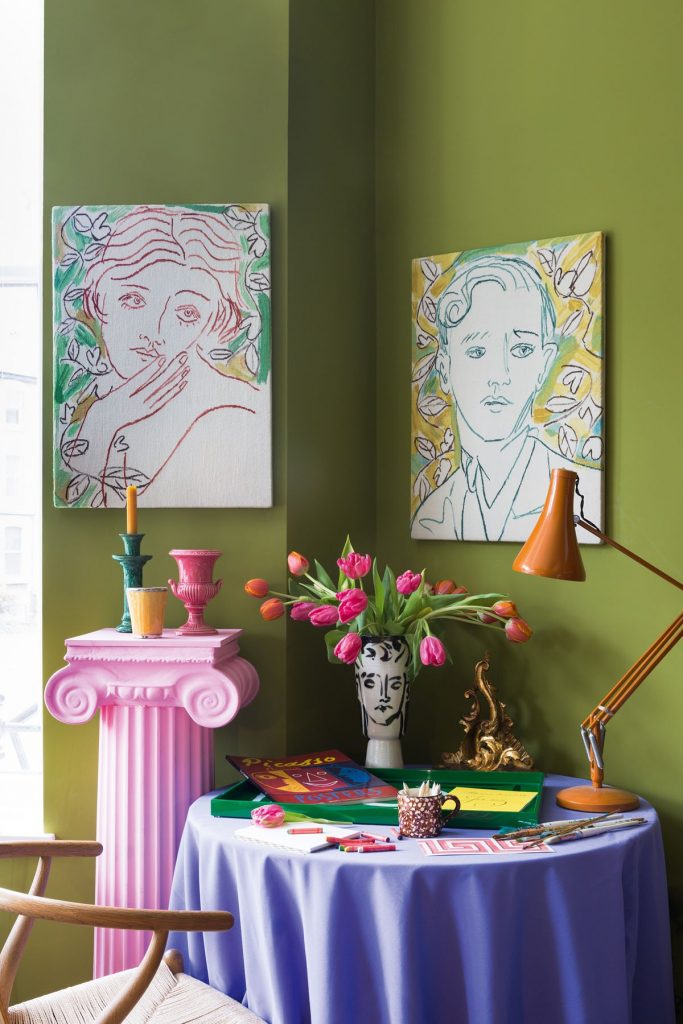 Another favourite is the Vivienne Westwood collection. She's one of the most original and influential designers of our time and I love their iconic rugs and cushions featuring some of her most-loved prints, including the Union Flag and signature orb.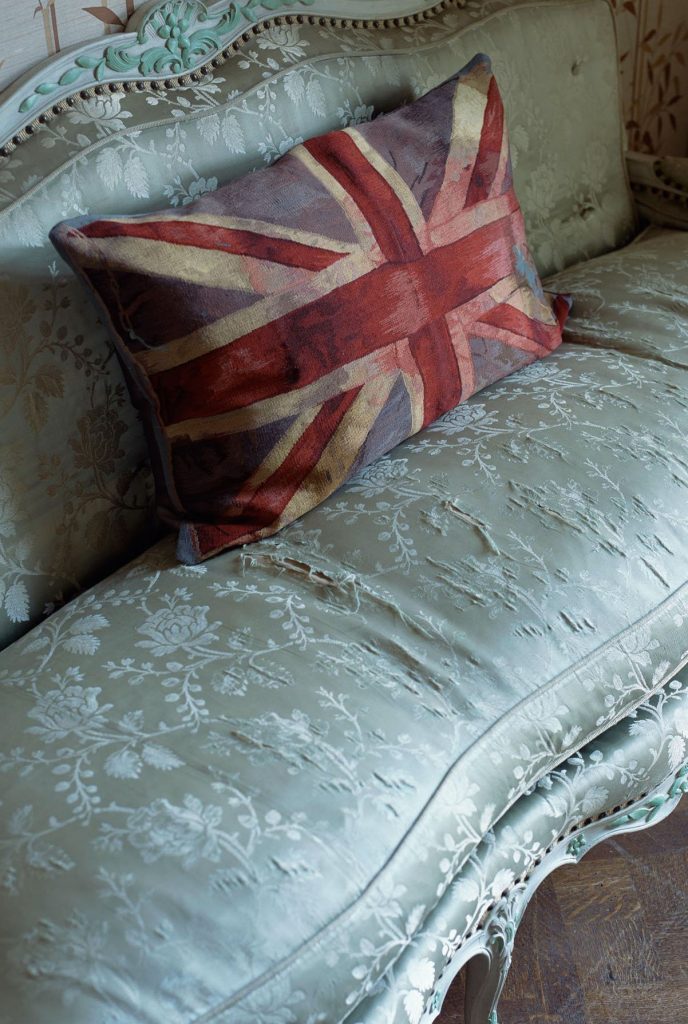 Axminster
The synergy between House of Hackney's 'art on walls' and Axminster Carpet's 'art on floors' is immediately apparent in this collaboration between the two British brands. Both brands are champions of traditional craftsmanship and environmentally friendly methods and the House of Hackney collection features exquisitely woven rugs, runners and carpets. Woven entirely on one loom at Axminster's factory in Devon, there are fou designs – Artemis is a psychedelic floral, Wild Card is a leopard spot in a lovely natural 'Butterscotch' shade, Blackthorn reimagines an 1892 Art Nouveau print by William Morris and Saber is the House of Hackney's iconic tiger motif.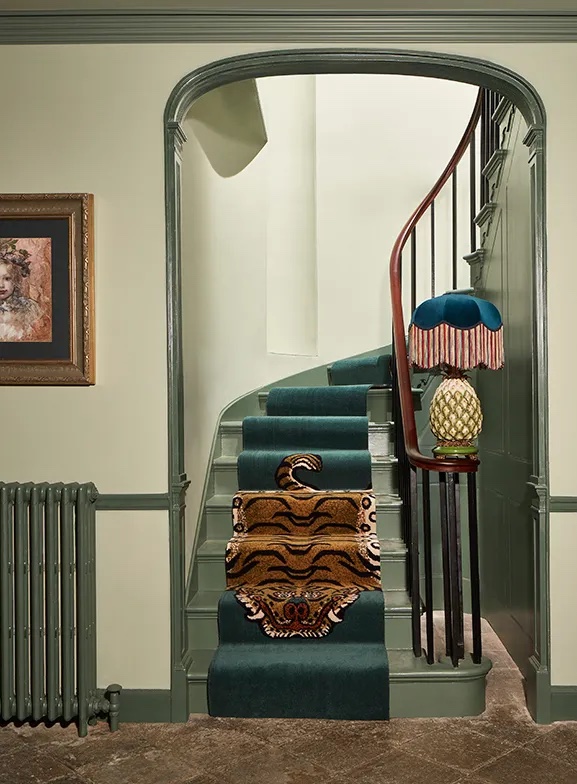 Accessories like cushions, blankets, ceramics and lighting are another place to find interesting designer collaborations.
Wedgwood
A British multi-disciplinary artist working with photography, installation, poetry and painting, Claire Luxton drew inspiration from Wedgwood's six new Wonderlust patterns to create a multi-dimensional installation artwork featuring live animals and fantastic florals. She created an extravagant mural in partnership with artisan wallpaper company, Feathr. I make that a triple collaboration!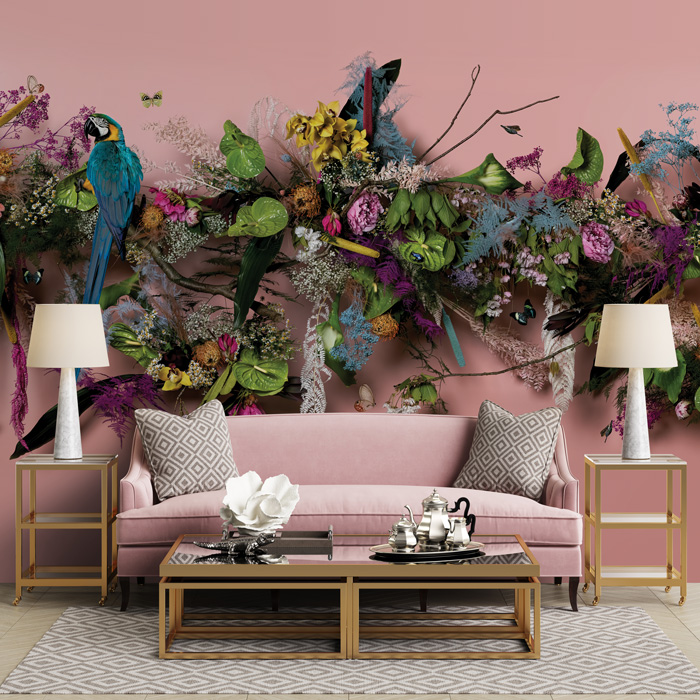 The Tartan Blanket Company
The Tartan Blanket Company has launched a limited-edition and exclusively designed collection by art director, designer & stylist Zeena Shah of @heartzeena. The collection features beautifully soft and sustainable lambswool blankets and scarves for adding a touch of warmth and positivity to your style. Each design is woven in one of Shah's signature bright colour checks.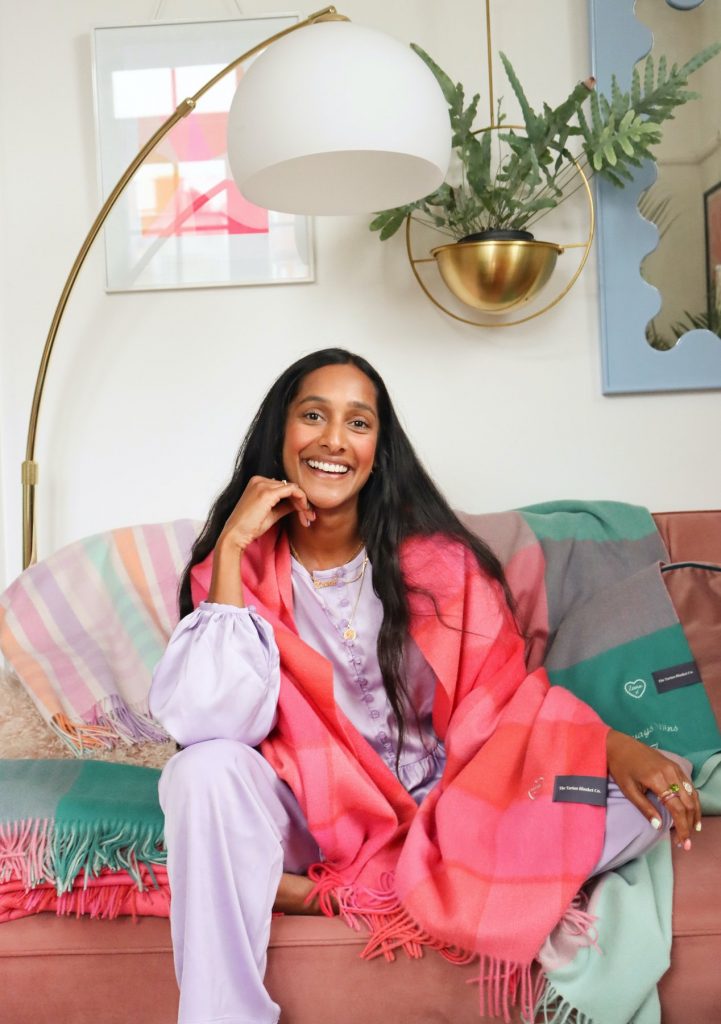 Pooky
Working with the brilliant artist and maker, Maude Smith, Pooky have launched a children's range of decorative lampshades. Comprising three playful designs, taken from original drawings by Maude, each distinct shade has been inspired by her fanciful applique work and botanical painted tiles. Furry Folk, Flappity Birds and Sunny Street will feed children's imaginations and are so gorgeous they are perfect in adult rooms too!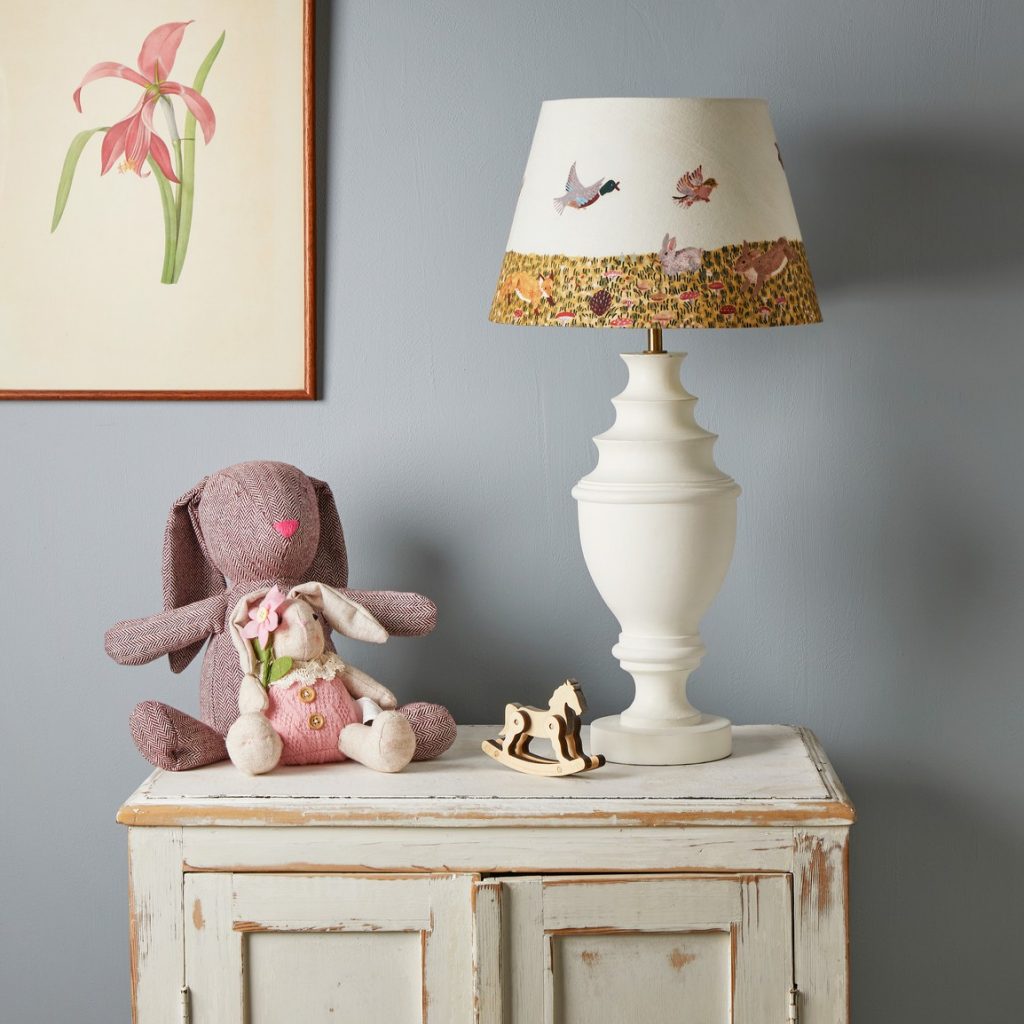 Marrimekko
To celebrate their 70th anniversary, Marrimekko invited interesting creatives to reinterpret the design language and philosophy of their iconic mid-century designs. The result was Marimekko Co-created.
The third capsule collection was made in collaboration with Japanese fashion designer Wataru Tominaga.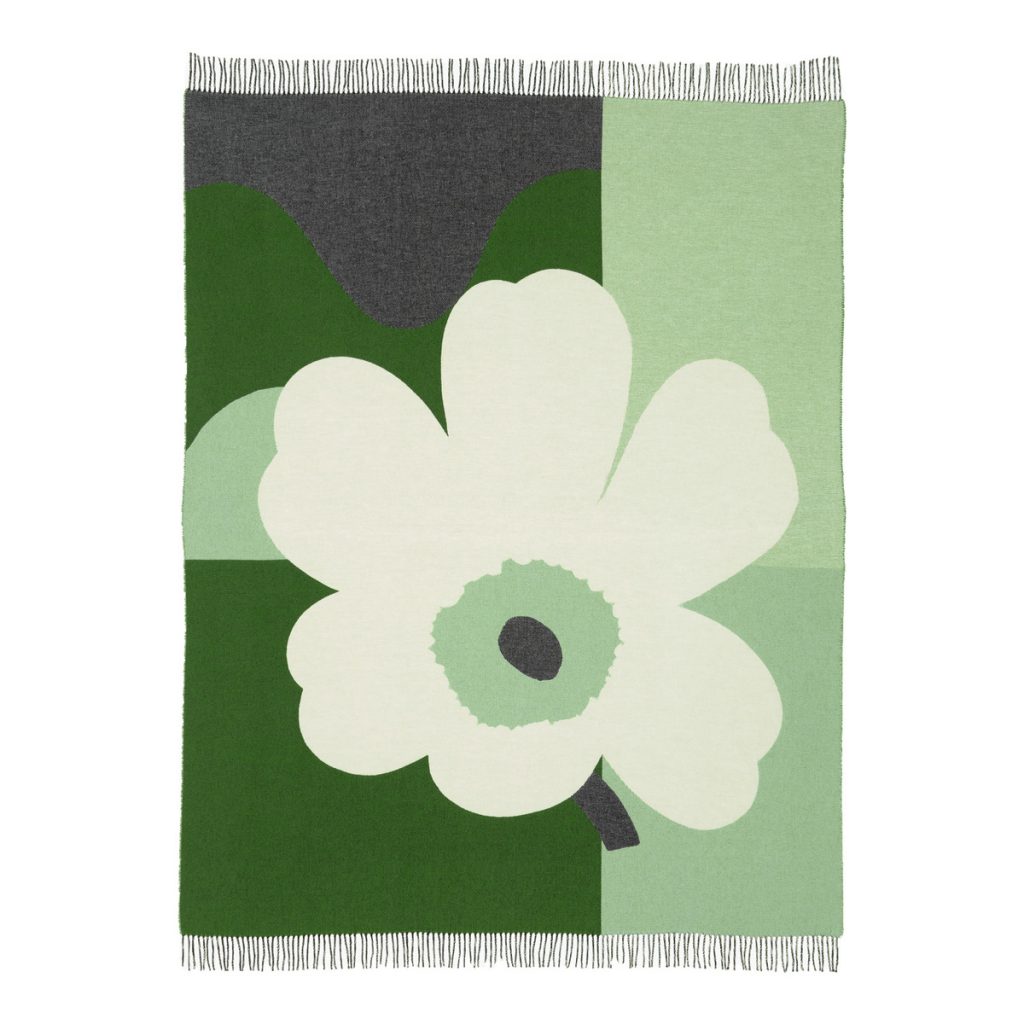 Look out for more interesting collaborations this autumn. It's a great way to get designer style for less or discover new designers through bigger brands.