I was lucky enough to visit Decorex in London last week. Decorex is Europe's leading interior design event and it has been running for 43 years. The interior community took full advantage of finally being able to meet with members of the design community face to face, see all the latest products on display and listen to some talks by leading names in the interiors sphere.
Here are some of my highlights:-
A Rum Fellow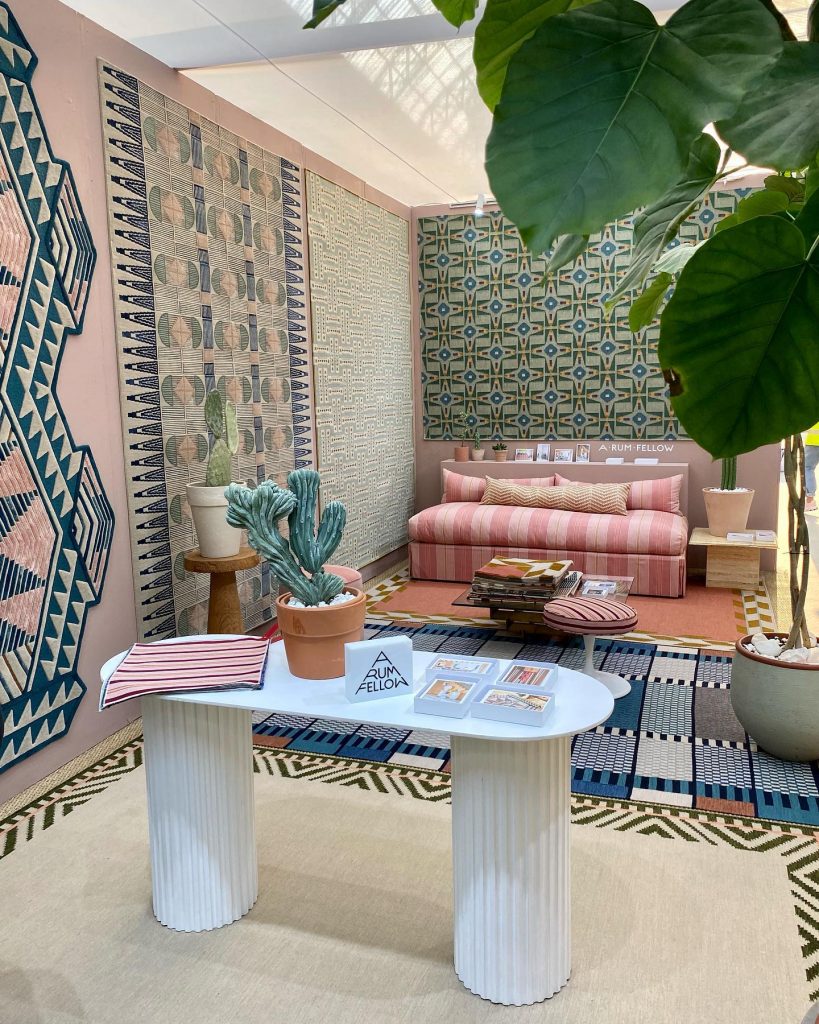 A Rum Fellow is a London based design studio dedicated to artisan textiles and rugs and statement interior pieces emblazed by colour and intricate pattern. The founders, Caroline and Dylan, search the globe in search of the wonderful and unique. I loved the flat weave rugs (also known as dhurries or kelims) in beautiful colours. They look wonderful in contemporary and traditional interiors. https://www.arumfellow.com
Original BTC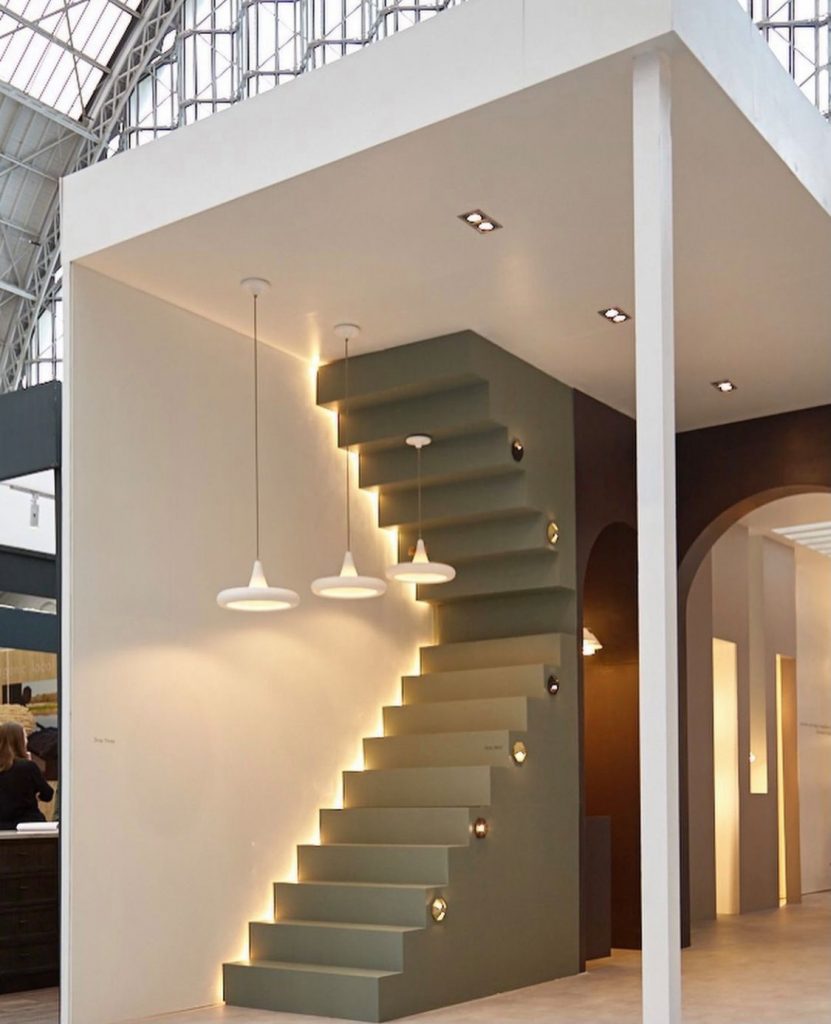 Established in 1990, Original BTC manufacture relaxed lighting for traditional and contemporary homes inspired by Britain's post industrial history – and they always have wonderfully inspiring stands. They were showing their latest British-made bone china lighting launches – including the Drop Three, Pebble and Fin King – alongside exterior and bathroom classics by Davey Lighting.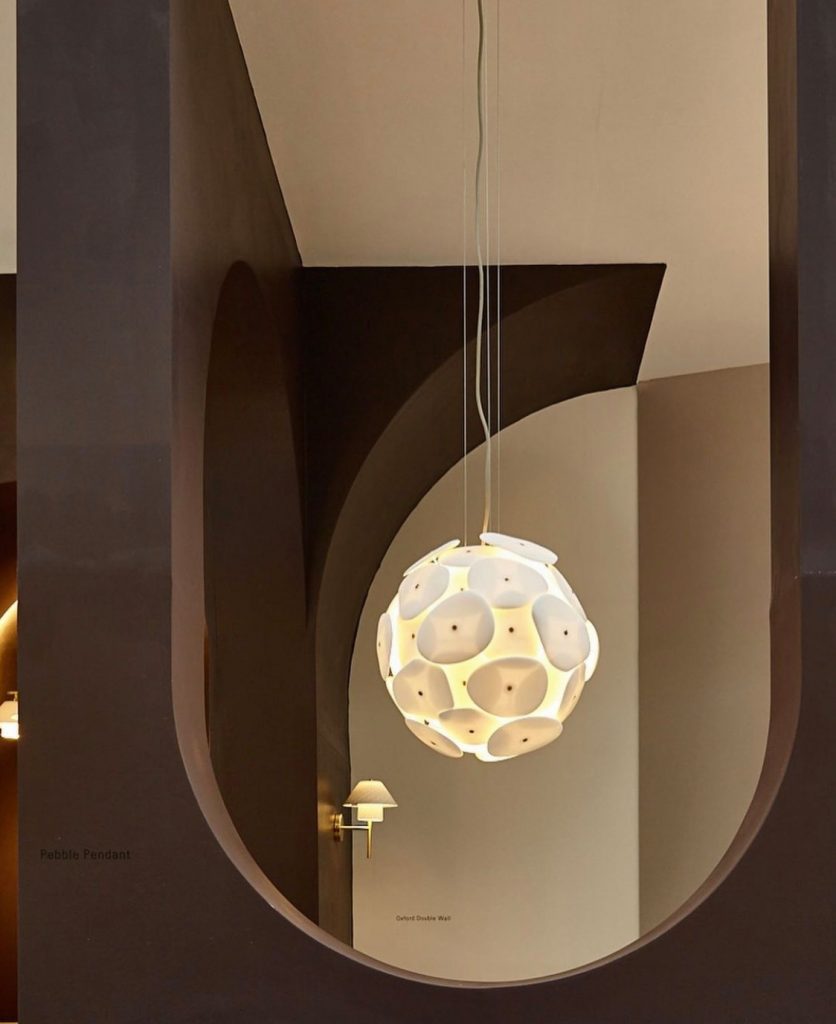 D'Arts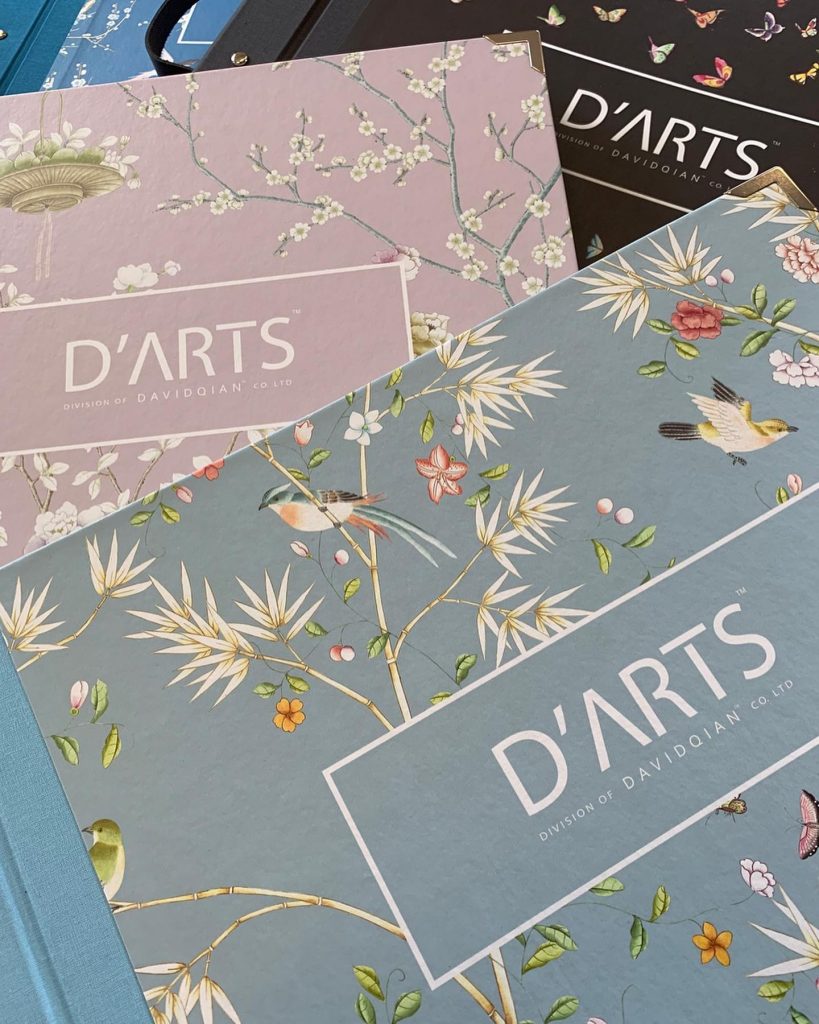 I am looking for a chinoiserie wallpaper for a current project and discovered D'Arts. These beautiful timeless designs are inspired by traditional Chinese, Korean and Japanese artistic culture. Designer David Qian delicately interprets the splendour of traditional chinoiserie designs into contemporary patterns and scenes. Historically, birds and flowers are the most popular motifs in the decorative art of chinoiserie and these are reflected in David's designs. Watch this space to see if I found the perfect wallpaper!
THG Paris
THG Paris is a high-end bathroom fittings and accessories. From semi-precious stones, crystal and porcelain, to onyx, optical glass and natural marble, THG uses top quality materials to create luxury bathroom pieces. I loved the ICON-X range of fittings. Straight lines and sharp geometries shape the sleek faucets with their distinctive cross handles. It's a timeless design that would look elegant in any bathroom.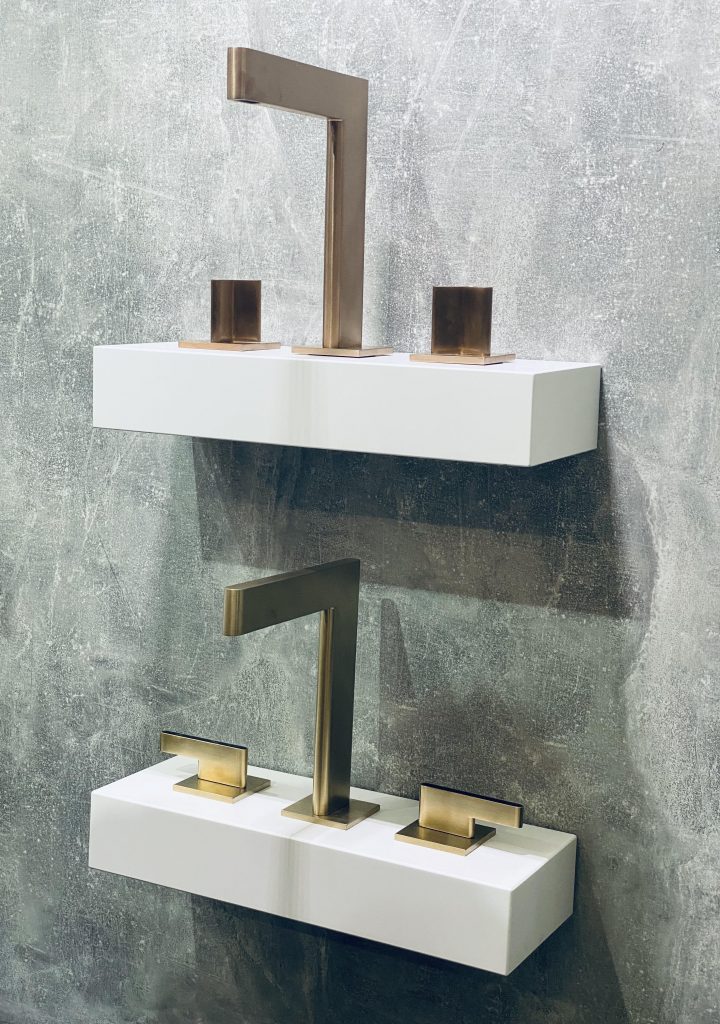 https://www.thg-paris.com/france/en
Crofts and Assinder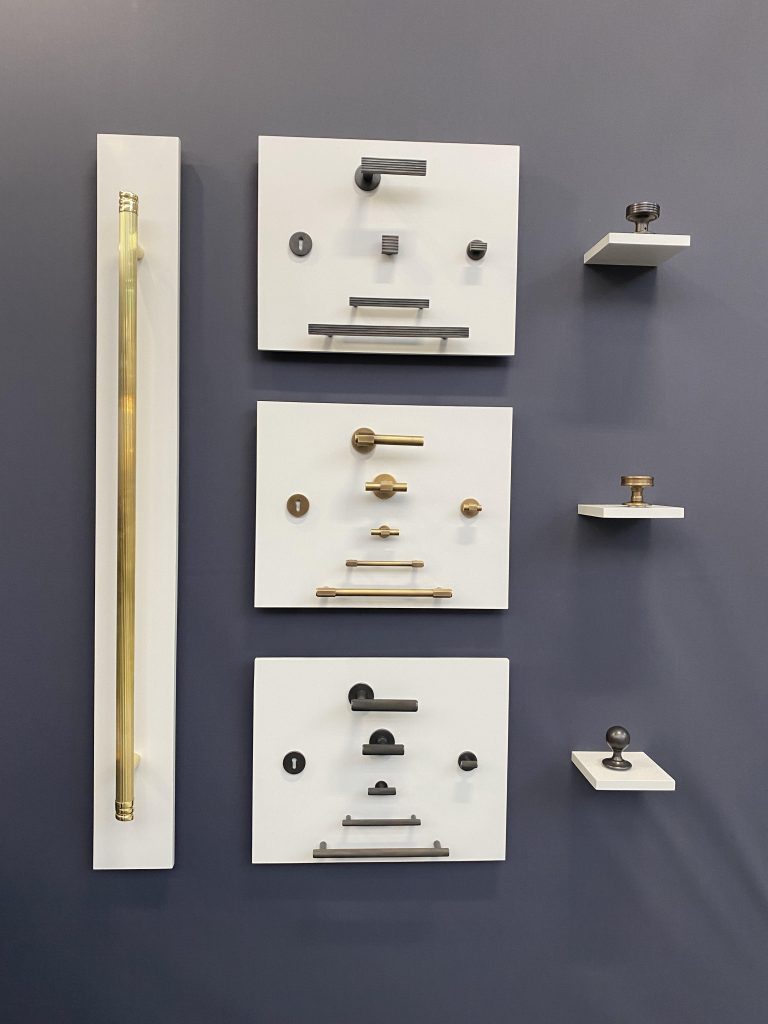 The right hardware can make or break a project so it was great to see some really stunning examples on the Crofts and Assinder stand. Crofts and Assinder have a rich and varied history, providing handles and decorative hardware to an array of customers worldwide from the Ritz and Waldorf hotels in London to the White House in Washington. A family business based in Birmingham, they combine a unique blend of our British heritage with timeless design and quality. https://www.crofts.co.uk/about-us/
Love Your Home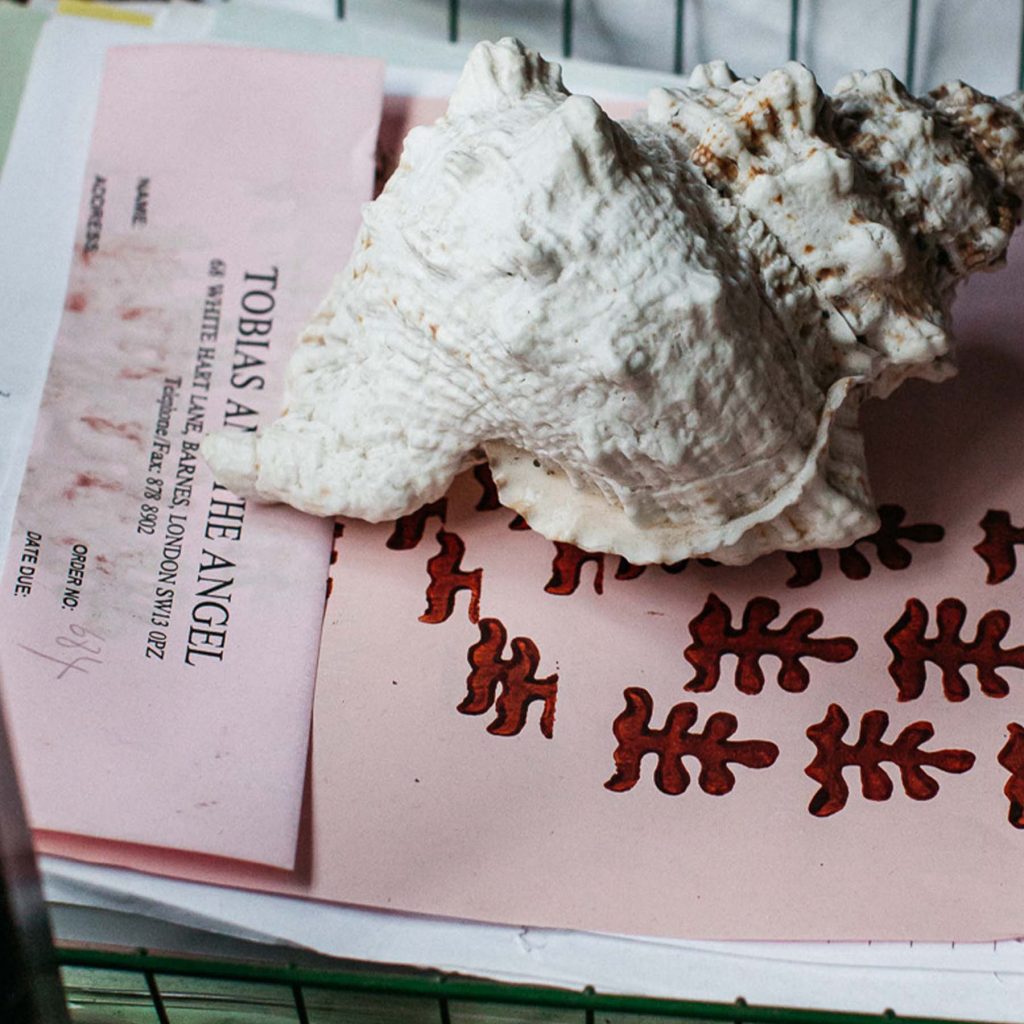 Love Your Home is a family-run furniture company, run by husband-and-wife team Leigh Harmer and Abi Boura. Abi was style editor for Elle Decoration for six years and it shows. Everything designed by Love Your Home is both beautiful and beautifully made. I loved the muted colours of the gorgeous sofas and they've done a clever collaboration with award-winning interiors journalist, Kate Watson-Smyth from @mad_about_the_house, which I am sure will get a lot of media attention, and with Tobias & the Angel @tobiasandtheangel. These original fabrics made from prints from the original hand carved wood blocks have been carefully translated to stunning digital prints. Look out for this brand in an upcoming project!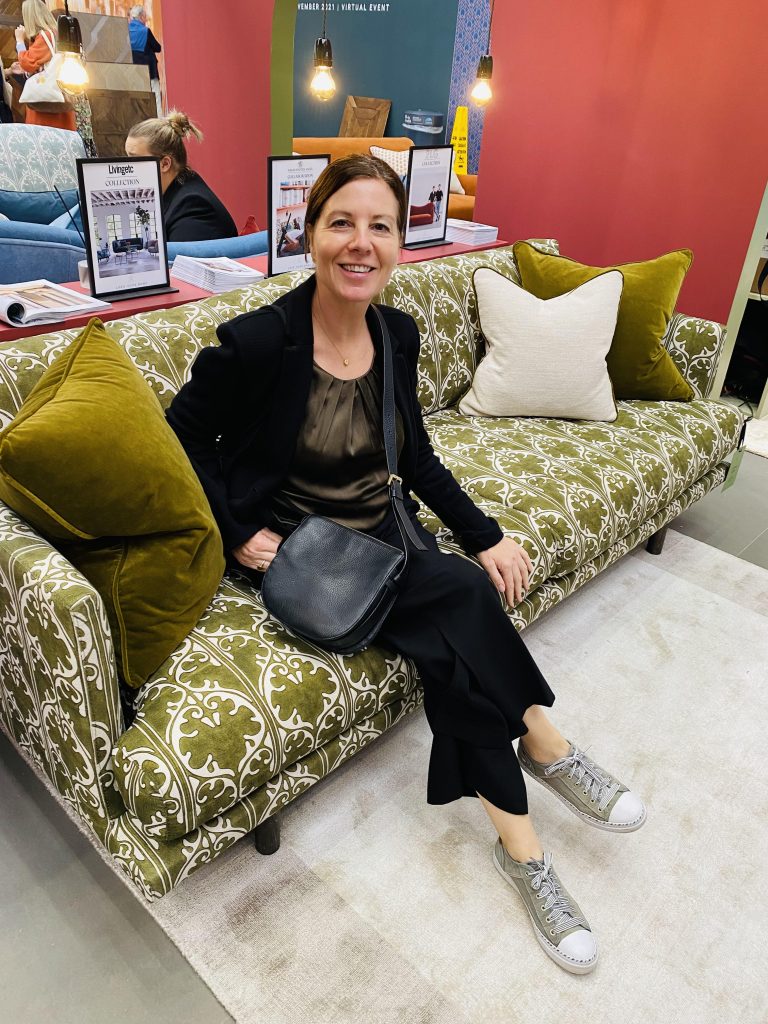 https: //www.love-your-home.co.uk/about
Bert & May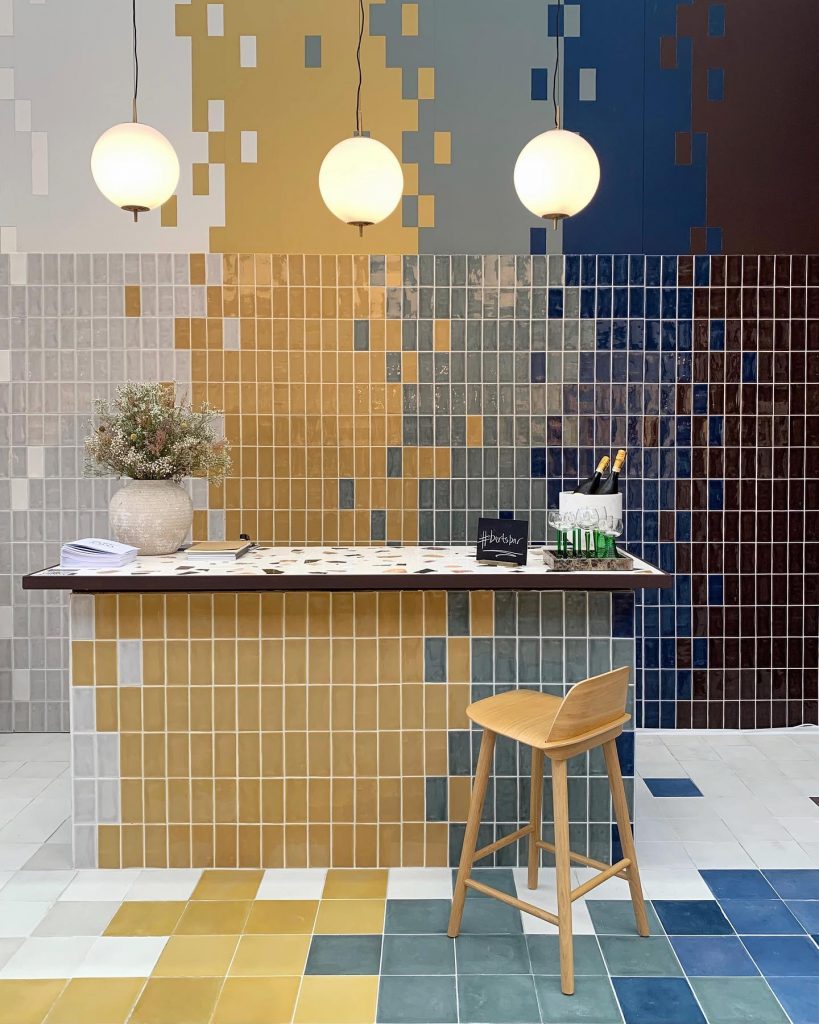 The team at artisan tile company, Bert & May were showcasing their collaboration with Little Greene paints. The Bert & May x Little Greene collection features eight of Little Greene's classic colours on two of their signature tiles – their chalky cement squares and glossy glazed herringbones. These special new tiles have been to sit alongside Little Greene's paints, as well as their existing tile collections, perfectly. What a perfect collaboration! https://www.bertandmay.com
Little Greene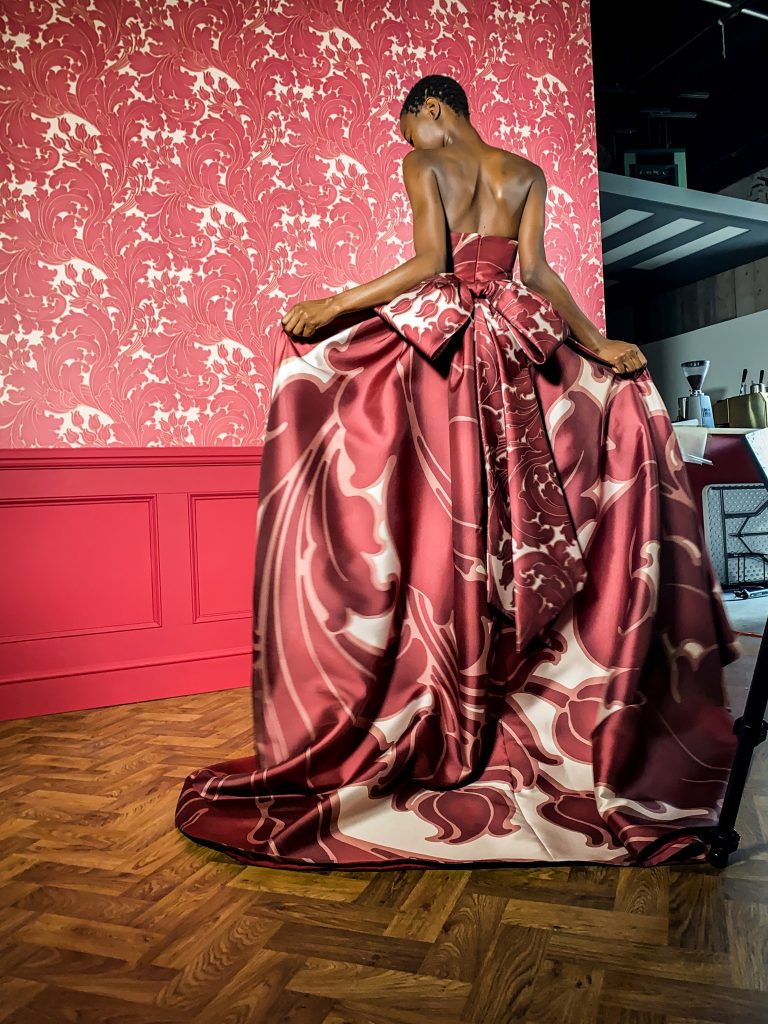 Talking of collaboration, on the opposite stand eco paint company, Little Greene were showcasing the dresses from our 'National Trust Papers II' campaign.⁠ Each of the dresses were designed by Halfpenny London and were inspired by one of the National Trust wallpapers. I loved the fusion of fashion and interiors. I also updated my box of colour cards so I have the full range to browse in my studio in Bath. https://www.littlegreene.eu
Pooky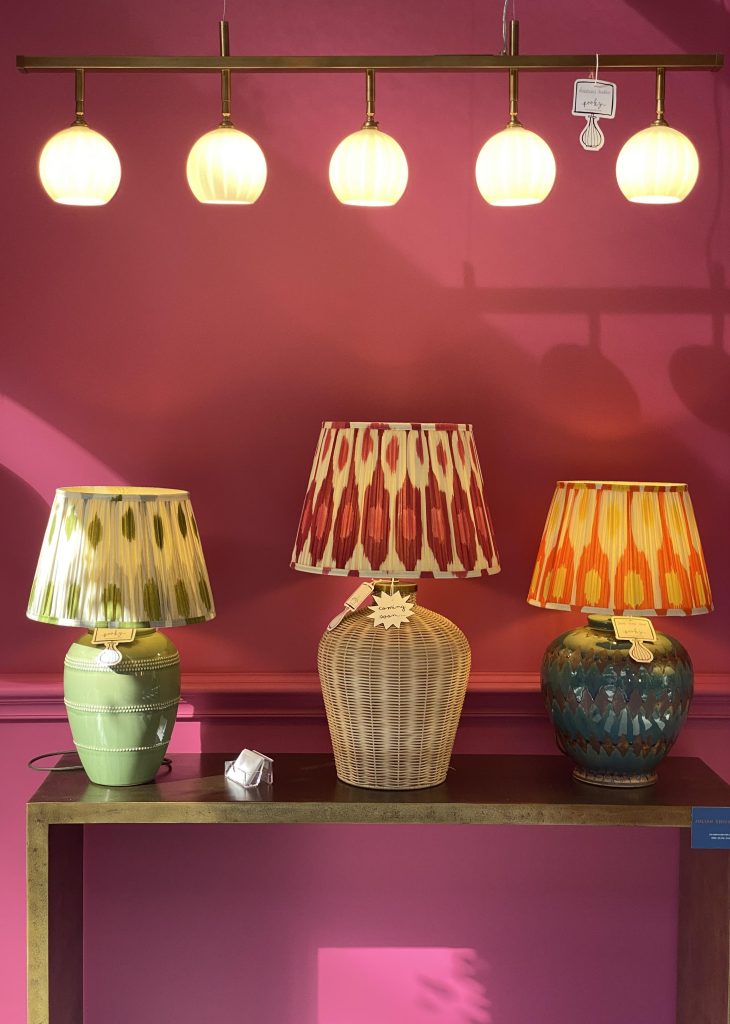 From table lamps, bedside lamps and standing lamps to brass lamps, marble lamps, and spindle lamps Pooky create unique quirky lights. As well as showstopping pendant lights, they were also showcasing their innovative rechargeable cordless lamps. These revolutionary lights can be paired with any shade you like and come at a fraction of the price of other rechargeable lights. Named after Mr Fogg, the Phileas light can literally travel anywhere and shine for up to ten hours. Welcome to the future. https://www.pooky.com
Timorous Beasties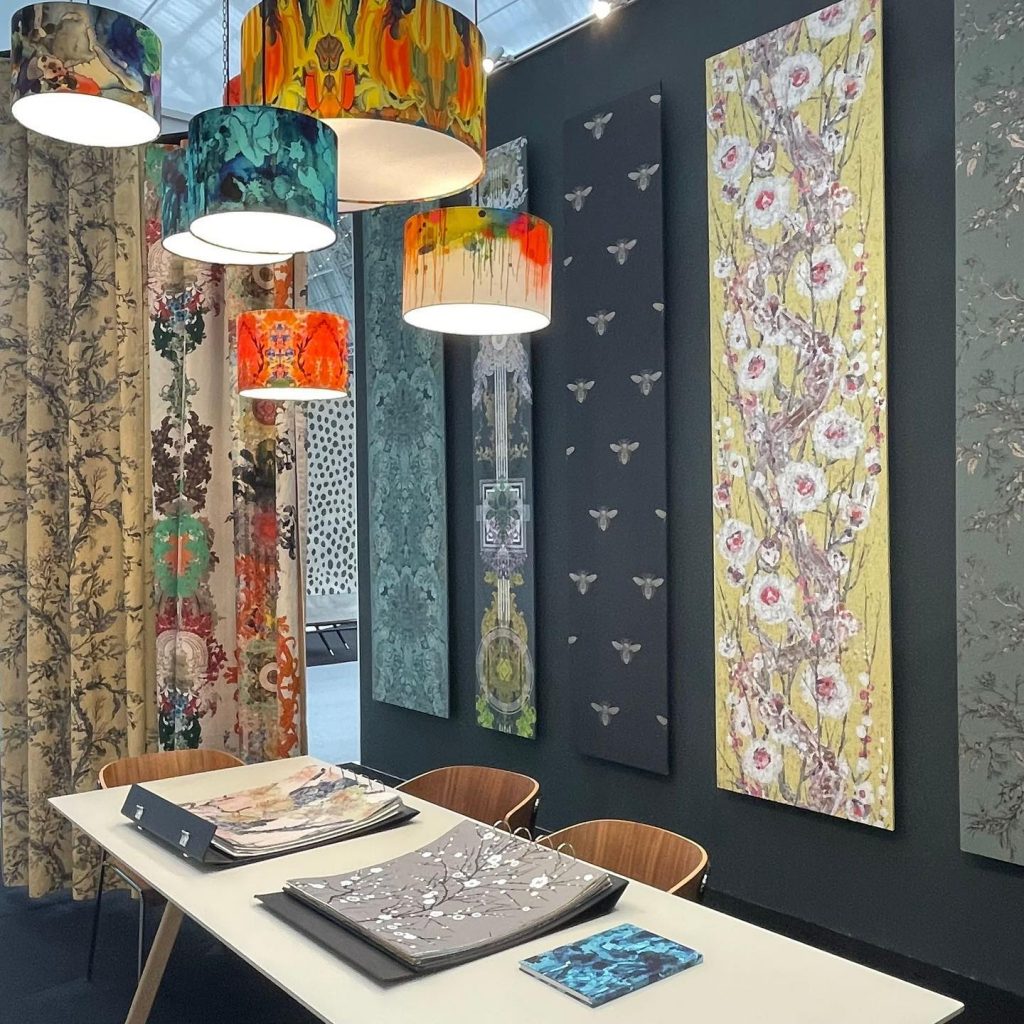 Noted for surreal and provocative textiles and wallpapers, the Scottish design studio, Timorous Beasties, had some wonderful designs including their latest wallcovering – Jellyfish Wallpaper Panels – which depicts the graceful choreography of a jellyfish. Imagine this on a bathroom wall. What a statement!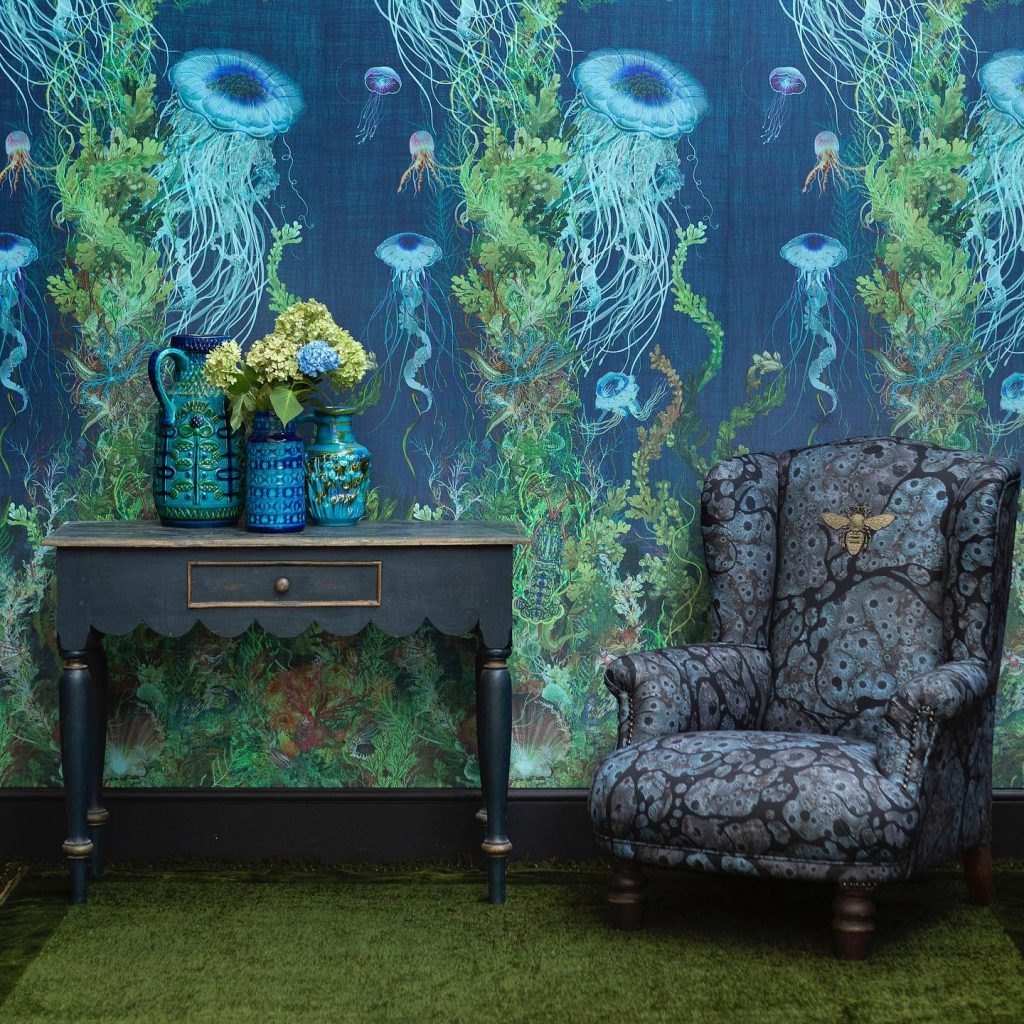 https://www.timorousbeasties.com
Armac Martin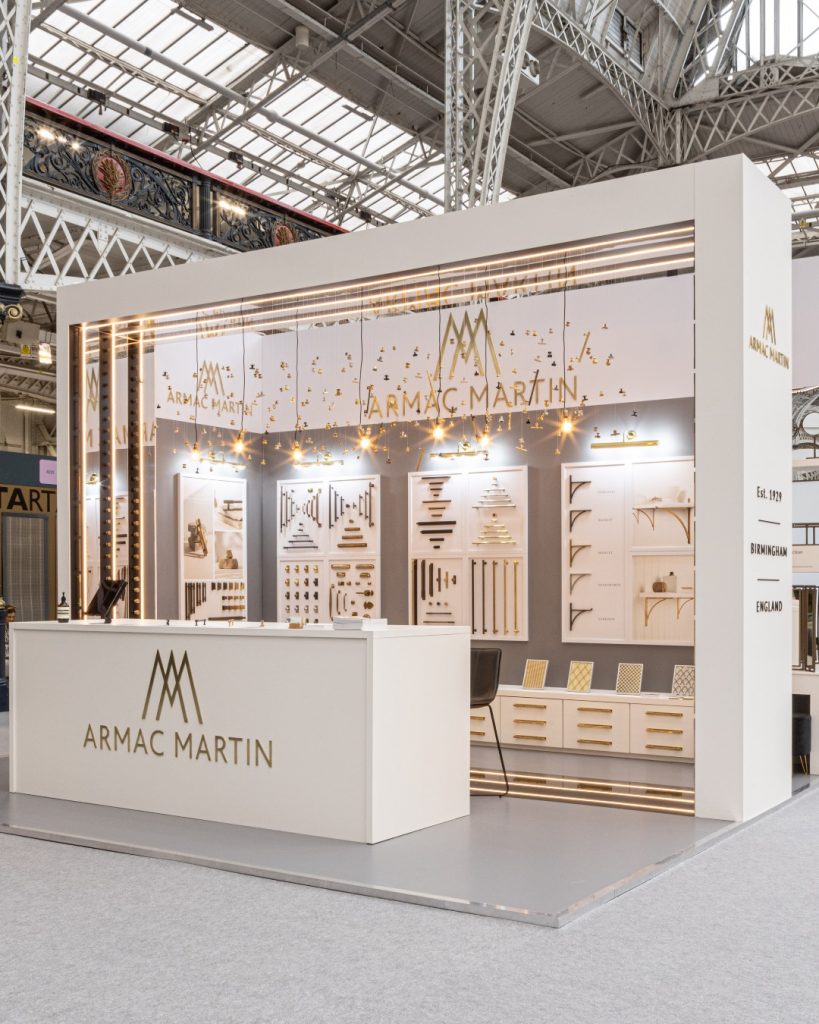 Birmingham based Armac Martin is a luxury brass hardware company, dedicated to creating beautiful brass fixtures and fittings. They are all about exceptional design and exquisite detail; in celebrating true craftsmanship and in the art of using the finest materials to form products that truly stand the test of time. I was particularly impressed by their brass shelf brackets which would create stylish storage in kitchens, bedrooms, bathrooms, pantries, living rooms or hallways. With their clean times, they are simple and timeless and come in an incredible 20 finishes including antique silver plate, American bronze and hand-burnished nickel.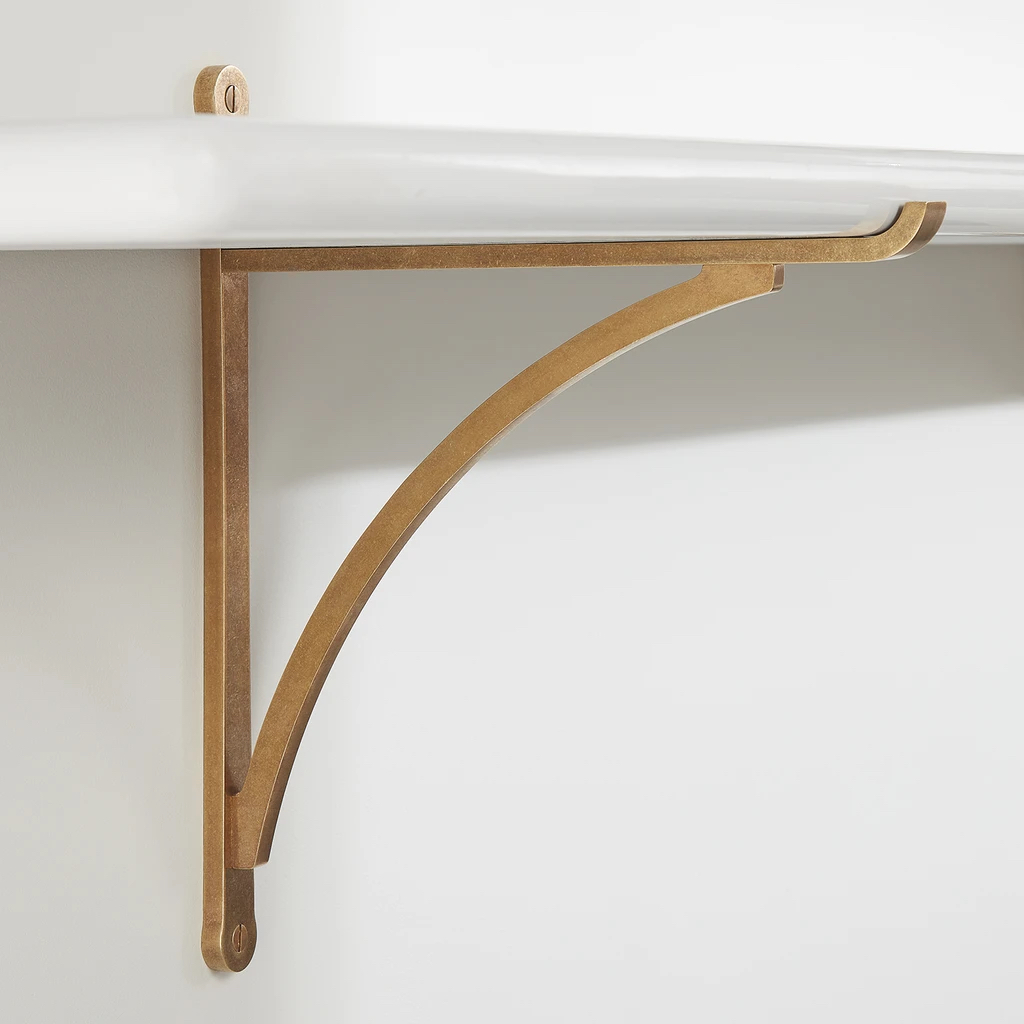 https://www.armacmartin.co.uk
Cocovara Lighting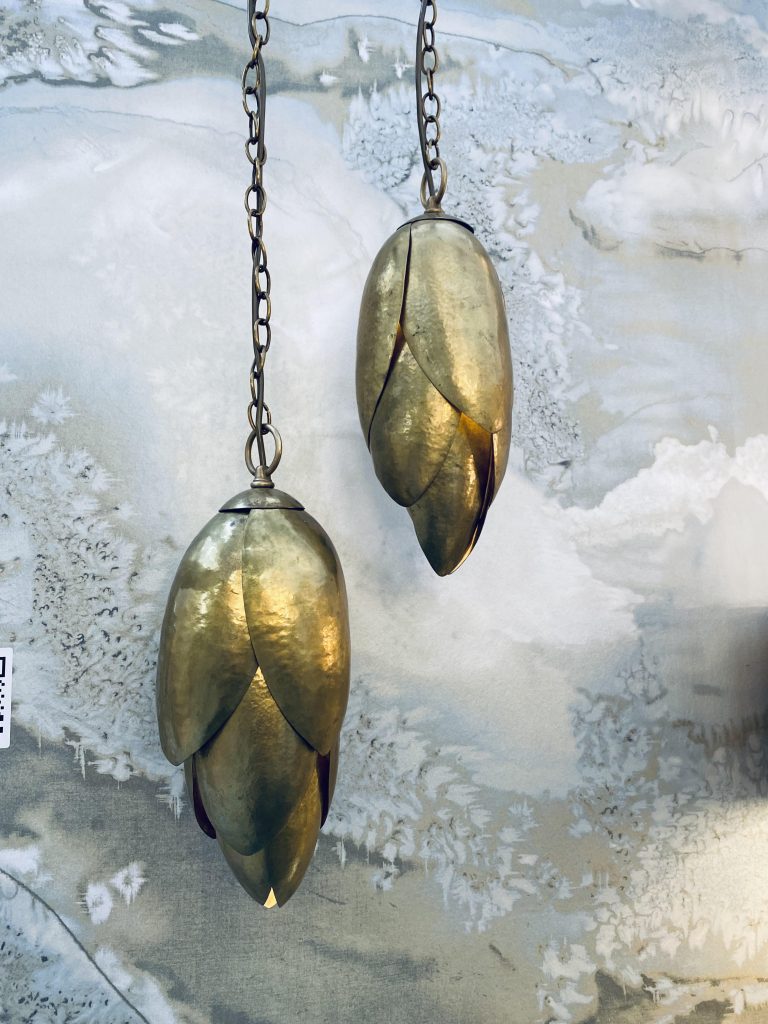 Founded by fellow interior designer, Lucy Powles, Cocovara make beautiful original lights handcrafted in the UK. If you are after a light that will transform a room, this is the brand for you. Each light is totally bespoke, numbered and limited to ensure it is as individual as a piece of art. I have an unusual original light in one of my properties that I need to match and they could provide the solution to my sourcing issue by making me a bespoke copy. https://cocovara.co.uk/lighting/
The Design Archives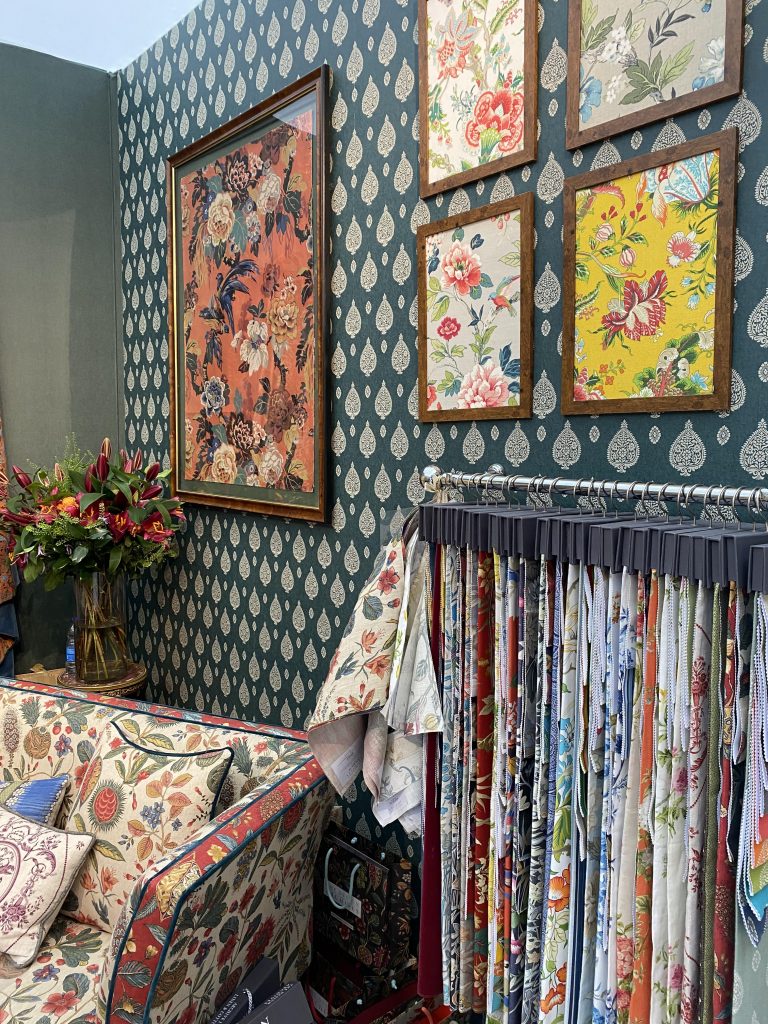 Founder Sharon has taken on the huge archive of designs curated by her father from Crowson Fabrics and is now creating a series of collections bringing to life some of the archive's most beautiful designs. Printed on quality base cloths, all fabrics are developed and produced in the UK. It's a wonderful eclectic mix of elegant florals and delicate paisleys, alongside bold, coordinating stripes and motifs, on finest quality cottons, linens and velvets.
Home
Mylands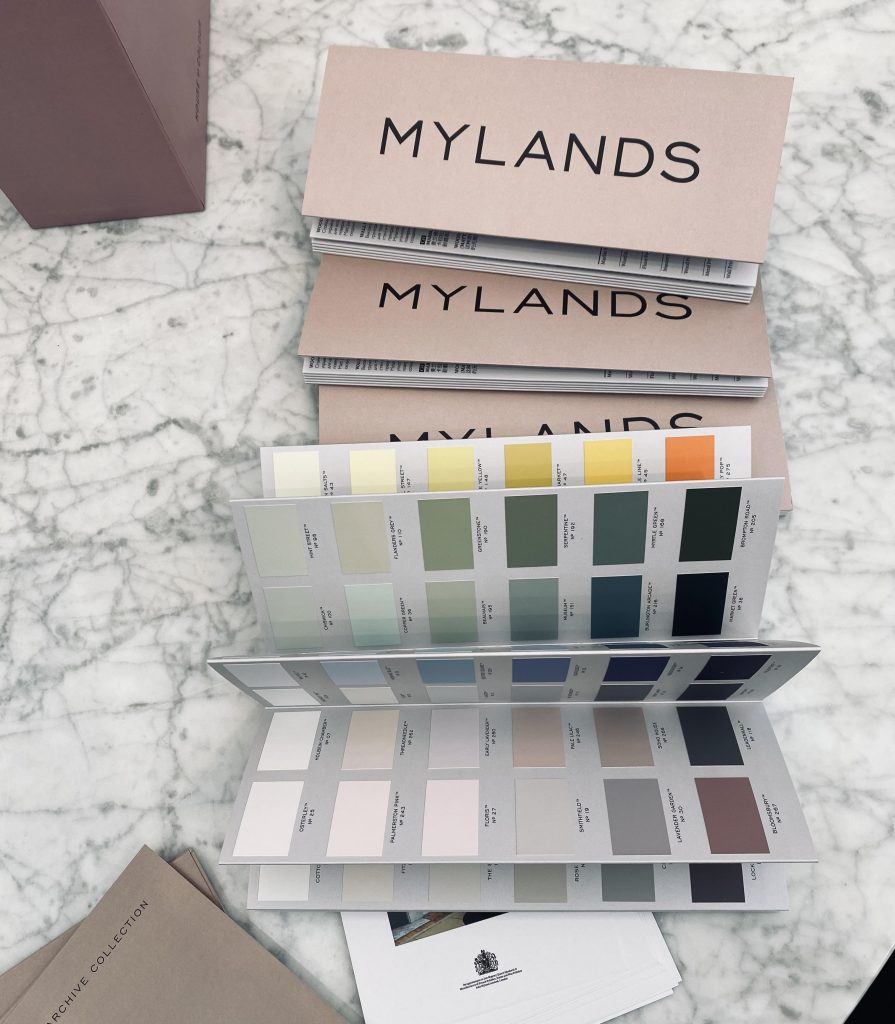 Finally, another paint brand I was delighted to rediscover. Established in 1884, Mylands is Britain's oldest, family-owned and run paint and polishes manufacturer. I love the way they have carefully refined their core collections into Colours of London Mylands (timeless colours), Greys & Neutral and their Film, Television and Theatre Collection. Their colour of the show was a lovely dusky pink, used on a house in London's Soho. Soft and muted, it looked great on the walls of the stand and I would love to use it myself in a future project. https://mylands.com
It was great to visit Decorex again this year. There's nothing like seeing colours and textures in real life and being inspired by the fantastic designers and manufacturers who create such wonderfully creative exhibition stands. I'll be back next year!