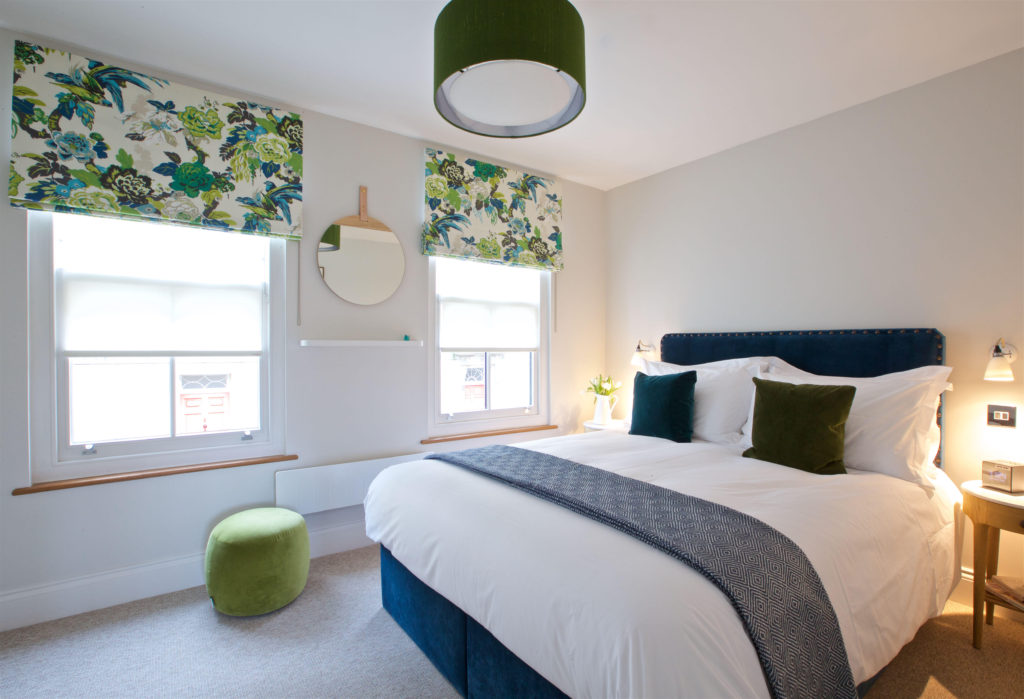 How you decide to dress your windows is a big decision because it has a dramatic impact on the look of a room and can be a big investment in your home. According to Energy.gov, 30% of a home's heating energy is lost through windows so they are also important for keeping your bills down.
Here at Clair Strong Interior Design we have a wealth of experience creating window dressings for all sorts of properties, from offices to modern apartments, from cafes to period homes. When considering window treatments for your home, you've generally got three options: blinds, curtains or shutters. Let's look at the options..
Curtains
The best thing about curtains is that you can choose a fabric that best suits the style of your house and make them a key design feature of a room. With so many different fabrics and a wide variety of different styles of curtain, you have a huge amount of choice to find something that works best for your décor. Curtains are also very practical because they block out more light and keep in more heat than blind and shutters, which makes them the perfect choice for bedrooms. 
To stop light coming through the fabric, be sure to choose blackout lining, and possibly interlining, for your curtains and if the window allows, make sure your pole is about 20cm wider than your window on each side and installed at least 20cm higher than the top of the window. Curtains should always be long and drape down to and possibly pool onto the floor. There's nothing worse than a curtain that's just too short!
As well as your choice of fabric, your pole or tracking is an important consideration. Poles are designed to be on show and can be matched to the style of your room. Tracks, on the other hand, are often hidden or discreet, and act to hold up your curtains without being a feature. There are clever products available which look like poles but work as a track with a groove for the gliders, so you can have the best of both worlds. 
When thinking about poles also think about what material they're made in and the finish – metal in brass, graphite, silver, black etc , or wood, or painted wood. Also consider the diameter of the pole, the size of the rings and the style of the finials and how these different elements will work with the overall look of your room.
Curtains are usually more expensive than blinds but choose wisely and they will be a long-term investment. They can be the cosiest window dressing option; they offer a softer finish to a room and can shut the outside world out completely. Alternatively they can be sheer and floaty and give a room a romantic feel, and offer attractive screening. Both curtains and blinds give you the opportunity to introduce some wonderful fabric choices into your home. Whether bold florals, subtle linens or classic velvets, they are a real statement.
The downsides to curtains is that they can be difficult and expensive to clean, can fade in sunlight and won't work in any room where there is a risk of them getting wet or they may stain or attract mould.
Blinds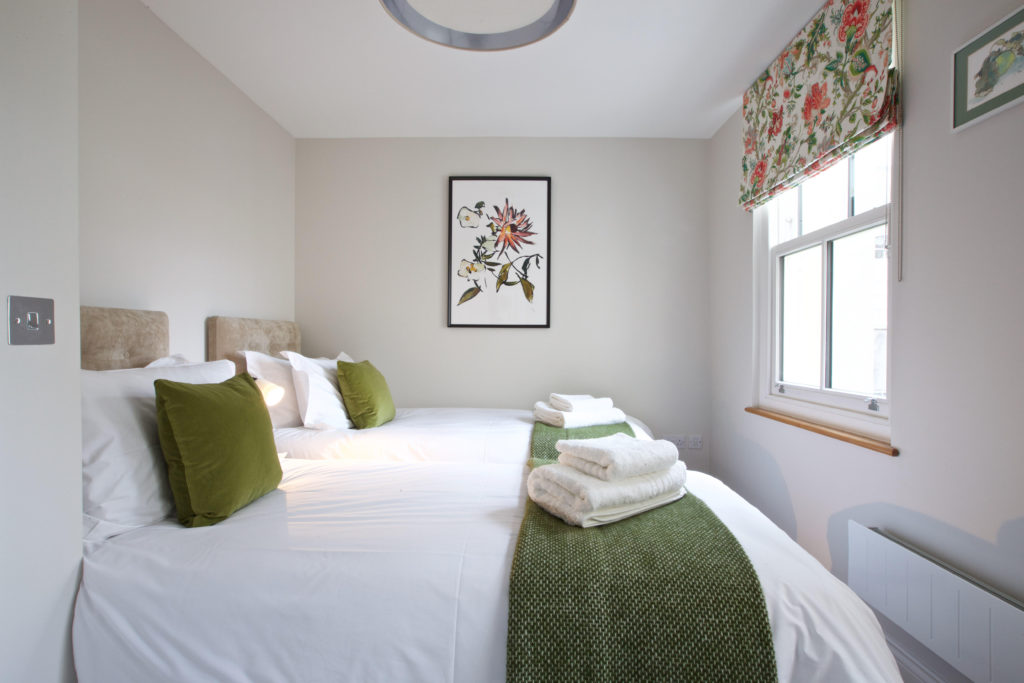 Blinds usually a more cost effective solution than curtains and often work better in smaller rooms where they don't dominate the scheme. Blinds also allow you to control the amount of light that gets into the room precisely too so they are very practical.
With blinds you can really splash out on an expensive designer fabric because you don't need as much to make an impact as you do with curtains. I often encourage my clients to go for it with blinds because they are relatively easy to change should you fancy a new look.
Roman blinds are the most popular style as they suit most room schemes and can be used to add a splash of colour to your room. Roman blinds fold up into neat pleats when the blind is open.
Classic roller blinds work well in darker rooms because they can allow natural light into a room whilst giving privacy when needed. They are great in kitchens and bathrooms where windows can be smaller. You can waterproof roller blind fabrics using special finishing sprays. They can be sheer or blackout and can have antibacterial qualiites.
Roller and Roman blinds often look great paired with curtains too!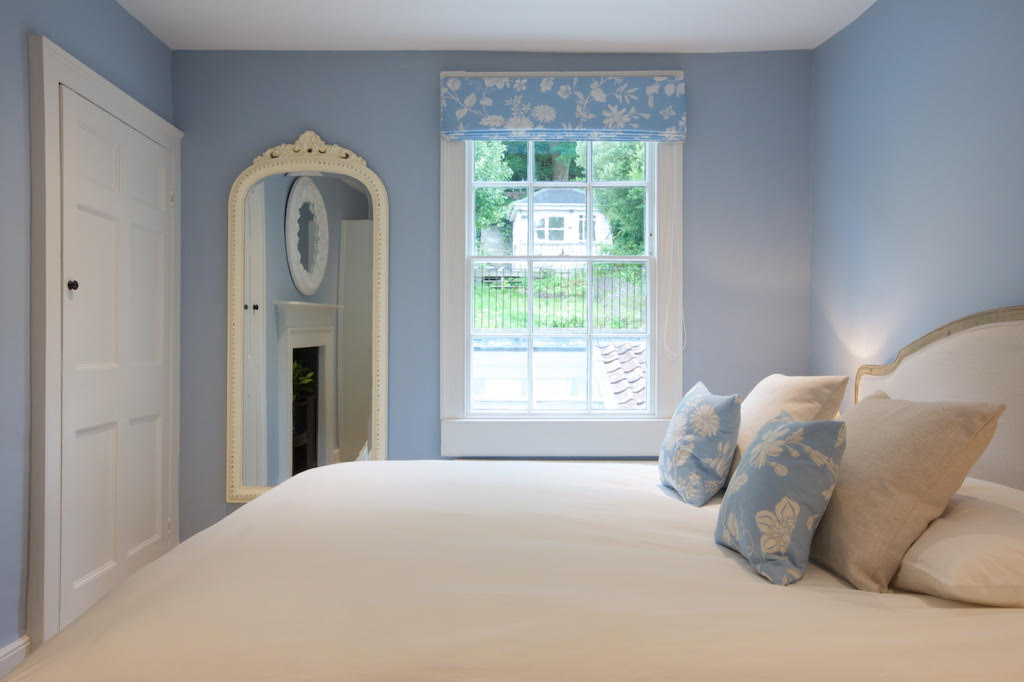 Window shutters
Window shutters in Colonial style are very versatile and allow you to vary the levels of light and privacy in a way that curtains and blinds don't, with the exception of Venetian blinds. You can have full privacy while still letting lots of light into the room and be able to see out. Georgian shuttering is usually less versatile but are often split into top and bottom or ¾ shutters to allow light to enter the room from the top of the window, while concealing the bottom section.
Shutters are a hard wearing and can be made from different materials. They're can be both a traditional and contemporary solution that won't date and work really well on windows that face on to a busy street. Window shutters are tailored to fit exactly with the size and shape of your window. Unlike blinds, there are no cords for a child to play with. They are also ideal for bathrooms or humid areas because they will not warp if made in the correct material.
With shutters, just be careful about how many horizontal lines there are in your house. They can be quite an overwhelming design style so keep the rest of your home's décor in mind when considering them.
Your choice of window dressing should depend on the size of the room and the existing interior design. They work differently in different rooms and on different windows – sometimes people choose both! If your own a listed building where shutters may already be in situ, this will also influence your window covering choice.
All images: Clair Strong Interior Design