You don't need four walls and a roof to create a comfortable and stylish living area. Outdoor rooms have been a fixture in warmer climes for many years and post-pandemic this al fresco trend is part of British life too.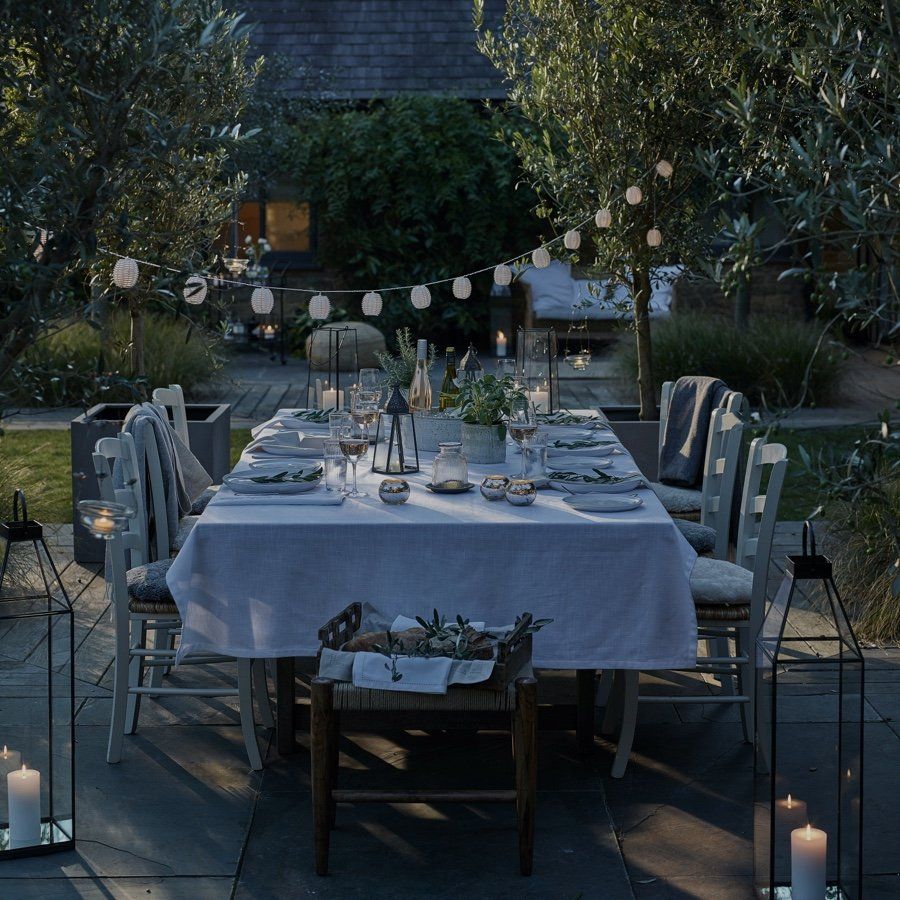 Whether you have a small balcony, a concrete roof terrace or acres of rambling garden; any outdoor space can become a stylish extension of your interior. An outdoor room is where all the best parties happen. I like to celebrate that by creating a fun and festive space!
Connecting your outdoor space with your indoor space to make it feel part of your home is the key. Think about how you want it be used and plan it in the same way you would a kitchen revamp or a living room makeover. If you love an interior design trend or style carry it on into your garden to make your outside space look and feel like a true extension of your home or pick a theme – cosy Scandi den, Mediterranean terrace or tropical cocktail bar – and just go for it!
Get painting
Whether an exterior wall, a metal gate or wooden fence panels, you can add instant wow factor to your garden with a splash of colour.
There is no reason why fences must be brown and exterior walls neutral – unless there are clear restrictions on the property. So feel free to experiment with colour if that's what you love to do inside your home.
Dine out in style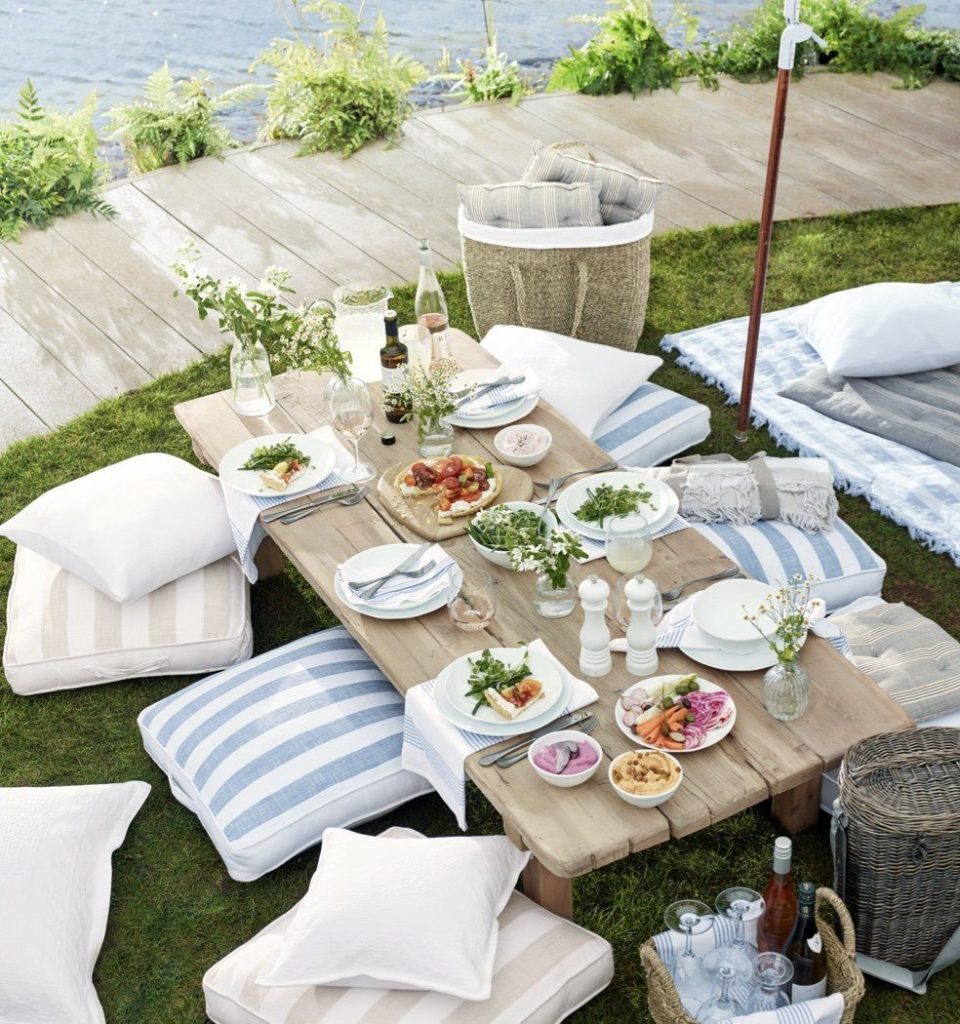 We're not blessed with the best weather in the UK so our time spent outdoors can be limited. Look for stylish, garden-proof furniture that wouldn't look out of place indoors.
If you are going to be eating outside, it's important to choose the right dining table and chairs. It's much better to buy furniture designed for outside than try and use your existing furniture.
Don't position your dining furniture in direct sun. An outdoor dining area is better located in shade or half shade where its more comfortable to eat.
Make sure you pick the right size and shape table and chairs for your space. You need enough room to comfortably slide your chair beneath the table so as not to feel too cramped and make sure there is enough elbow room.
If you have a big garden, you'll never regret buying a big dining table for al fresco breakfasts, lunches and evening meals. If you have a small courtyard garden or patio, choose folding furniture or bench seating that can be tucked under the table when not in use. French-style bistro sets are perfect for small balconies and come in lots of bright colours.
Dress your table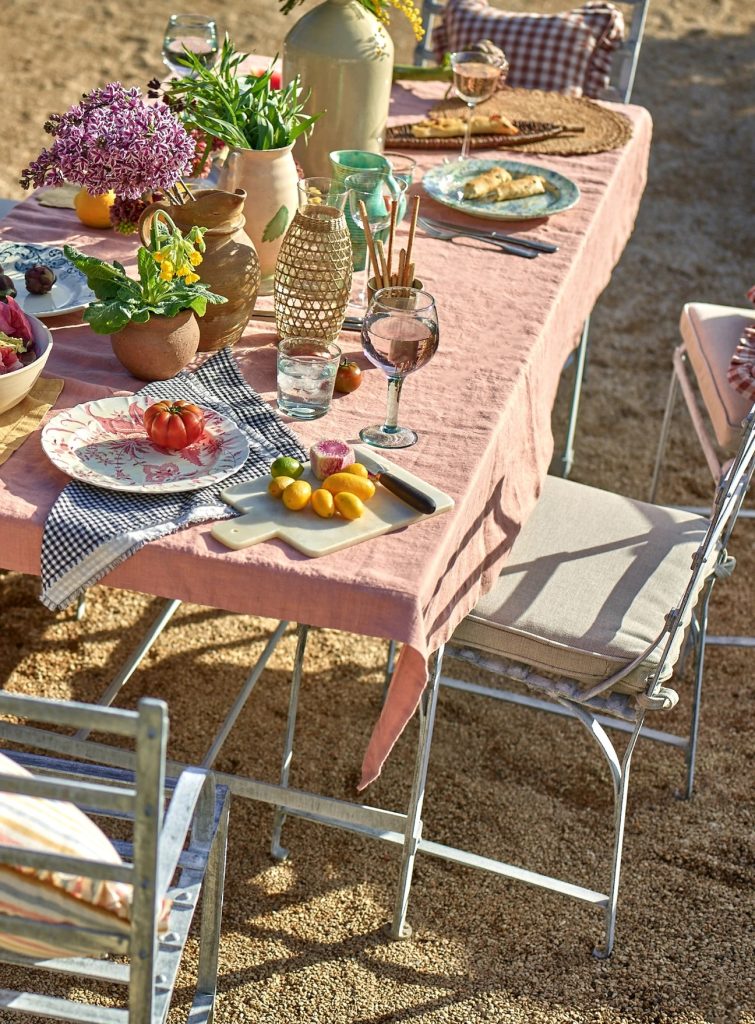 Dress your table with natural fabrics like cotton and linen and look for bright glasses and plates in unbreakable materials – sharing boards, big platters, jugs and big salad bowls are perfect for outdoor dining. 
Add a touch of textile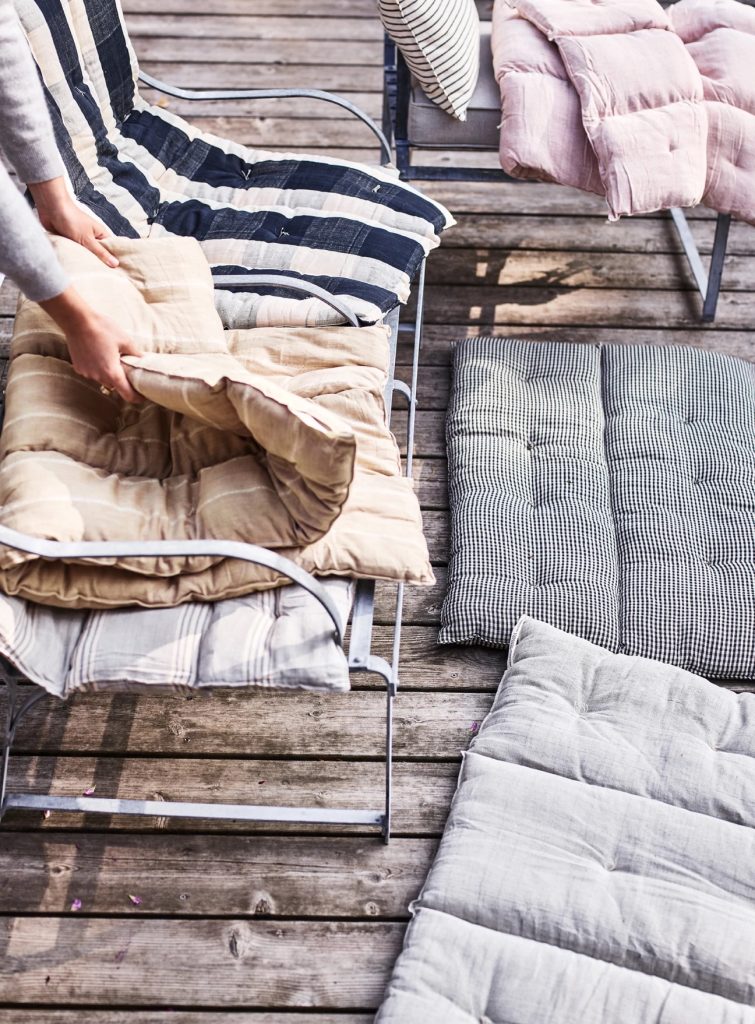 To achieve a sense of warmth, colour and personality in your outdoor space, textiles are a must.
From rugs and big boho style floor cushions to sheepskins layered on benches and pretty patterned tablecloths, textiles are the easiest way to take your interior style outside. You can even buy weather-proof textiles on the high street, so they can stay outside. I love using big padded mattresses in natural hues for my bench seats to use to lounge on.
Relax in style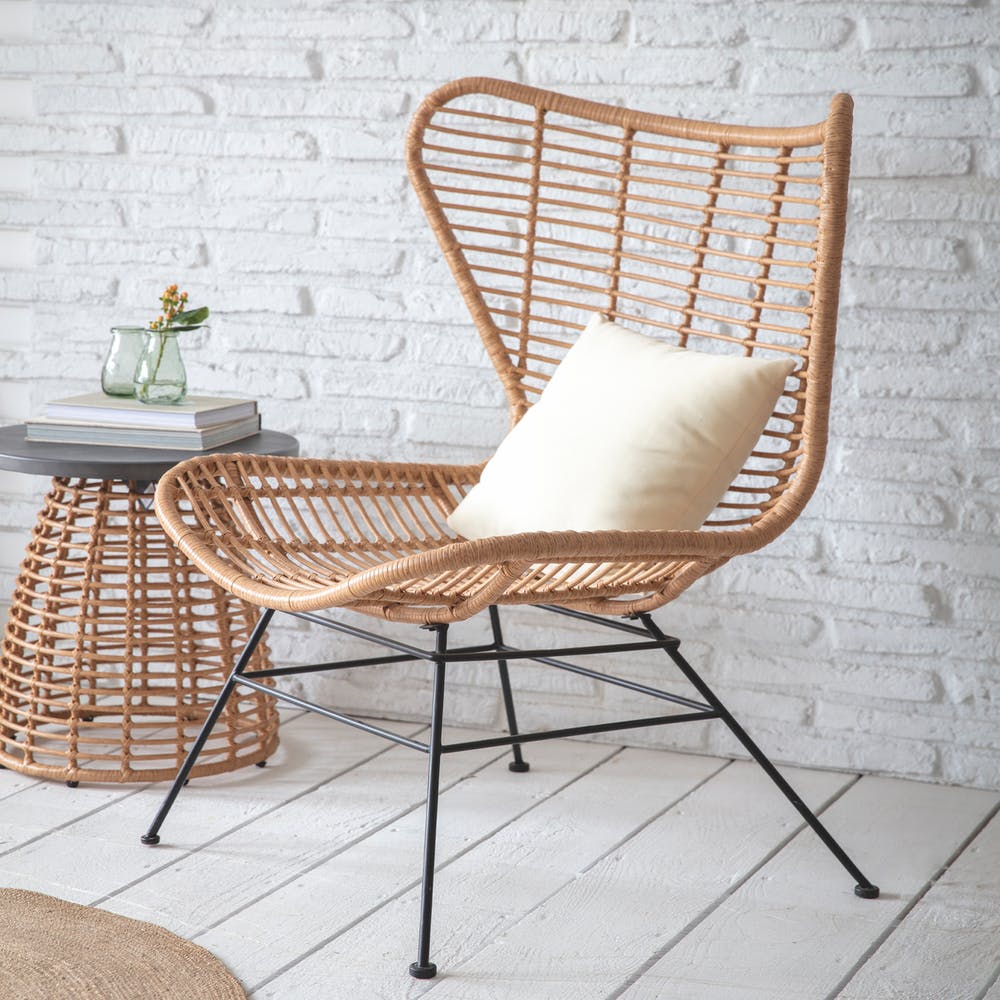 To create the perfect outdoor living area to relax and entertain in style, you need to invest in the right seating. Look for a stylish outdoor sofas and comfortable sun loungers that are comfortable but look good too.
A compact L-shaped sofa that fits neatly on your patio is perfect for smaller spaces. If you have a bigger garden you can go for it with a set of matching chairs, table, sofa, sun loungers and swinging seats. Choose stylish pieces and group them around an outdoor rug and you've got the perfect sociable outdoor living room. In a smaller space a garden bench or small day bed can make a statement. Hanging seats are very on-trend this year; they are perfect for curling up and enjoying a good book – and they look super cool too.
Take cover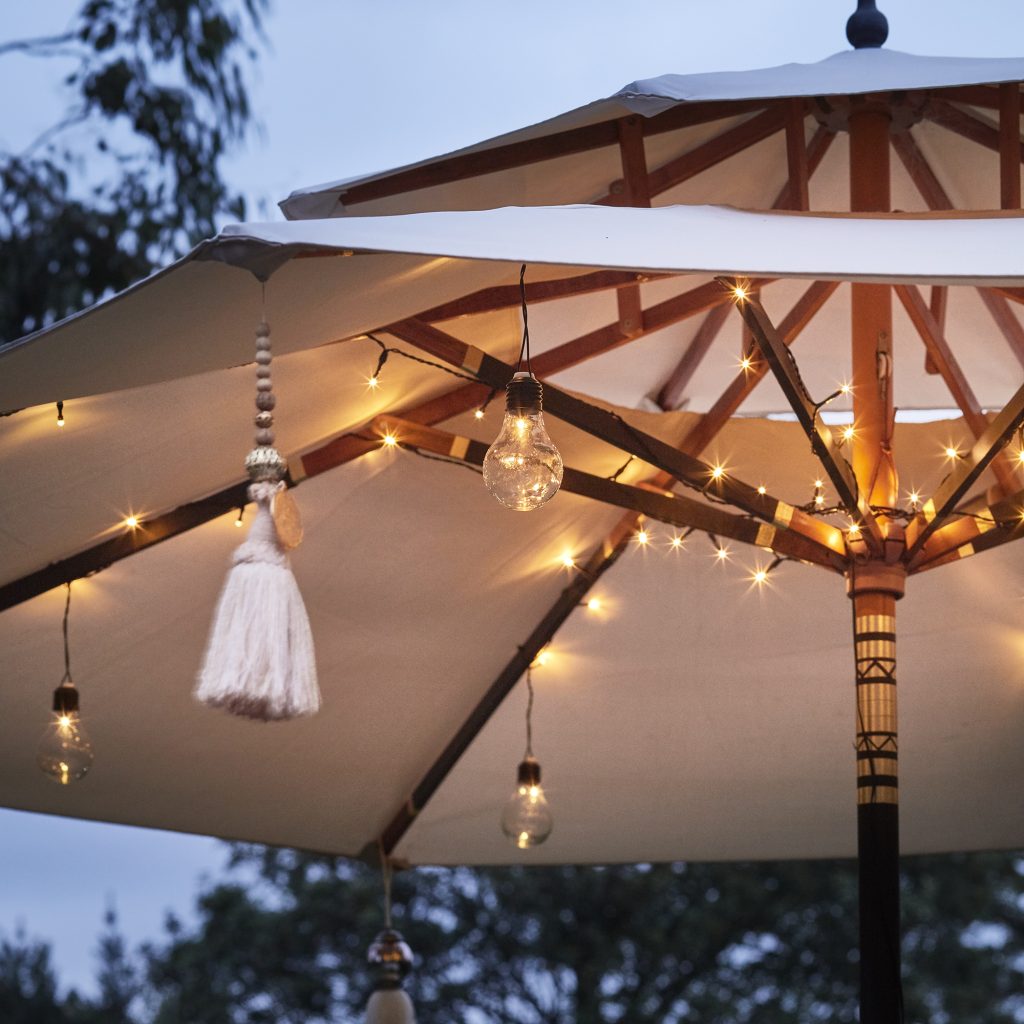 Cover for your outdoor room is an important consideration if you want to protect yourself from the heat of the sun or shelter from the rain. A pergola covered with some pretty climbers or vines will create shelter and blend into the rest of your garden. A small gazebo can be a great option for more semi-permanent privacy for entertaining friends and family. They provide shelter in the day, but if you add some big floor cushions and fairy lights you can turn it in to a cosy chill out zone at night.
I hope I have shown you that outdoor living spaces can be as comfortable and stylish as your inside living room. Read part 2 for more ideas.