If you're one of the 1.54 million people working from home in the UK, you'll know how important your work space is. A well-designed home office helps aid concentration, motivation and productivity. It can even benefit your health and wellbeing.
If you're new to home working or just looking to update your work space, there are a few things you definitely need. In this two-part blog post, I'm sharing my essentials for a happy and healthy home office.
The Desk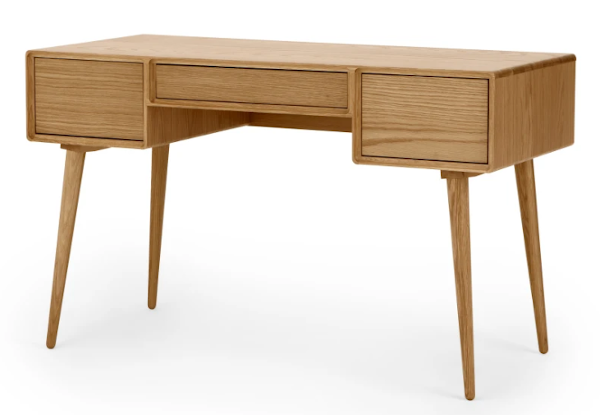 You can work from the sofa, or even from the bed, but there's a good chance you won't be nearly as industrious as you would be at a desk. A desk gives you that dedicated space to sit down and just work. Once you're there, distractions are limited. And of course, if you choose the right desk for you it will be more comfortable and kinder to your posture over time.
Made.com offers a great selection of stylish but practical desks. The mid century style Glenn desk (pictured above) is one of my favourites because it packs a serious amount of storage into a fairly compact space. Oh, and obviously it is very good looking.
The Office Chair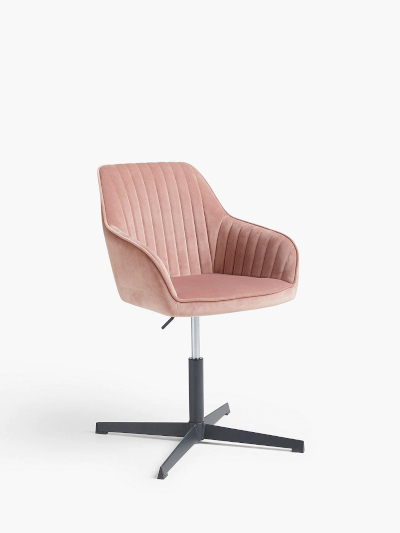 Brooks Velvet Office Chair, John Lewis & Partners
If there's one piece of home office furniture more important than the desk, it's the right chair. It can be really difficult to find an office chair that is comfortable for extended periods and aesthetically pleasing. I can't personally vouch for the Brooks velvet office chair's comfort, but it certainly nails the design side of things.
If you're really serious about the health of your back, consider an ergonomic chair. While some ergonomic chairs wouldn't look out of place on the Starship Enterprise, others are surprisingly attractive. You can choose from a wide range of styles to really find one that suits you – in every sense of the word.
That's all for Part 1. Come back next week for more home office essentials!