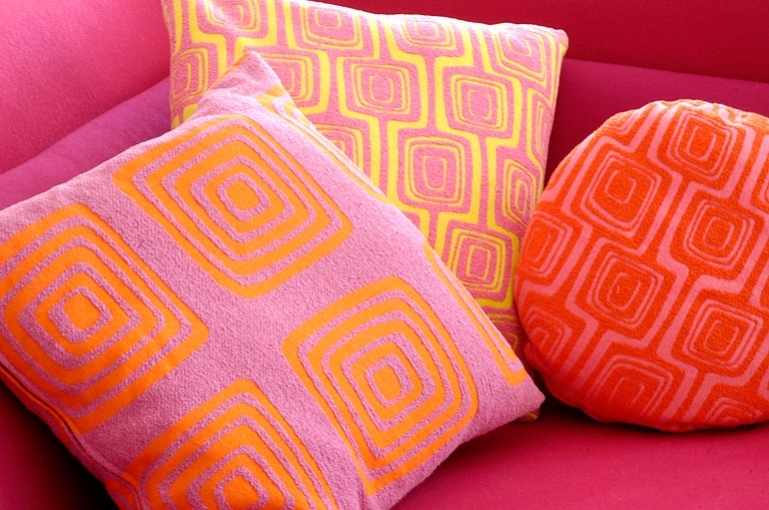 Image: Clair Strong Interior Design
Fancy making a few updates to your home but don't want to spend big bucks? Try these stylish and wallet-friendly DIY projects for instant satisfaction instead:
Cloud Cushions
If you're new to sewing, a cushion is a great beginner's project. It doesn't require any specialist skills or tools, just a sewing machine (which can often be hired at your local haberdashery) and a little patience.
I love this cloud cushion; it adds a quirky touch to the living room or nursery. Make a handful of them in clashing prints for real impact. Check out the full how-to here.
Wall-Mounted Side Table
Test your woodworking skills with this minimalist wall-mounted side table. Perfect for smaller homes, it's just big enough to hold the essentials and doesn't take up any floor space.
To make this project even easier, consider having your local DIY store cut the wood to the sizes you require. They will often do this for free, or a very small charge.
Painted Stairs
If you've got the urge to freshen up your space with a lick of paint, consider trying something different. Like this project which will add a whole lot of cool to your hallway.
I love it when people think outside the box, forgoing the walls and painting something unexpected instead.
Indoor Garden
Cultivate something really beautiful with a small indoor garden. Terrariums are hugely fashionable at the moment, perhaps because they're just a little different. A potted houseplant is wonderful, but a whole word inside a glass jar is just magical. Click here to find out how to make your own.
Moroccan Wedding Blanket Inspired Pendant
This beautifully textured lampshade is inspired by traditional Moroccan wedding blankets. Using a hot glue gun, a selection of haberdashery trimmings and a few metallic elements, you can create your own stunning shade. A full guide to creating this masterpiece can be found here.