Kitchen design is in a really exciting place at the moment. We're seeing experimental ideas, new materials, and fresh innovations take shape in kitchens of all shapes and sizes. It's even better when some of these new ideas become 'trends' because they suddenly become much more accessible. Today I'm looking at some of the best kitchen trends to come out of 2019. But don't worry, these aren't fleeting fancies – you'll want these in your kitchen for years to come!
Floor to Ceiling Cabinetry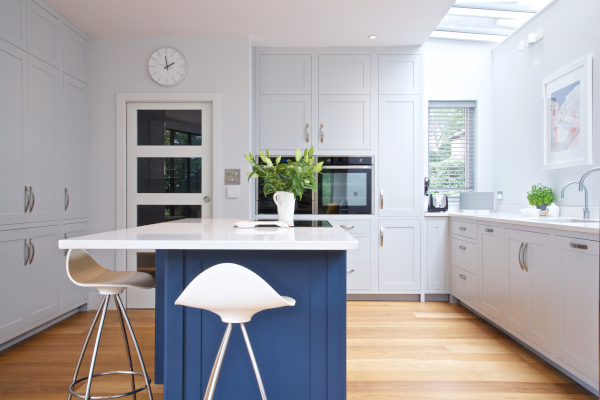 Image copyright Clair Strong Interior Design
What combines smart use of space with glorious form? Floor to ceiling cabinetry, of course! If you've ever dreamt of a kitchen pantry or enough storage space for your extensive collection of crockery, this is the trend for you.
A wall of cabinetry will streamline and open out any space. Where open shelving draws the eye and can feel cluttered, these ultra tall cabinets blend into their surroundings. And yet they somehow still look quite stately. This trend is perfect for big family kitchens with plenty of counter space.
A Touch of Colour
Colour is currently trending in every room of the house, but I'm especially enjoying the impact it has in the kitchen. Kitchens have traditionally been fairly neutral spaces, so when you add a splash of colour it looks really impressive. I love that you have an array of options too; you can paint the walls, or choose colourful tiles, or opt for bright cabinetry – or do all three! There's really no limit to the ways in which you can add colour to your kitchen.
Patterned Flooring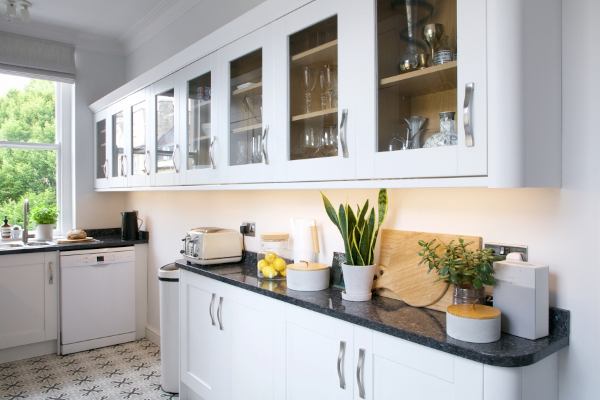 Image copyright Clair Strong Interior Design
If your kitchen is in need of a quick but compelling update, consider patterned flooring. Patterned tiles are everywhere and for good reason. They look fabulous, they add a splash of interest to minimalist kitchens, and they come in a vast range of styles and price points. There's a tile for every budget, so choose this trend if you want an affordable fresh new look.
Statement Appliances
What does a bright yellow fridge, a grand range stove and a Gucci designed toaster have in common? They all make a bold statement in the kitchen. Statement appliances are one of the most exciting trends to emerge in 2019. No longer are we limited to white fridges and chrome kettles. We can style every inch of our kitchen.
Statement appliances are definitely investment pieces but a good quality, good-looking appliance will last you for years!