Clair Strong Interior Design has launched an interior design service offering virtual consultancy to help you plan your future home. We design homes off-plan for property developers and private clients, and holiday homes abroad, and although in an ideal world we would visit a property, designing remotely is certainly possible and can be a good option.
The process
The process follows the same pattern as our usual comprehensive interior design service, but with the initial consultation and future meetings taking place online, and plans, 3D visuals and design and product boards being sent as PDF documents.
Client brief
A simple design questionnaire is completed by the clients and sent to Clair with photographs and measurements of the spaces to be designed. These provide details about the space, how it is used, the design requirements, the budget, and the client's inspiration and design preferences.
You only need to provide simple sketches with measurements. (You may find using graph paper is helpful).
Quotation
You will receive a quotation based on the number of rooms, their complexity and the designer services required.
Interior design services
Design plans
Basic plan – Design & product board, colour scheme, samples and 2D layout – From £650 plus VAT for the first room, and £600 plus VAT for each room after that. Open plan spaces and particularly large or complex rooms are charged last 1.5-2 rooms .
Maisonette open-plan living area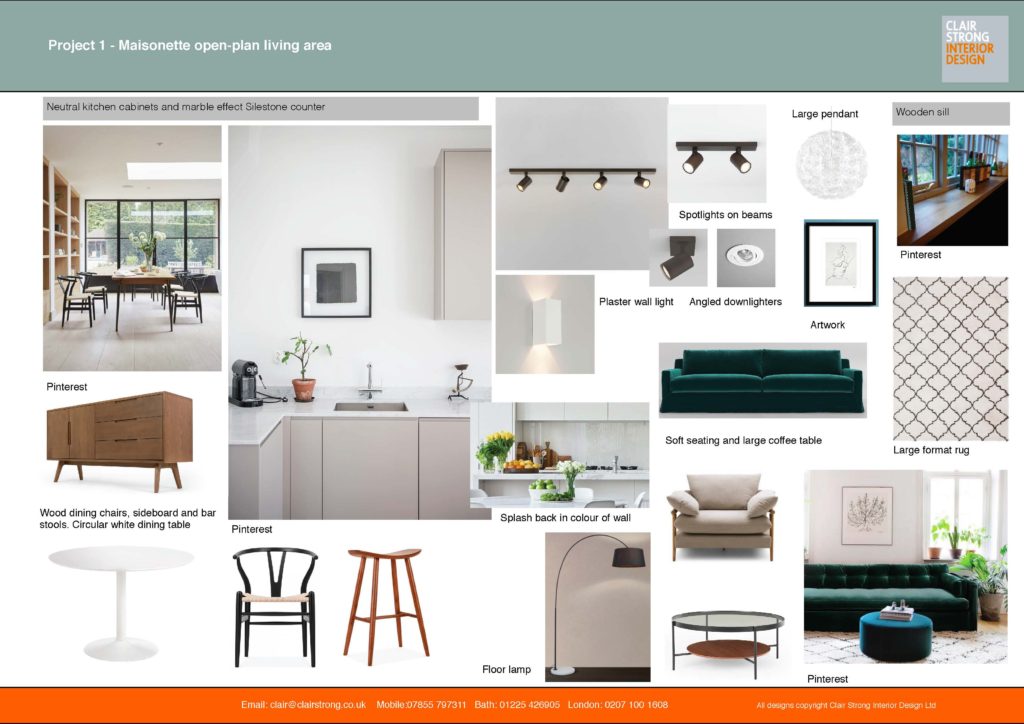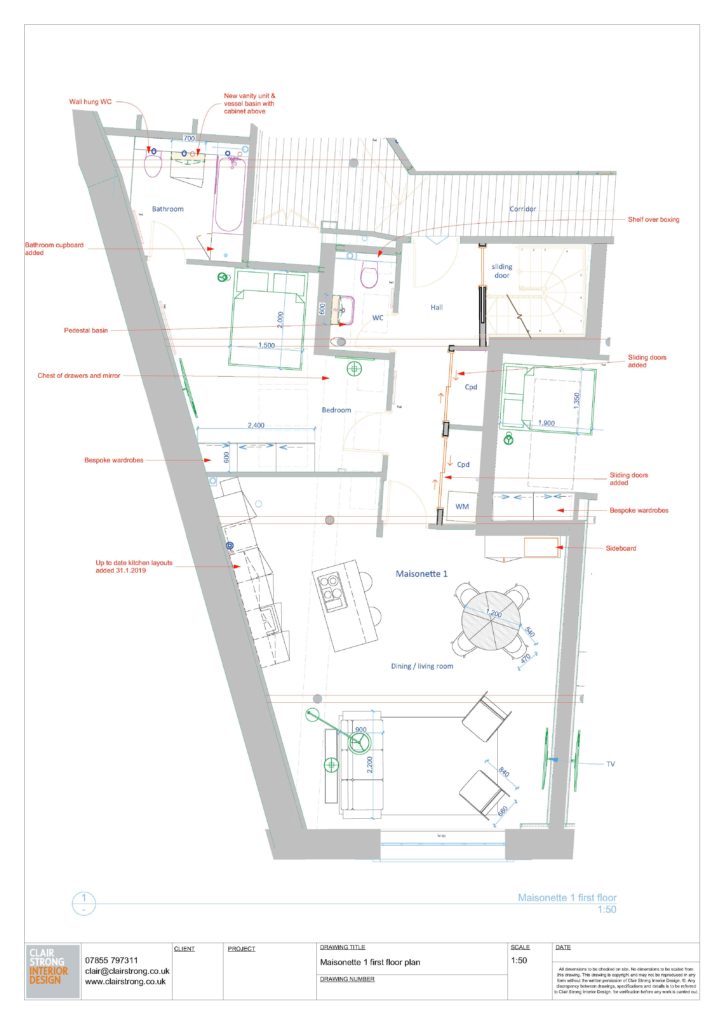 Contemporary living room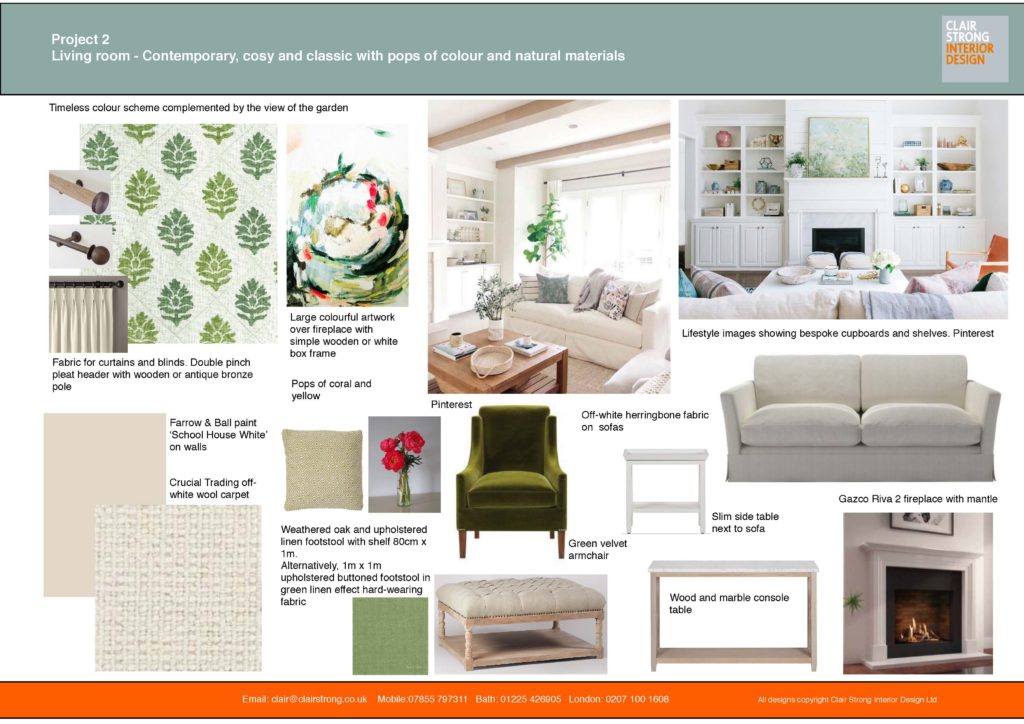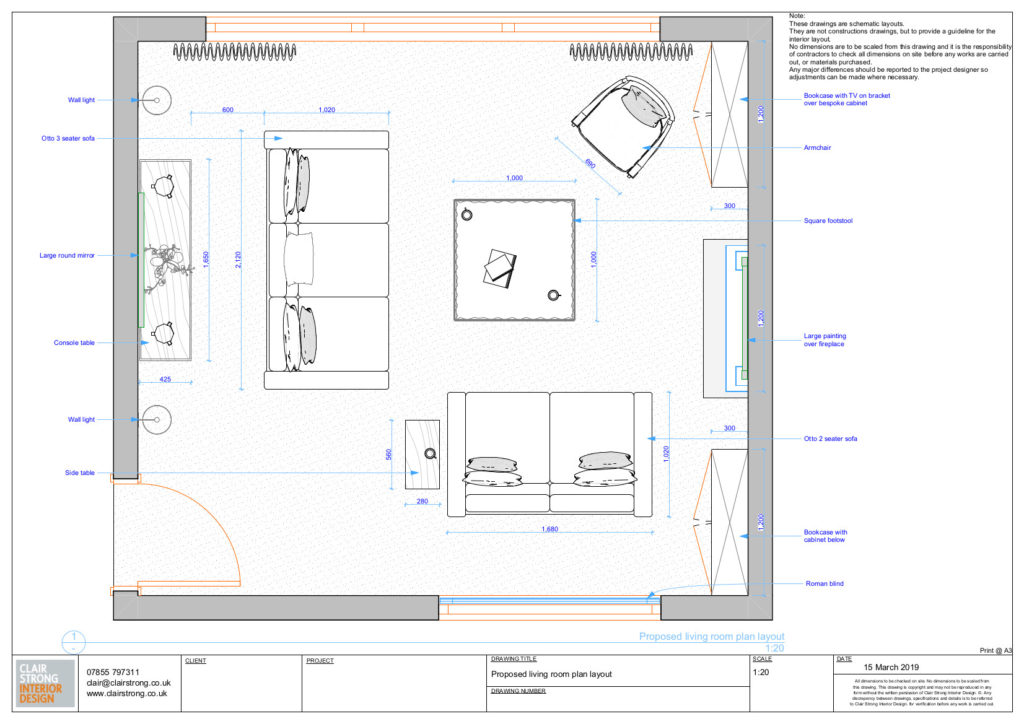 3D plan – Design & product board, colour scheme, samples, 2D layout plus 3D visuals  – From £850 plus VAT for the first room, and £800 plus VAT for each room after that.
3D plan for maisonette open-plan living room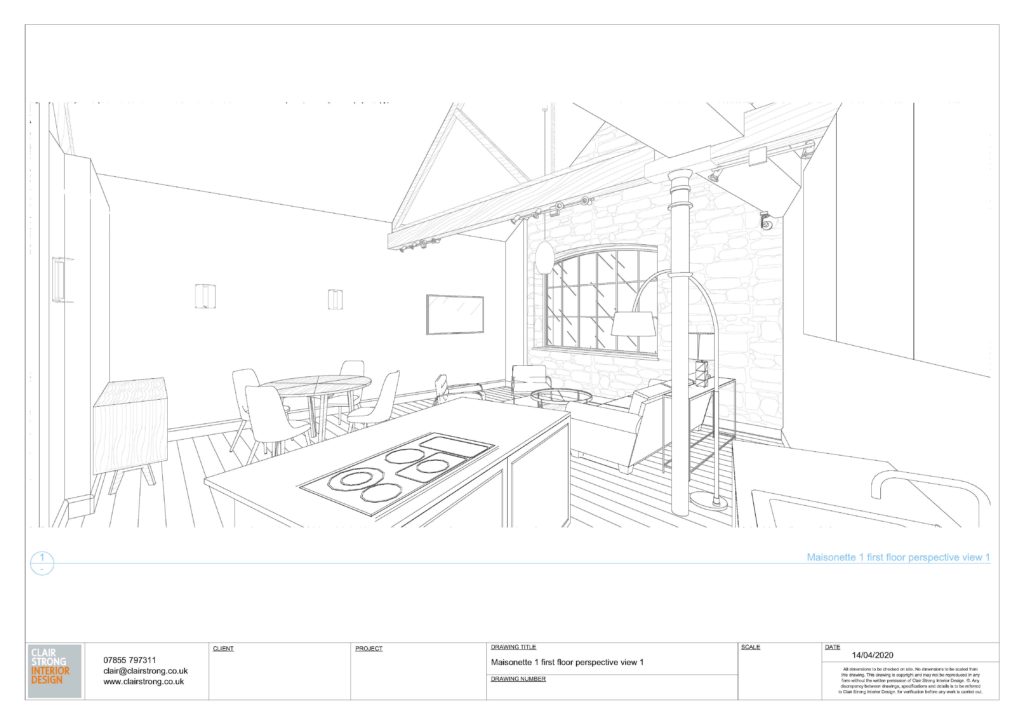 3D room renders can also be provided – Costs according to requirements.
3D room render for cinema room project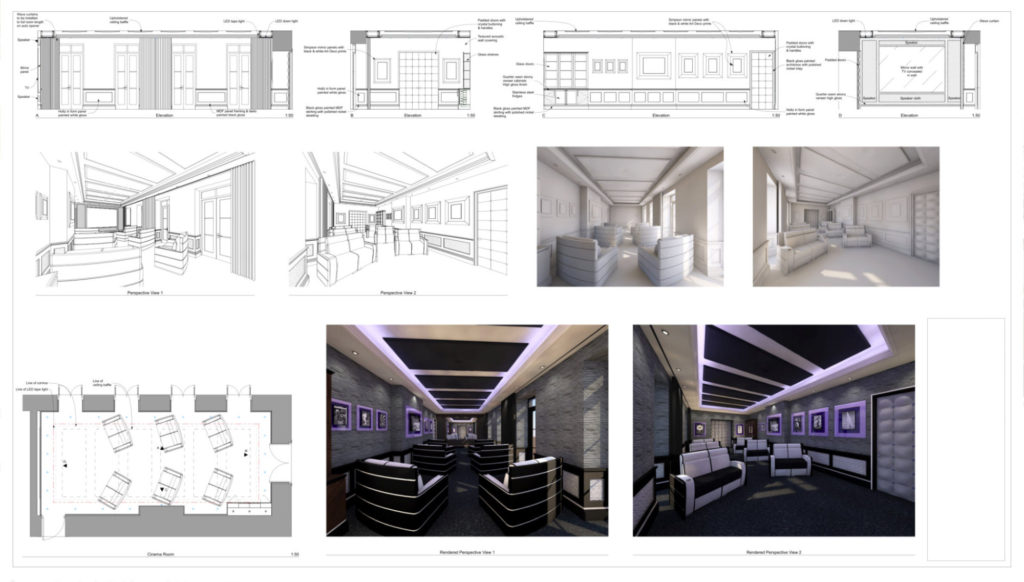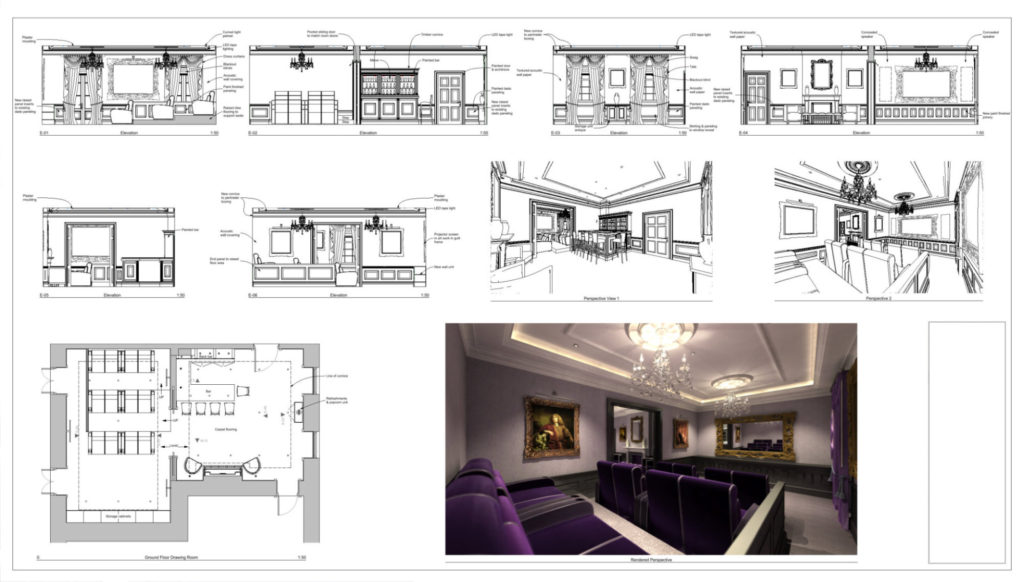 Sourcing service
If you are coordinating your interiors project yourself and would like to buy your own furniture and fittings, we can provide a list of links to products from high street retailers so you can buy the pieces you choose when it suits you – From £250 per room.
Alternatively, if you would like us to buy the goods on your behalf though our trade suppliers, we can also provide this service, and charge a fee of 15% of the budget. Minimum spend of £5k.
Complete projects
We are able to undertake entire interior design projects in Bath and the surrounding area by doing the preliminary work remotely, designing the interiors, costing furniture and fittings, and organising contractor quotes so that on site work can start with the minimum of delay when the property can be accessed.
Online meeting
Your approval of the quotation is followed by a 30 minute online meeting with Clair to talk through the information given in the questionnaire, and discuss any questions you may have about the design process.
Design presentation and feedback
The final design and floor plan, *and 3D visuals if selected, will be provided as PDF documents. Fabric and wallpaper samples will be sent by post.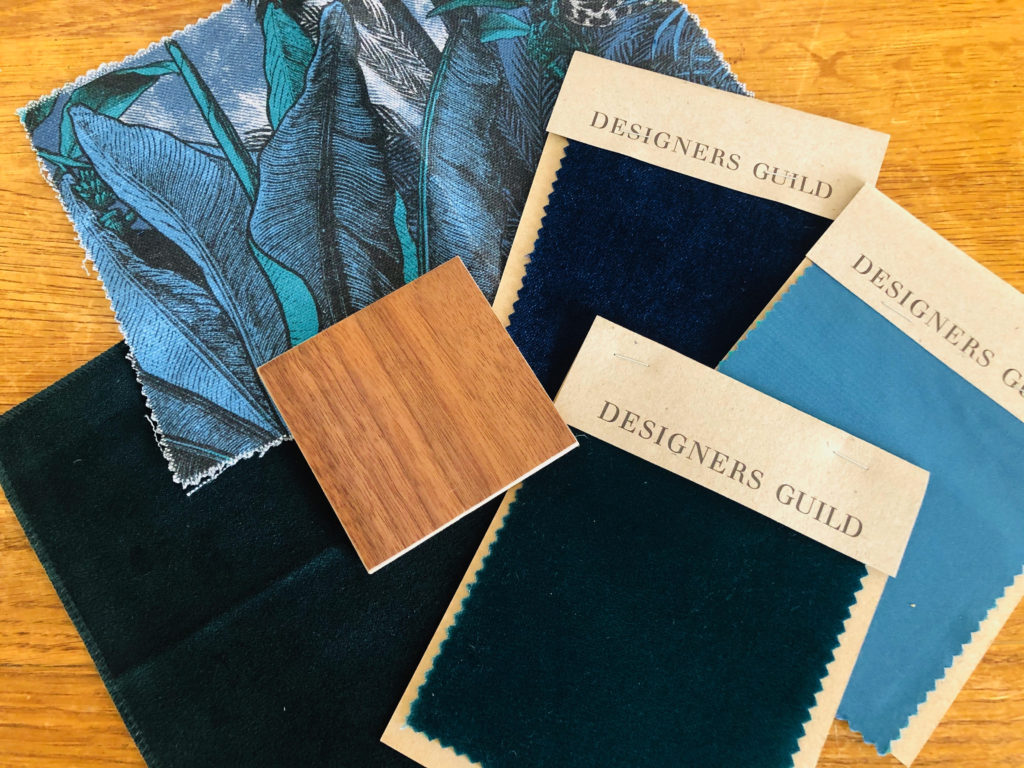 The design process will take approximately 3 weeks per room with complex or multiple rooms taking longer. Timings and costs will vary project to project and would be detailed in the quotation.
Sourcing

If you are using Clair's sourcing services and doing your own buying, a list of product and links will also be presented. If you would like Clair to both source, and buy the goods on your behalf, a list of products and their costs with be provided for you to approve before procurement begins.
Additional
virtual design serv

ices

Decluttering and styling advice – If you're thinking about updating or decorating your rooms but don't require plans or visuals, you might like to discuss paint colours or talk through ideas about how to refresh your spaces by repositioning furniture and pictures, reducing the number of pieces in a room, introducing storage solutions etc.

We are offering online consultations on decluttering, styling and choosing colours by the hour. This would take place over FaceTime or Skype and would require photographs and ideally a visual tour of the room, or rooms. Charged at £75 plus VAT an hour. Minimum of 2 hours.