Here I share some of my favourite shops if you are renovating a property, just giving a room a redesign or looking for a gift for an interior design lover! Bath is a wonderful city for interiors shops. Read on for my guide.
Jim Lawrence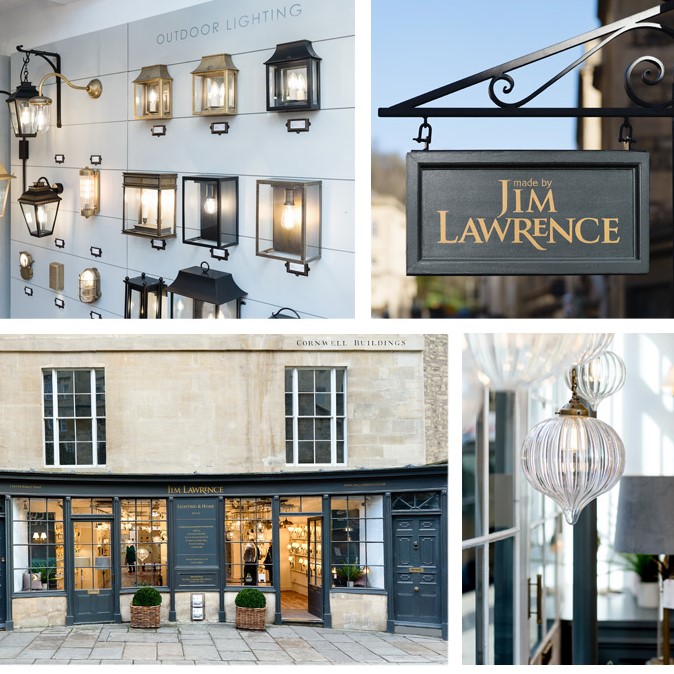 Jim Lawrence sells a stunning collection of hand-crafted home furnishings including lighting, curtain poles, lampshades and more. They specialise in classic, high-quality products using traditional, handcrafted techniques – all made in Great Britain.
Jim Lawrence was a Suffolk farmer when he decided to set up a forge in one of the farm buildings tomake candlesticks and chandeliers to sell at fairs and markets. When a customer asked if his candlesticks could be made electric, the lighting side of the business began.
Their Bath showroom is in Walcot Street and displays the entire lighting and homeware collection.
Although the brand is still predominantly known for its lighting, Jim Lawrence has a wide portfolio that includes curtain poles, ironwork and soft furnishings. On a recent project, I chose the Jim Lawrence Ava Triple Pendant in Antique Brass which I had made bespoke to create a longer drop down the staircase.
Holloways of Ludlow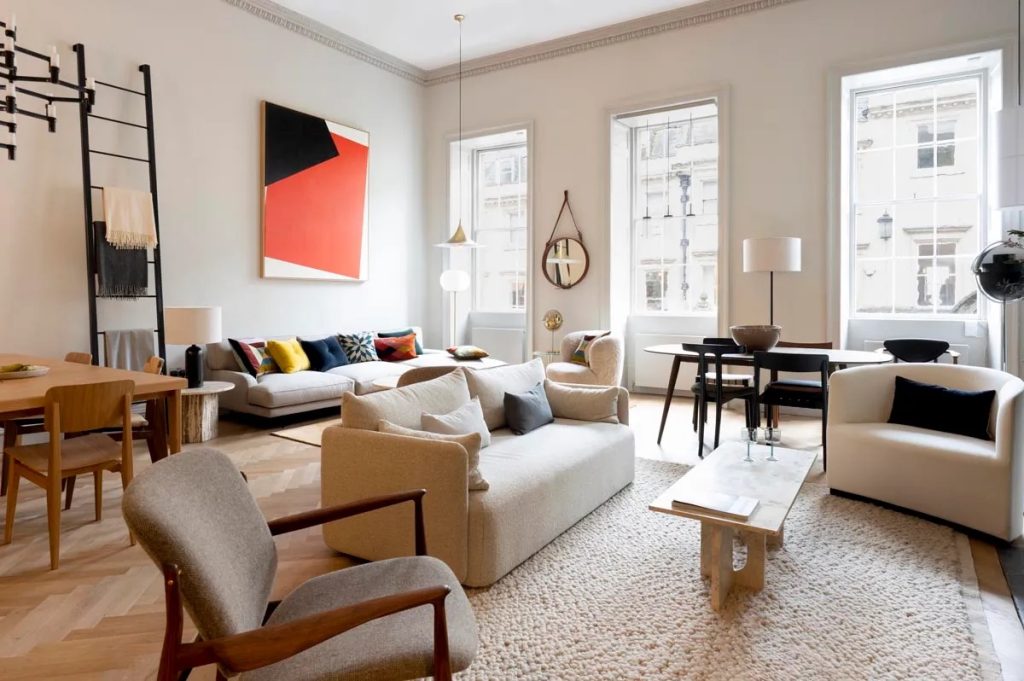 Taking over the old bank building where the HAY store was, the Bath showroom of Holloways of Ludlow is home to a wide selection of European brands, with a particular focus on Scandinavian design.
Holloways of Ludlow are a multi-brand retailer, showcasing a broad range of products that span 20th century iconic pieces to future classics including brands like Hay, Original BTC, Gubi, Buster and Punch, Flos, Bert Frank, Fritz Hansen, Ferm Living, Kartell and Tom Dixon.
The showroom is a delight to browse in and the staff keen to help. They have access to over 400 designers so don't be afraid to ask if you can't see exactly what you want in store.
Always Sunday

On historic Broad Street, The Always Sunday store is a lifestyle and homewares store, selling a wide range of furniture, gifts and accessories. It's an eclectic mix of vintage styling and stylish, cleverly curated, decorative pieces for the home.
The Always Sunday team say they pride themselves in assisting you from the smallest spoon purchase to the largest sofa. They are not just a store… they're a bunch of lovely souls hoping to share our passion for interiors and lifestyle with you.
Look out for the colourful candles, unique cushions and refurbished vintage radios.
OKA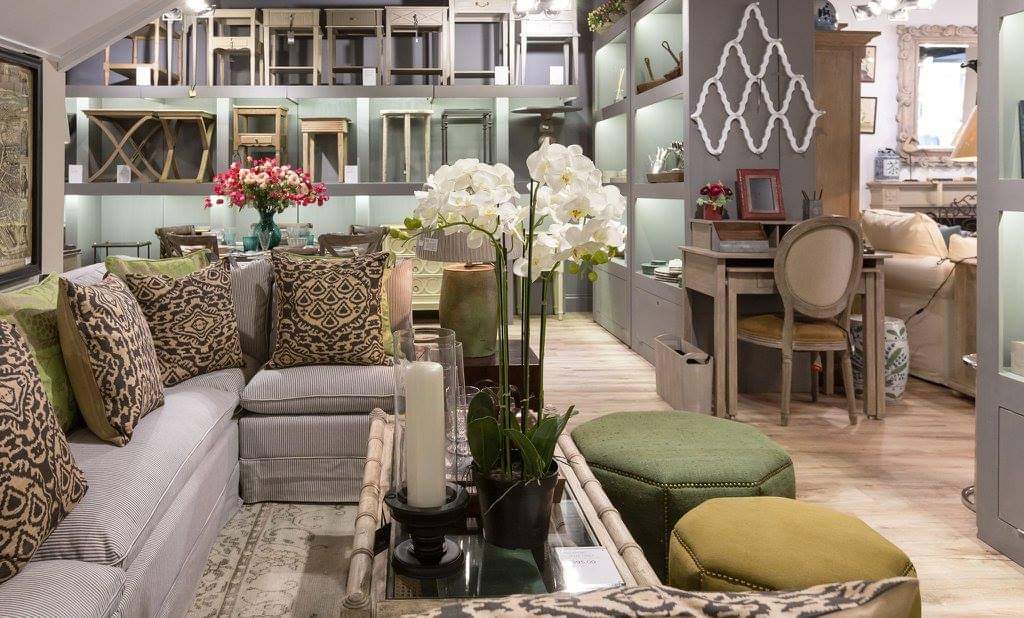 OKA started small, with three friends who set out to bring unique designs from the Far East to shoppers in the West. From the start, the OKA team called on talented artisans from all over the world to bring its ideas to life. The magic of OKA is the mix: hand-picked global treasures, rich textures and patterns, and timeless furniture profiles.
OKA is a place where you can buy large furniture pieces such as sofas, armchairs and ottomans, alongside cushions, throws, vases and other home accessories. The shop at the top of Milsom Street is a gorgeous store with lots of natural light and a treasure trove of unusual finds and statement pieces.
Look out for their wonderful lamps and lampshades and ever-changing range of cushions in wonderfully muted tones.
Beau Nash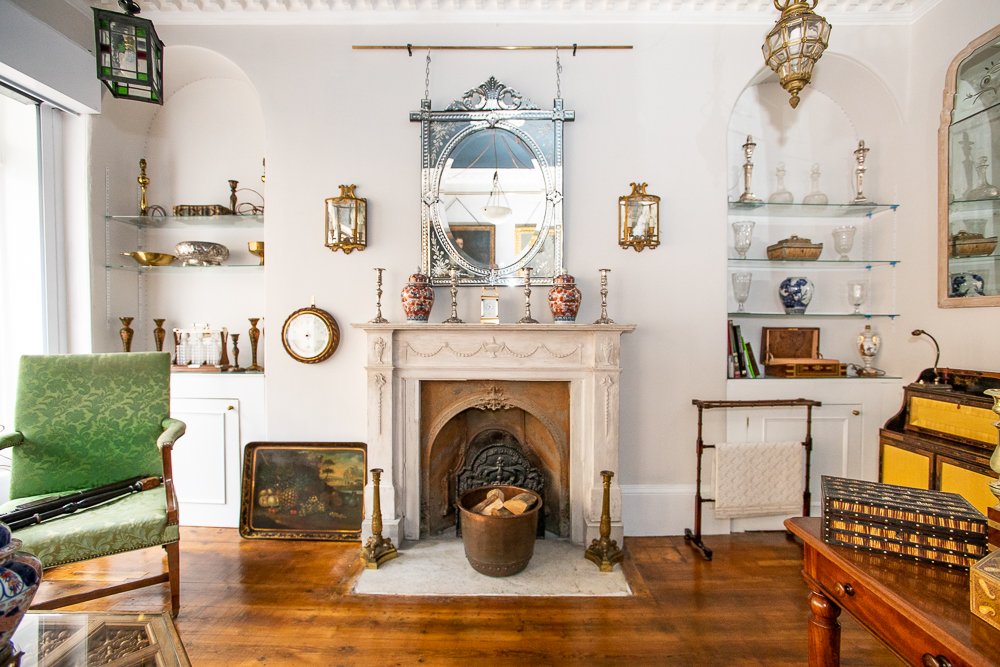 Situated in Brock Street, between the Royal Crescent and the Circus, Beau Nash Bath was founded in 2014 by Ron Pringle & Duncan Campbell as an antique silver shop. In 2022, they opened a new shop dedicated to decorative antiques and classic interiors.
Through their two shops, Beau Nash hope to offer fashionable antiques and a personalised service to help you create a stylish and comfortable home. The team carefully curate high-quality timeless and memorable pieces from different eras and countries to make any house feel like home.
Rossiters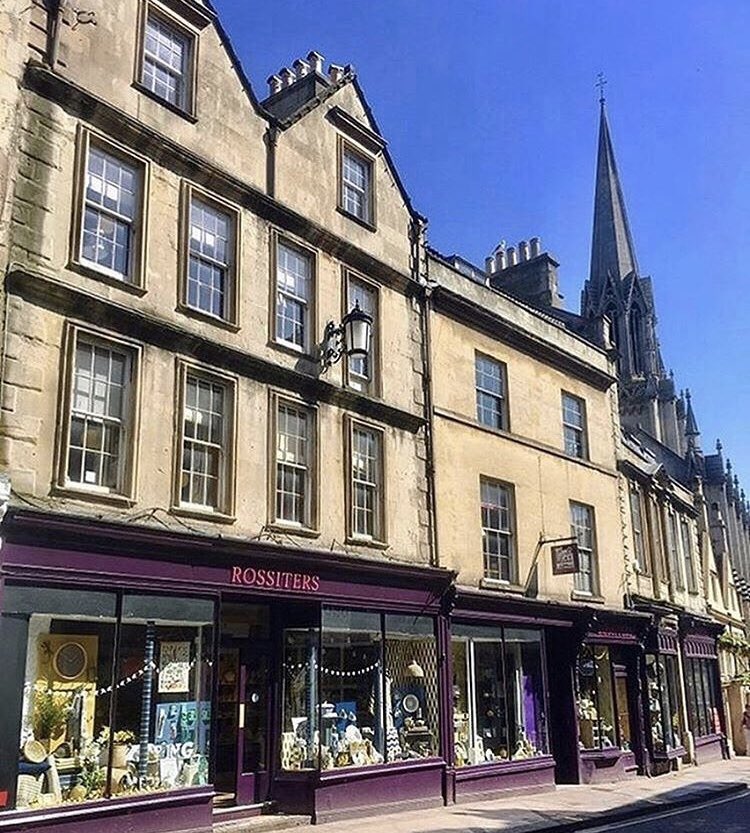 Rossiters is a rare thing – an independent department store! A hidden gem set over four floors of a beautiful old building in Broad Street, Rossiters is a labyrinth of rooms full of a beautifully curated selection of furniture, homewares and gifts.
The staff are wonderfully knowledgeable and it's a joy to spend an afternoon browsing glassware, kitchenware, baskets, rugs, furniture, fabrics and wallpapers against the backdrop of the stores beautifully Liberty-esque conserved wood-panelled rooms. Christmas is when the store really comes into its own – it is just the perfect one-stop-shop for all your Christmas presents.
www.rossitersofbath.com
Flowers of Bath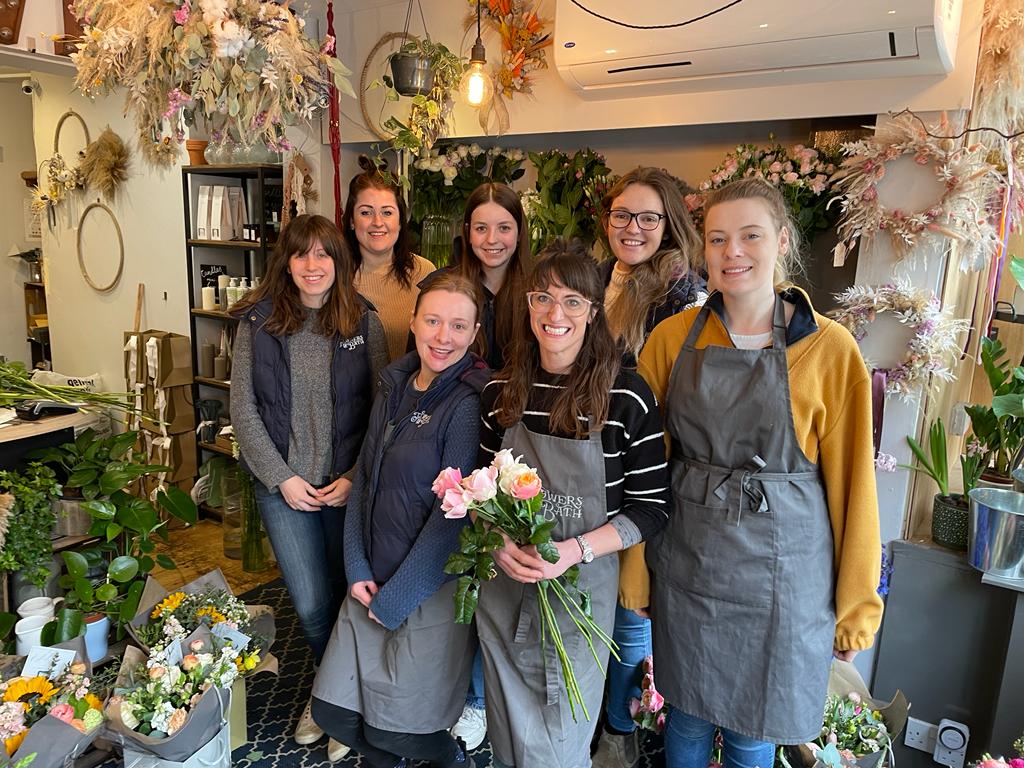 Flowers of Bath was established by Ella Sparks in 2013 and is now situated on Upper Lambridge Streetin Larkhall.
Ella's dream was always to specialise and focus on creating extraordinary wedding flowers. Now the shop has a fresh assortment of flowers, to buy in the shop every day, along with plants, greetings cards and small gifts. Her main emphasis is exceptional and personal customer service and the highest quality flowers.
The shop delivers 6 days a week in most of the BA1 and BA2 postcodes. They offer same day delivery.
www.flowersofbath.co.uk
I hope you have enjoyed my guide to Bath's wonderful interiors shops.