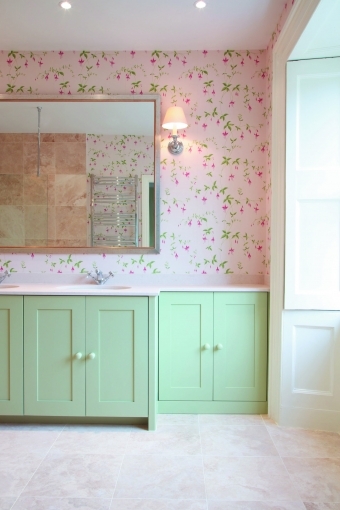 Image: Clair Strong Interior Design
Storage space: the one thing all homes could use more of. Here, in the second part of this two-part series (check out part one here) I show you some creative ways to maximise storage space in the bathroom and living room.
The Bathroom
The bathroom is usually the most storage-deficient room in the house. But having a dedicated area for all your toiletries, medicines and spare towels can free up precious storage space in other rooms. Here are some tips:
Make use of the usually-empty wall space above the toilet by adding some floating shelves (as pictured above).
A mirrored wall cabinet above the sink performs double duty; it makes the space feel bigger whilst providing much-needed storage space for your cosmetics.
In fact, use as much wall space as you possibly can! Soap dishes, toothbrush holders, shower caddies and more can be attached to the wall to free up counter space.
If you've got enough floor space, freestanding furniture provides plenty of storage potential. You don't have to buy 'bathroom' furniture – you can use anything that fits your style. I recommend treating non-bathroom furniture with a waterproof varnish to protect it from excess moisture.
Add rails to the back of the bathroom door for a neat, tidy and out-of-the-way space to hang towels.
The Living Room
The living room is the hub of the home… and too often the hub of all clutter. Everything from toys and games to laundry and paperwork seem to end up in the living room. Here are some ways to keep it all under control:
Have shelves made bespoke to fit the unusual – and unused – corners of your living room. Even awkwardly shaped spaces can be utilised.
In living rooms where one mammoth item of storage furniture isn't feasible (or wanted), mix and match smaller pieces. Side tables with drawers, pretty baskets, stylish shelves… the possibilities are endless.
Is there space under the sofa for a pull-out box or baskets? This is a great place to store toys, DVDs or spare blankets.
Replace your coffee table with a flat-topped trunk or vintage chest. A chest will do the same job as a coffee table but it has one extra trick up its sleeve: stacks of hidden storage space.
And finally, radiator covers look great and transform dead wall space into something useful; the top serves as a neat little shelf for decorative items and books.