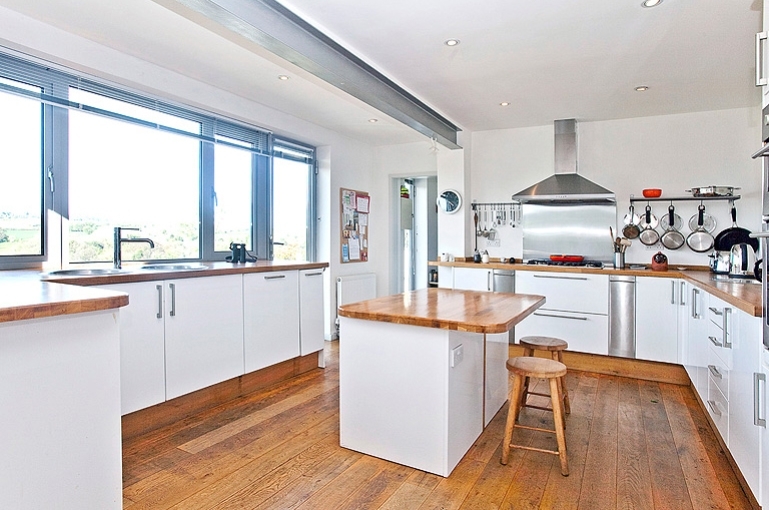 Image: Clair Strong Interior Design
Houses are getting smaller. Research conducted by The Royal Institute of British Architects (RIBA) found that the majority of new build homes are significantly smaller than their older counterparts. What this often means is a squeeze on storage; smaller kitchens, fewer built-in wardrobes and no cupboard under the stairs.
Too much stuff and too little space is a common household complaint. But there are a wealth of really simple and creative ways to make what storage space you do have work for you. Next week we'll cover the bathroom and living room, but today, we're tackling the kitchen and bedroom.
The Kitchen
Pots, pans, plates, pizzas… where does it all go? If you've got limited kitchen cabinets and can't add more, here are some quick ideas:
For plates, pots and pans consider cupboard organisers. I like plate racks and over-door organisers like this one for saucepan lids.
If there's no space for pots and pans in your cupboards, hang them from a mount attached to the wall or ceiling.
Have lots of items you use infrequently? Pop them in wicker baskets and store on top of cabinets.
Magnets and tensions rods have a million practical uses. How about magnetic spice jars on the fridge or utensils from tension rods above the hob?
A portable island or butcher's block (like this one) adds invaluable shelving and counter space without taking up too much room.
The Bedroom
Are piles of clothes, jewellery and cosmetics preventing your bedroom from becoming the haven it should be? Try these:
Under the bed is prime storage location. Drawers, wicker baskets or just plain old plastic tubs are great for storing all kinds of items. You'd be surprised how much you can stash under there too.
Four words: pull-out shoe storage. It comes in many varieties and you can install it under the bed or in the wardrobe. You'll never trip over stray shoes again.
Matching clothes hangers aren't just aesthetically pleasing; they also help streamline your wardrobe. Opt for the thinnest hangers you can find; they'll take up less space so you can add more to the rail.
Shelf dividers keep folded items organised.
The inside of wardrobe doors often goes unused but is ideal for hanging storage where you can keep small items like jewellery and ties.
Attach hooks to the back of your bedroom door for robes or coats.
Store out of season clothing and other less-used items in suitcases on top of your wardrobe.
Come back next week to see how we can tackle storage problems in the bathroom and living room.