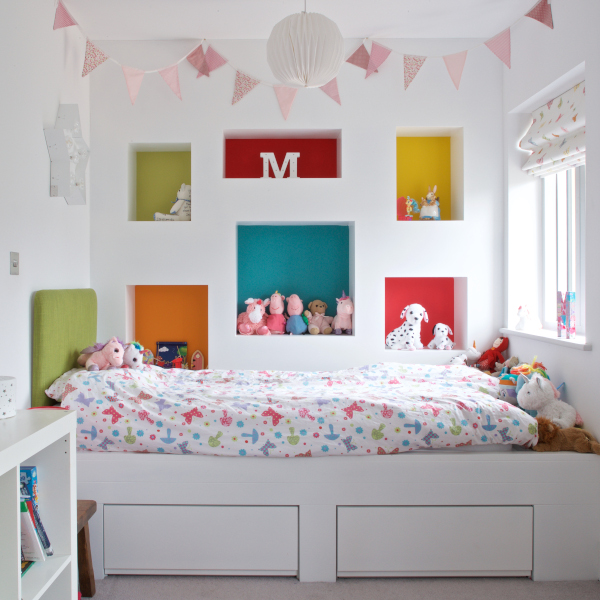 Image copyright Clair Strong Interior Design
Last week we looked at how to design for children in the long-term. This week we'll tackle the must-haves for any functional child-friendly space. Let's jump straight back in!
The Must-Haves
Black-out blinds or curtains are essential. They will help you create total darkness at any time, which is so useful during the summer when it's light until late. They're also great if you have a child who naps during the day.
Good lighting is necessary in any room, but it's especially important in a space that might serve multiple functions. If your children play, study and sleep in their bedrooms, you'll need a variety of light sources. Overhead lighting is perfect for play. Task lighting (such as a good desk lamp) is necessary for study. And a night light might help sensitive children sleep more soundly.
Space to play, read or paint is important. Some children are really sociable and will spend all their time in the living room or kitchen with you, while others need alone time in their bedrooms. If your child values their alone time, make sure they have a comfortable and quiet space to play or read. Depending on your child's interests, you can give them a little reading nook, a space for their toys, or a little desk with plenty of art supplies.
In the room pictured above I designed a bespoke bed with storage drawers. We used a standard single mattress which left space at one end of the bed for toys or cushions. We also built a stud wall to create storage cubby holes for toys. This could be painted in one colour instead of the multi-colour recesses, and filled with books for an older child.
A bedroom that reflects your child's personality, whatever stage they are at, is my final must-have. Sometimes you have to let go of your love of minimalism and let your children go hog wild with colour and accessories. Allowing your child to explore their creativity will ensure they love spending time in the space and it helps develop important core skills too. It can also be a wonderful bonding experience, decorating a room with your child – even if you are sick of the sight of unicorns and mermaids.