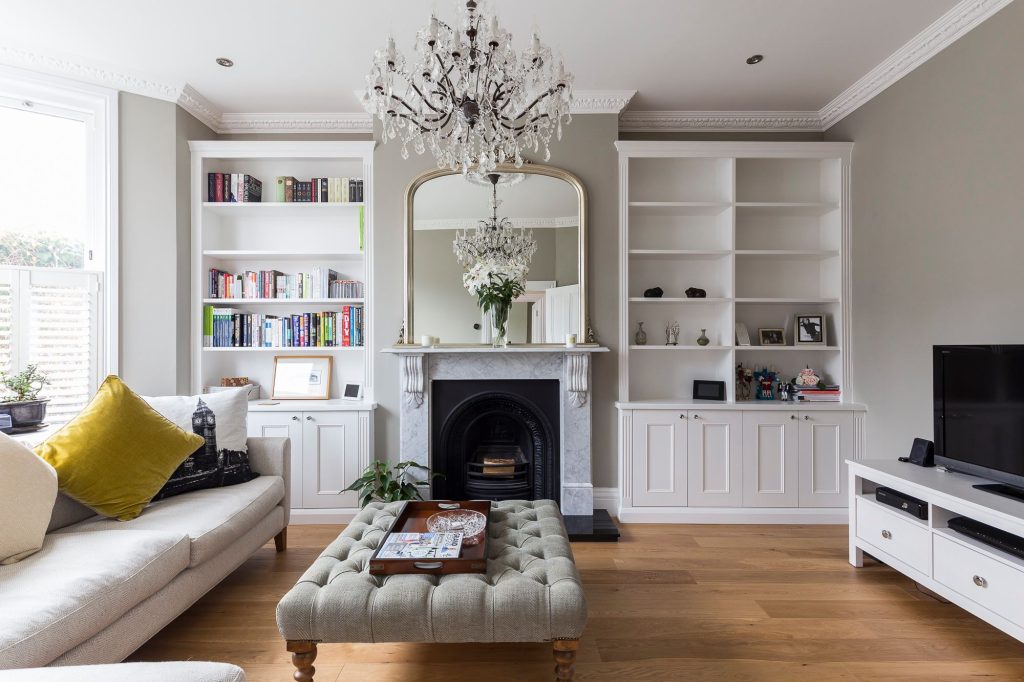 Georgian houses have particular storage issues. They were built before internal bathrooms; the kitchen was often in the basement and there are small attic rooms where servants lived. Hallways are narrow and most rooms have fireplaces which take up valuable wall space. Add to that the limitations that come with most of Bath's Georgian houses being Listed and you have to be clever to make every inch of your home work hard with clever and space-saving storage solutions.
If you are renovating your house, think about building storage space into your plans. Shelving in alcoves, built in wardrobes, dressing rooms and cubbyholes in the bathroom wall will create space in your home. Design a new kitchen with storage solutions in mind. Build cupboards up to the ceiling and think about a bespoke utility area or larder cupboard.
Living room
Built-in storage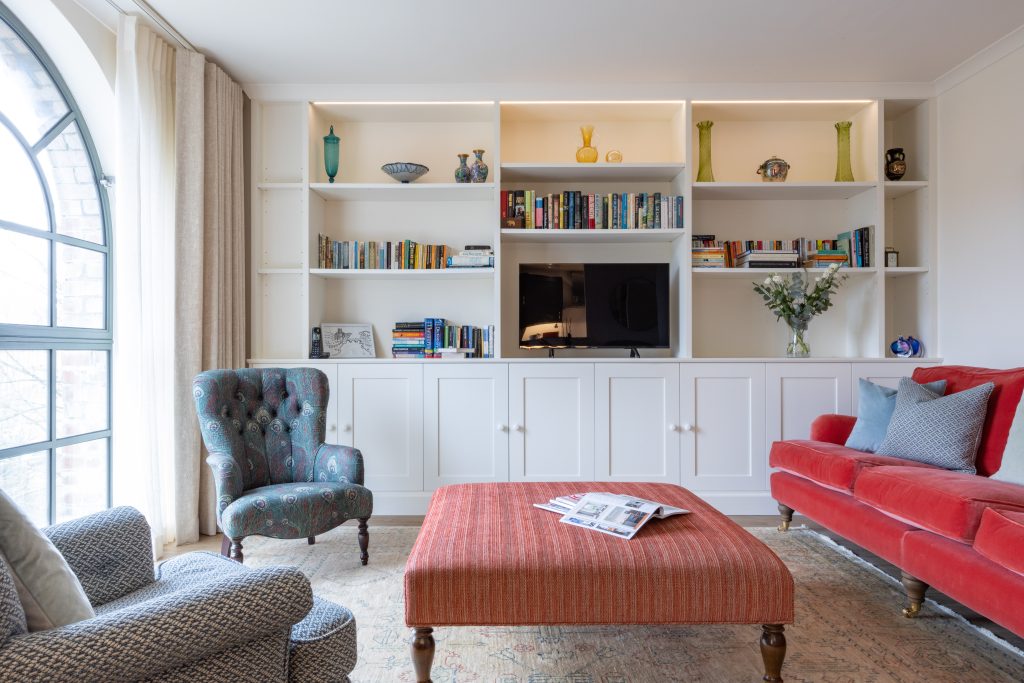 Of course, if you can afford it, built in furniture in your living room will give you a lot more storage space for your budget. Many Georgian houses have big fireplaces in the living room. Use the alcoves either side for bespoke shelving. You can create storage in awkward places and also take the furniture right up to the ceiling to maximise any empty space. Flat fronts and push close doors that don't need handles will create a streamlined look that will blend into the rest of your room.
Stylish shelving systems
If you have a lot to store and don't want to build storage in, think about a shelving system. String® Shelving is loved by designers and architects across the world for its simplicity and practicality. String was designed in Sweden by Nils Strinning in 1949 and is still a design classic. The clever modular system consists of shelves, side panels, cabinetry and desks which you can configure to create the perfect shelving system for your space. You can even use String® Shelving as a room divider in a small space to create distinct zones which is the perfect way to create a separation between work and living space. Modern String Shelving looks great in Georgian homes.
Free standing cabinets
If you don't want to build in storage, look for free-standing cabinets. They are so flexible. You can use them in the sitting room as a drinks' cabinet, the kitchen for plates and cutlery, the bedroom for clothes or the bathroom for toiletries and towels. Wooden furniture works in a Georgian house, but you can also paint your cabinet to work in different rooms or even wallpaper the inside. Tall and thin cabinets take up less floor space than short and wide so make sure you consider this when buying a new cabinet.
Wall mount some clever floating shelves
I am a huge fan of wall mounted floating shelves. They take up no floor space and are a great way to display books.
Storage footstool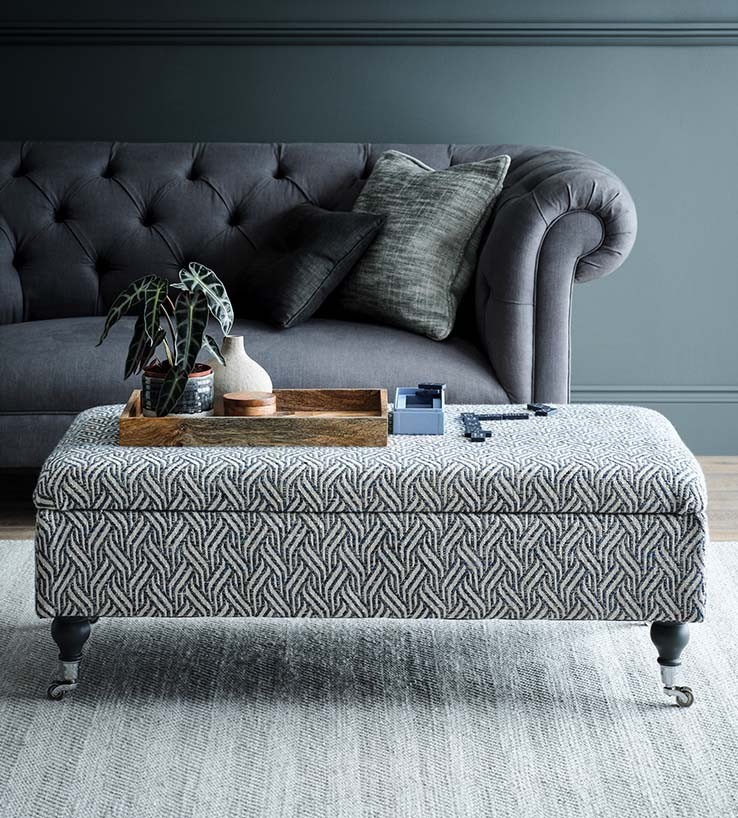 Storage footstools provide generous space perfect for tucking away magazines, blankets, cushions, throws and a multitude of other things in your living room. Choose one that colour co-ordinates with your sofa or choose a standalone piece in a contrasting colour to make a statement. They look wonderful in Georgian homes that can take a big piece in a living room.
Invest in a coffee table with hidden storage
If you have a small living room that can't take a footstool, then you should look for a coffee table with storage space. You can store remote controls, magazines and DVDs out of sight but close to hand. Go for a drum table style, a trunk or a table with a shelf underneath.
Compact office desk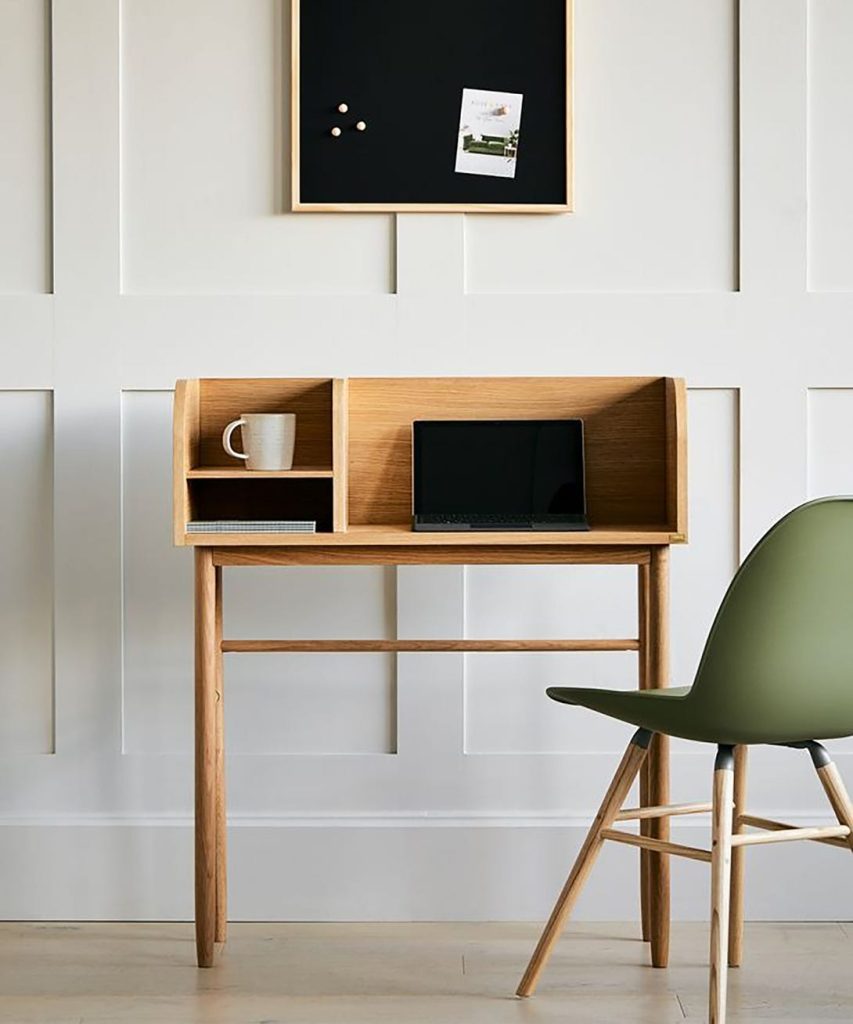 We are all working from home more at the moment and having to find room for office space. If you don't have room for a dedicated home office, invest in a compact office desk which will look stylish in a small space without taking up too much room. Put a few open shelves above it for your files and notebooks and pick an office chair that will fit into the rest of your home décor.
Kitchen
Georgian's had small kitchens with no mod-cons so kitchen storage can be a challenge.
Kitchen Larder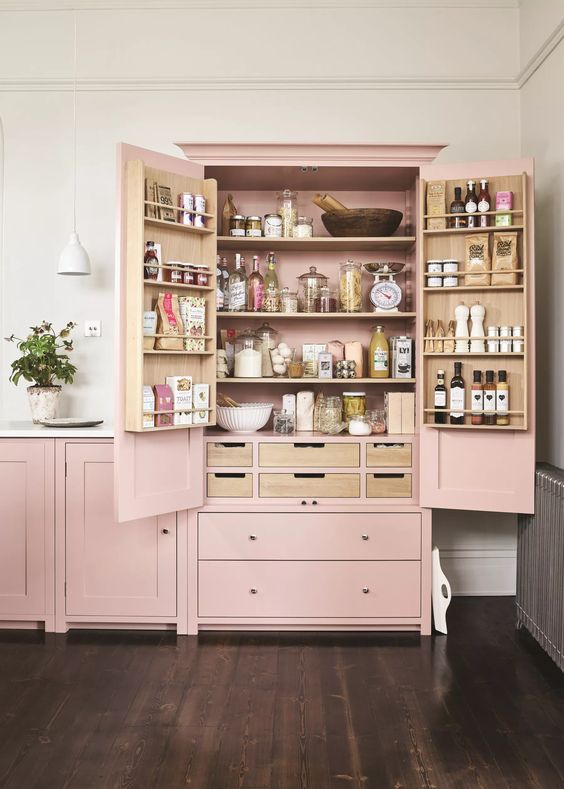 For extra storage, kitchen larders or pantries are very on trend and come in all shapes and sizes. There are so many stylish designs to choose from, whether you've got a large kitchen and have room for a walk-in larder, or you have a tiny gallery kitchen and want a small pull-out larder to maximise storage space.
Portable kitchen island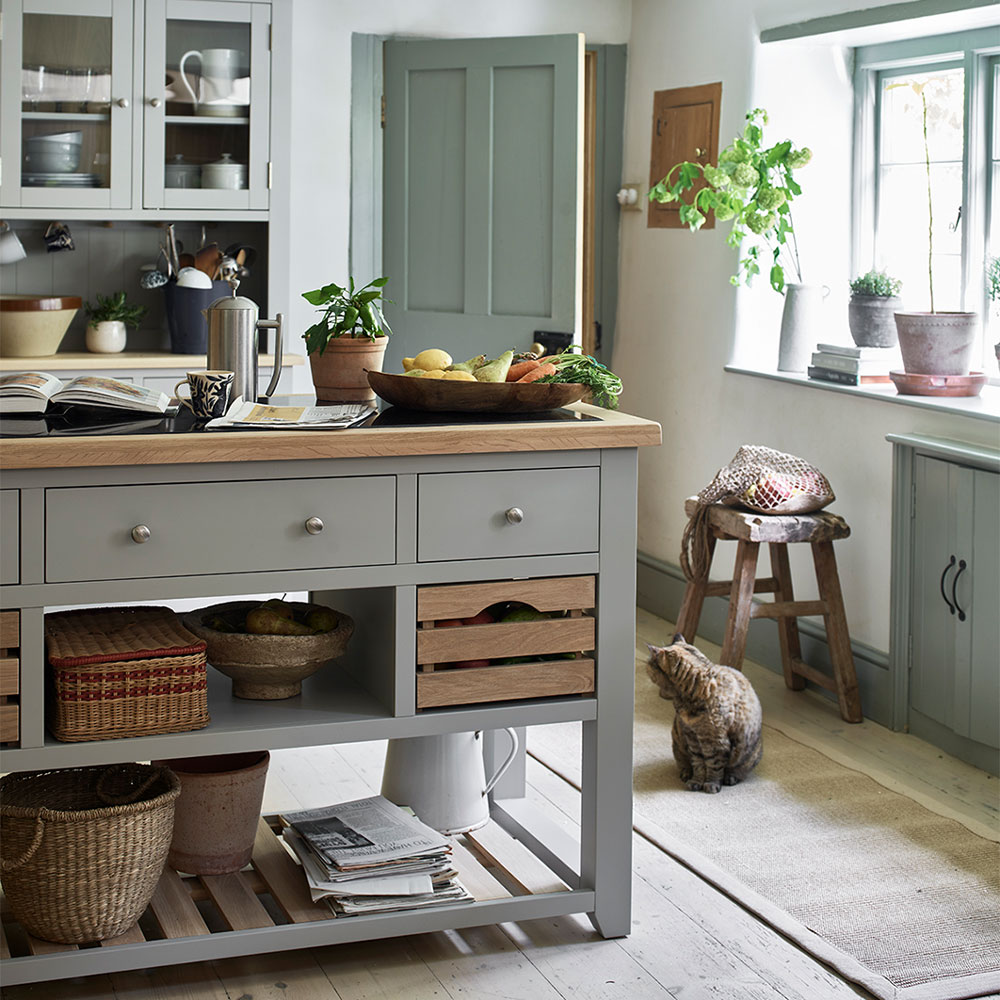 A portable kitchen island offers both space and practicality and there are so many different styles to choose from. Islands with wheels are great for moving out the way to create more floor space in a kitchen. You can use them for storage or as an extra cooking surface. They're great for smaller kitchens when space is limited because you can move them around easily. Get a wooden butcher's block style which will work brilliantly in a period property.
Stack your tumble dryer and washing machine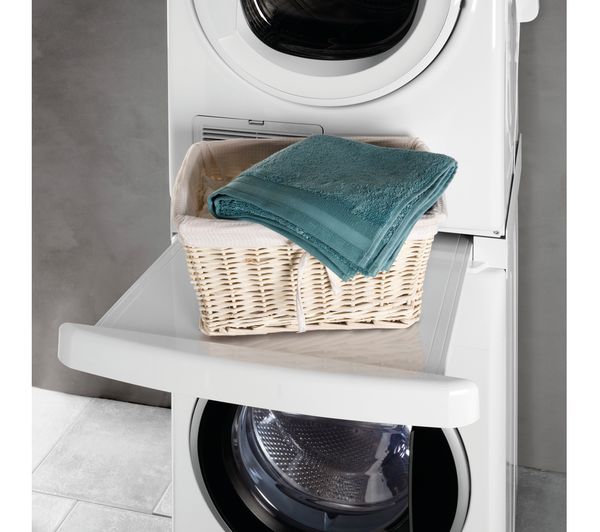 Finding space for your utility room can be a challenge in a period property. Stacking your tumble dryer on top of your washing machine is a great way to save space, but you need to make sure you do it right to keep your home safe. Buy a universal stacking kit or branded kit compatible with your model of washing machine and tumble dryer.
Bedroom
Bedrooms can be small and there is often a lack of wardrobe space in Georgian houses.
Underbed storage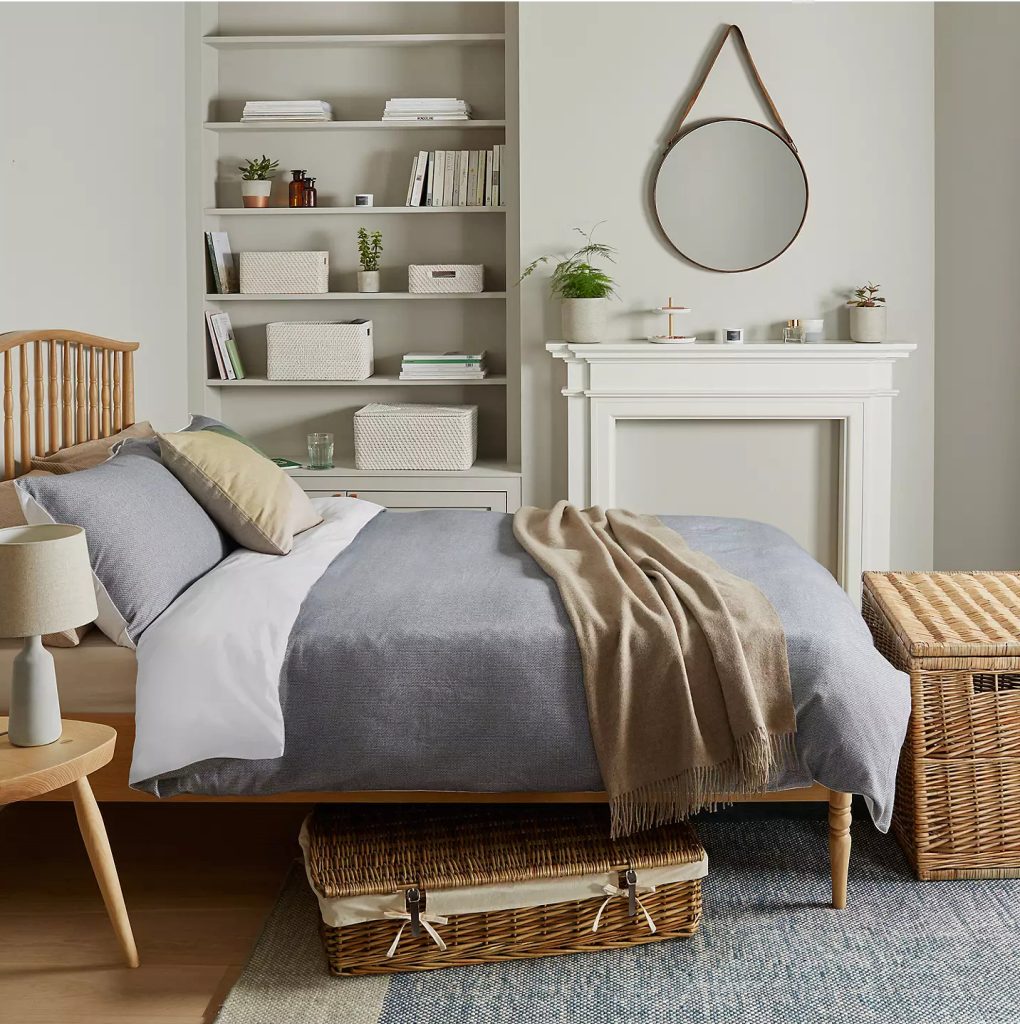 The space under your bed is often unused space. Transform it with clever underbed storage solutions to store off-season clothes, duvets, extra pillows and shoes out of sight, but still within easy reach. Choosing under bed storage boxes with lids keeps the dust out and keeps everything all hidden away.
A kid's loft bed
Pick a clever space saving design for kid's bedrooms. A high sleeper bed usually includes a full-sized single bed and a desk. Some include full size wardrobes, an extra futon bed or just clever storage solutions rather than a ladder. As your child grows you can adapt it so it's truly multifunctional.
Hallway
Hallways can get cluttered with shoes and coats. Georgian houses have narrow hallways – often the width of the door – and can be dark and unwelcoming.
Hallway bench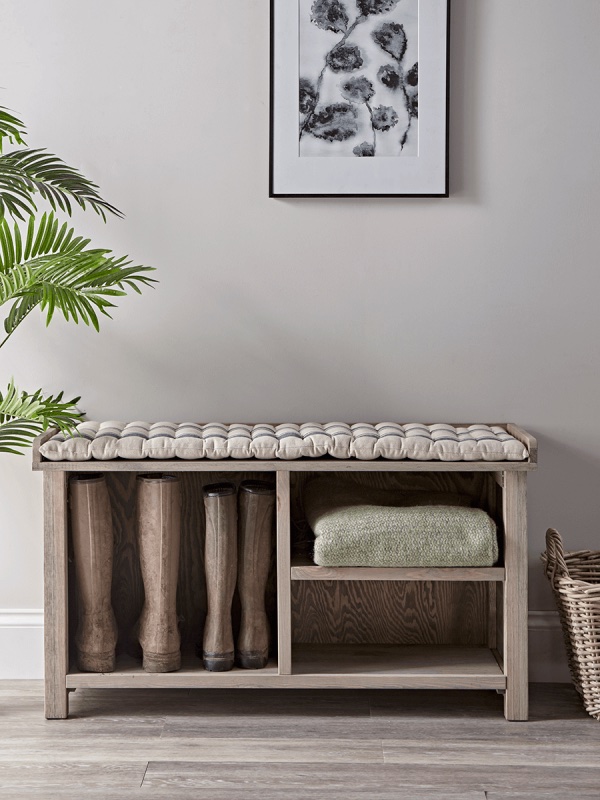 Storage benches are perfect home storage solutions in narrow Georgian hallways. A padded cushion means you can use it for putting your shoes and boots on and the shelves beneath can contain all your other items like hats, gloves and scarves. Pair them with a coat rack and mirror for a perfect hallway. Benches also work well in utility and living rooms, kitchens and under stairs for stowing away clutter.
Radiator covers
Radiator covers look great and transform dead wall space into something useful, the top serves as a neat little shelf for decorative items and books.
Storage baskets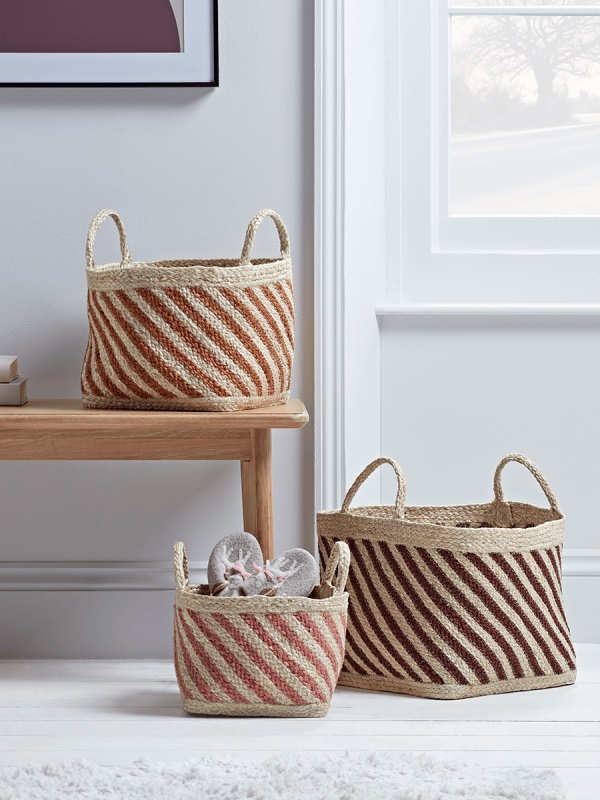 Large baskets are one of the simplest and most effective storage solutions you can invest in. You can move them around to where you need them most, they are light, and they look good in any room. Baskets are perfect for on top of wardrobes or underneath furniture like benches, beds or sofas. If you have children, give them each their own basket and get them to use them to store their clutter!
Bathroom
Bathroom trolley
A freestanding storage trolley is an easy way to maximise the space in your bathroom and have things close by when you need them. Choose a contemporary style that will match your existing fixtures and fittings. Keep your pampering essentials in your trolley and have it close by when you are having a long soak in the bath. You can then wheel it out of the way when you need more space.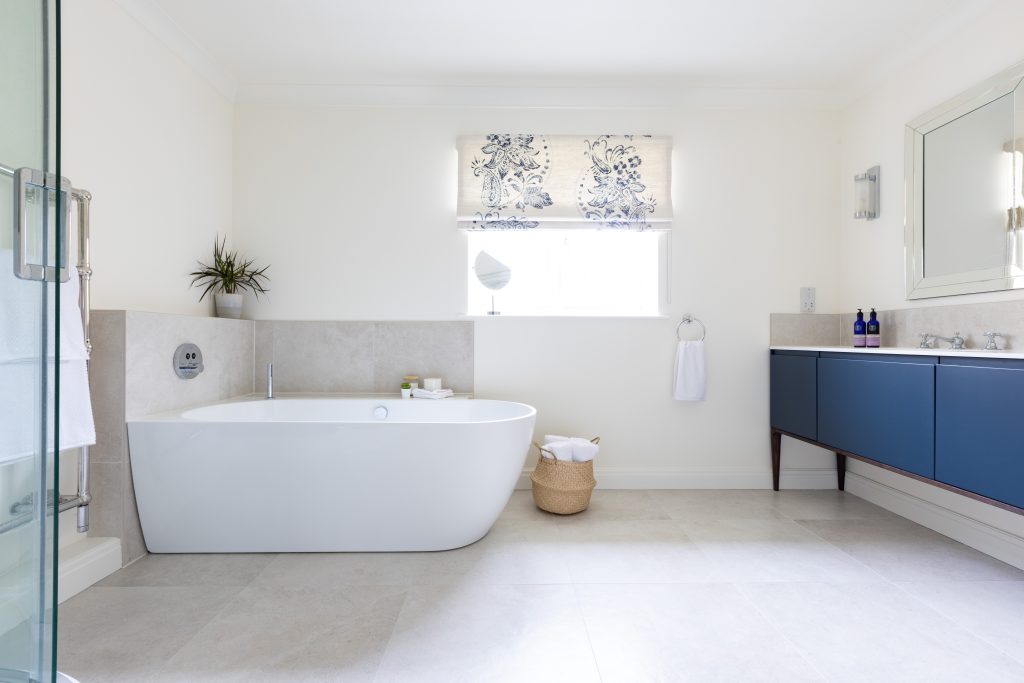 Loft
If you have converted your loft, you'll give yourself extra space, but it can often be a challenge to create enough storage. Rooms in the loft conversion can be awkward in shape including sloping ceiling, angled walls, alcoves and eaves. Fitted furniture is the best option to maximise all the potential space in your loft conversion no matter how awkward the space is.
I always advise talking to an interior designer about bespoke storage solutions. We can often often come up with clever solutions you'd never have thought about.