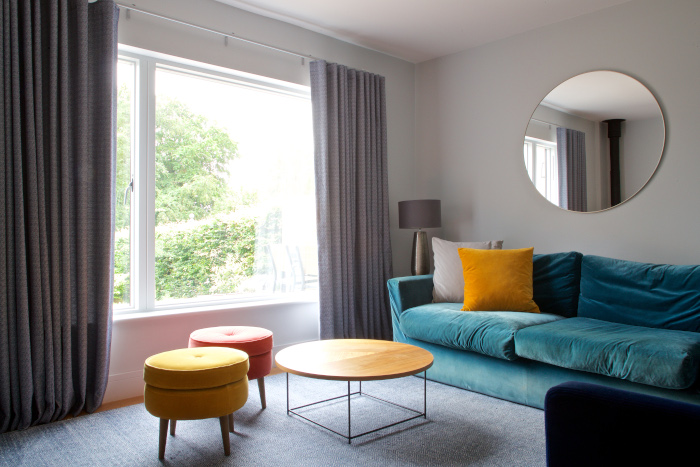 Image copyright Clair Strong Interior Design
Picking exactly the right paint colour can be an agonising and time-intensive task. Flipping through endless colour cards, painting swatches, bickering with your partner and finally settling on that perfect shade of not-quite-white… only to find it's actually not quite right. Sound familiar? If so, this blog post is for you.
Today I'm sharing some practical tips to help you pick the perfect paint colour first time. These tips will help eliminate some of that fraught process so you can get straight to enjoying your freshly painted living room. Let's dive straight in.
Start with a Reference Point
Starting with a reference point can really help you hone in on the right colour for your space. It's especially useful if you have no idea where to start. Look to a piece of artwork, the clothes in your wardrobe or accessories in your home. Which colours are you drawn to? Ignore the trends and forget what your friends and family think; look for colours that make you happy and you know you'll want to live with.
Paint Multiple Swatches
The colour of your walls can not be determined by one tiny test patch. You need to paint a swatch on several large bits of paper and hang these on all four walls. You should then sit with the colour for a day or two. Light drastically affects how colour is perceived, so if one corner is particularly dark and another filled with light, make sure you paint a swatch in both locations. Check out your colours at different times of day, and in different light conditions. If the colour looks fabulous in natural light but hideous when the curtains are closed and lamps are on, it's not the right colour for you.
Take it Down a Notch
Paint always goes on darker than it looks on the colour card or pot. It may even look darker than your test swatches when it's been painted on all four walls (because there's more of it). Choosing a shade or two lighter than your favourite card colour should help you achieve the perfect shade. Worst case scenario, you'll have to paint another coat in a darker shade. But it's much easier to live with something too light, than it is to live with something too dark.