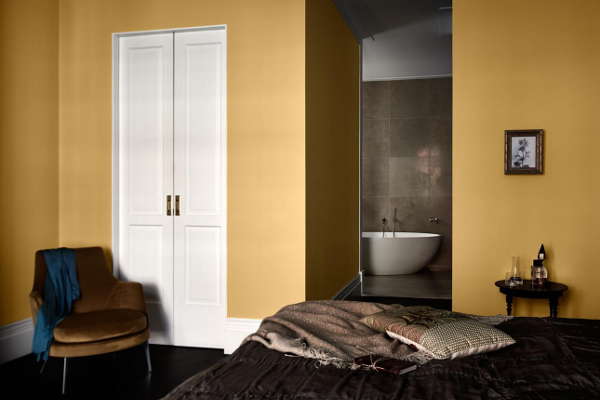 Image source: Dulux
With a new year comes a wave of exciting design trends that are adaptable and easy on the eye. The great thing about many interior trends is that they allow you to put your own creative stamp on them. As January commences I take a look at four design styles that look set to rule 2019.
Constellation Prints
Inspired by astrology and zodiac signs, constellation-themed interiors are taking off in a big way. Great for creating a calming, ethereal atmosphere it's easy to see why constellation prints on fabric and wallpaper would be popular. If you fancy trying out this trend, consider a statement wall in starry wallpaper or hanging an oversized tapestry. There are an abundance of these prints available from both independent sellers and well known retailers so you won't struggle to find something you love. Alternatively, there are lots of affordable celestial-inspired accessories available to purchase from online shops, including Etsy, if you just want to hint at the trend.
Black (and Navy) Bathrooms & Kitchens
Dark kitchens and bathrooms are looking to be very popular this year. Think minimalist, matt finishes inspired by Scandinavian living. Navy seems to be the colour of choice for kitchens (though as you can see, black works very well too) while black bathrooms do well to promote spa-style indulgence. Start by injecting black accessories such as towels, bath mats and blinds, and – if convinced – consider black tiling or painted walls to juxtapose the white of your sanitary ware.
Fringe & Trims
Some design trends maintain popularity in the industry and fringe and trims – think tassels and pom poms – are one of them. This year, I think we'll see the trend for tassels and pom poms evolve to include statement fringing on all sorts of exciting interior objects, including non-textile items like mirrors. There are lots of independent designers working with trims and textiles so consider reaching out to a local artist for a bespoke item.
Calming Colours
Judging by the various 'colour of the year' selections, many of the trending colours in 2019 will be bright yet soothing tones. These colours include variations of burnt orange, spiced red and ochre, chosen for their decadent and warming vibe. If loud colour isn't something that immediately appeals to you, try a minimal approach first. A coral sofa or a pair of deep orange curtains paired with neutral walls helps to create an aura of colourful peace without overwhelming the senses.