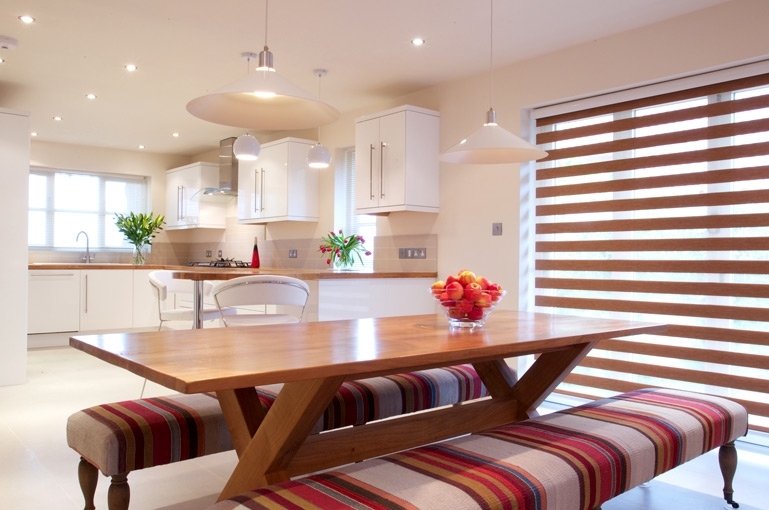 Image: Clair Strong Interior Design
We would all love to have the time and money for a complete kitchen makeover as soon as we move into a new house. But most of us just have to live with what's already there, especially when there are more pressing matters to attend to. (Like that avocado coloured bath suite with no shower or the crumbling plaster in the lounge.)
If you've found yourself in this exact position, with a perfectly functional but otherwise charmless kitchen, it can be frustrating. Fortunately, with a lot less money than you'd need for all-new cabinetry and worktops – and a bit of DIY know-how – you can make it more acceptable. For now.
Here are three small, cost-effective ways to make living with a previous owner's design decisions more palatable.
Fix Nagging Issues
Cracked tiles, peeling lino flooring, loose handles and squeaky doors can quickly turn from funny quirks to major annoyances. If you can fix these small issues as soon as you move in, your kitchen will look and feel much better. It may seem counterintuitive to fix things you hope to one day rip out but be realistic about how soon 'one day' is. If it's not even on the calendar yet, get the screwdriver and sealant out!
Paint Dated Tiles
Dated kitchen tiles can be a real eyesore, especially if they make a room feel darker. Before you get out the hammer and chisel, consider painting over them. It's much quicker and cheaper, and the results can be amazing. I'd recommend a fresh white paint to make any space feel lighter, brighter and bigger. Check out reviews for tile paints online (not all paints are created equal) and follow the instructions for the best results.
Swap Light Fixtures
If you're dreaming of fitted LEDs and smart under-counter lighting but are stuck with a dusty lampshade over the single ceiling light, fear not. You may not be able to have your dream lighting right now but you can at least upgrade the existing lampshade. In fact, you can swap the whole fixture for a much cooler pendant light for less than £30.