This is a condensed version of an article I wrote for November's issue of The Bath Mag.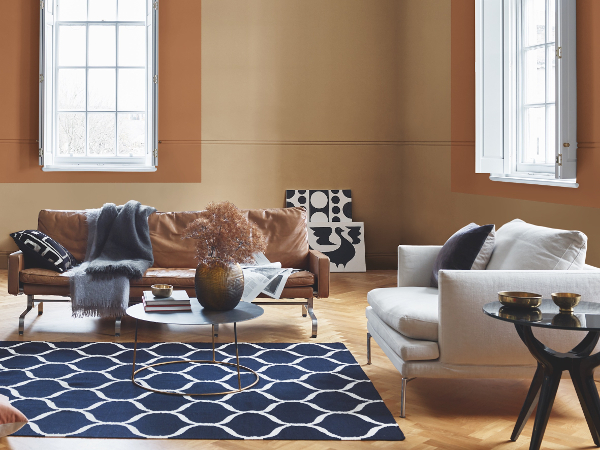 Image source: Dulux
Spiced Honey, a rich and warming caramel tone is officially Dulux's 2019's colour of the year. The paint brand announced its choice back in September, but caramel tones have been trending for many months now. Indeed, caramel may be ready to take grey's crown as king of the neutrals.
Versatile, timeless and effortlessly chic, caramel is a classic. It's a warm and uplifting colour that pairs well with a wide range of other hues. It's a chameleon; changing its personality depending on how it's used. Two rooms painted in the exact same shade of caramel can look – and feel – completely different. Which may be why it's proven so popular; it's safe but not boring; conventional yet often appearing unique.
Curious about caramel? Read on to find out how to style this colour.
Paint it, Honey
Paint seems a natural place to start with this colour. It's a great foundation hue for living rooms and bedrooms but it would also look fabulous in a decadent bathroom with brass fixtures and glorious tiles. Painting an entire room in one shade of caramel may feel a little flat (or too brown). Fortunately, caramel blends well with so many other colours, it's easy to create an interesting and dynamic palette.
For a vibrant, 70s-inspired space, pair caramel with teal and terracotta.
For a calm and dreamy atmosphere, combine it with powder pink and pale blue.
And for a space with serious grown-up style, mix with rich plum and inky blue.
Tantalising Textiles
If painting seems like too much of a commitment, look to textiles for an easy and much less labour intensive way to try out this trend. Textiles are often my go-to for quick and affordable interior updates. You can completely transform any space with new rugs, cushions and curtains; or if you really want to splash out, a new sofa. And caramel is such a cosy colour; it lends itself especially well to these things.
Material Matters
Caramel's only real downside is that it can quickly become old-fashioned or frumpy. To keep it fresh and modern, choose your materials carefully. For example, caramel walls and dark wood furniture can feel suppressive and outdated. But caramel walls with a tan leather chair, copper accents and blonde wood furniture looks cool and exciting.
Stick to light (or white) woods to keep things light and uplifting. Then look to metallic accents like brass and copper for a warm glow. Concrete and glass are great companions to caramel, as are ceramics in dark hues. Whatever you choose, avoid overloading with accessories as this can cause any room to feel close and claustrophobic.