The 1980s isn't exactly revered in the design world. Shoulder pads, coiffed hair, overdone makeup, outrageous interiors and clashing colour schemes all seem to be staples of this decade. So when I spotted an article titled '80s Home Décor Trends That We're Absolutely Living For, I shuddered slightly. And then I cautiously clicked on the article and as it turns out, it wasn't all bad. So without further ado, here are the surprisingly un-terrible 80s interior trends making a comeback…
Memphis Design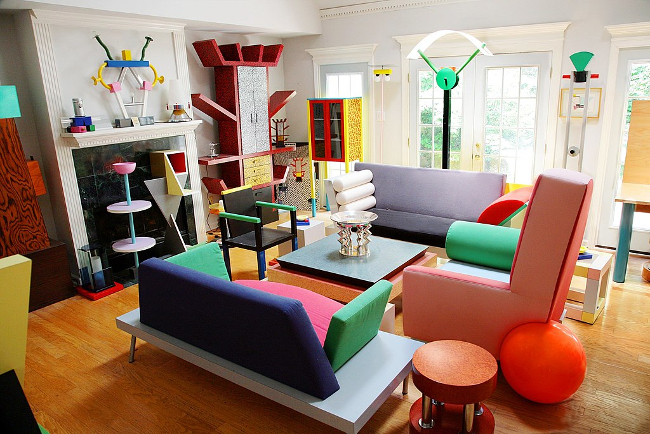 Image source: Wikimedia Commons
The Memphis Design collective was a short-lived group of Italian designers who produced postmodern furniture, ceramics, glass and fabric. The group's work featured heavy use of plastic laminate, clashing colours, stylized graphics and abstract arrangements and their focus was on form rather than function. The group was widely criticised at the time, but they're now influencing a generation of artists and design studios, including Camille Walala and Dusen Dusen.
I wrote a more extensive guide to Memphis design, so do check it out if you'd like to know more about this important movement.
Tropical Prints
This trend has been making the rounds for a few years now but its roots are firmly in the 1980s. The 80s was all about big, bold patterns and jungle prints were especially popular. It wasn't uncommon to see curtains, bed linens and wallpaper with the same print all in one room; a sight to behold, to say the least. Fortunately this trend has been tempered by time. The best tropical patterns today are still bold and beautiful but are used in moderation, such as on an accent wall.
Channel Tufting
This upholstery technique last had its moment in the 70s and 80s, but it goes back to the 1920s and beyond. Channel tufting is a way of creating a really plump and plush effect on upholstered items. In the 80s it was used on chairs, now we're seeing it on everything, including the walls. This is one trend I can really get behind; it's sophisticated, luxurious but still a little playful. Perfect!
Colourful Bathroom Suites
The 1980s saw bathroom suites upgrade from avocado to a whole host of pastel tones. It was a short-lived trend, and all-white suites soon prevailed. But it seems we miss those painted suites and are ready to take the plunge again. We're seeing all sorts of beautiful colours crop up, from dark grey to bright red. The main difference today being that instead of a full matching suite, people are opting to mix and match white sinks and toilets with colourful tubs.