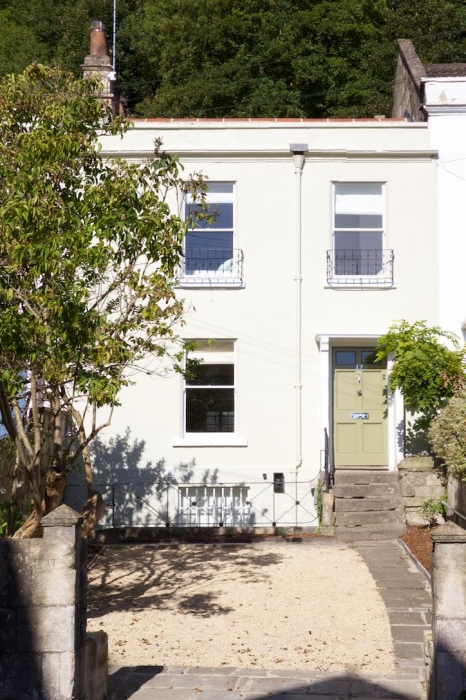 Image: Clair Strong Interior Design
When we talk about kerb appeal, we usually do so in the context of buying and selling property. But it seems strange to me to only worry about how the exterior of your house looks when you're about to move out. The facade is the first thing people see (including you!) so it pays to make a good impression whether you're selling or not.
Feeling inspired to get out there and jazz the place up? Here are five ways you can instantly and affordably add kerb appeal.
Paint the Front Door
Painting the front door sounds like a simple and obvious upgrade but it really is transformative. A tatty and dirty front door is quite off-putting, whilst a beautifully painted one is immediately inviting. Feeling bold? Choose a bright colour like cerise pink or turquoise for a dramatic look. Or if you prefer something a little more understated, muted neutrals are always sophisticated and stylish.
Upgrade the Door Furniture
After painting the front door, it's time to replace the door knockers, knobs and numbers. Old door furniture can look tired and outdated, while new furniture will keep your property looking fresh and stylish. Choose hardware that matches the period of your home for a cohesive and deliberate look.
Repair & Repaint the Fence
This is another pretty obvious tip, but a useful one nonetheless. Whether you need to replace or repaint a fence, trim a hedge, or rebuild a cracked brick wall – get to it! It's all about creating a well-maintained aesthetic, for yourself or for potential buyers who will see that the home has been cared for. And if you do plan on staying, you'll be so glad you don't have to look at that wonky gate or overgrown hedge every time you come home.
Tidy the Garden
You don't need an immaculate front lawn and beautiful borders for kerb appeal. But whatever garden you do have, be sure to keep it tidy with regular lawn mowing, weed removal and plant pruning. Wild, overgrown plants and a foot-high lawn is rarely a good look.
If your garden is miniscule – or essentially just a drive – do try to squeeze a few plants in. Greenery works wonders so consider potted plants, hanging baskets or window boxes to instantly uplift the area.
Clean the Windows
Hire a professional for this one; it's cheap and saves you an enormous amount of work. Clean windows are just the finishing touch that every beautiful house deserves.