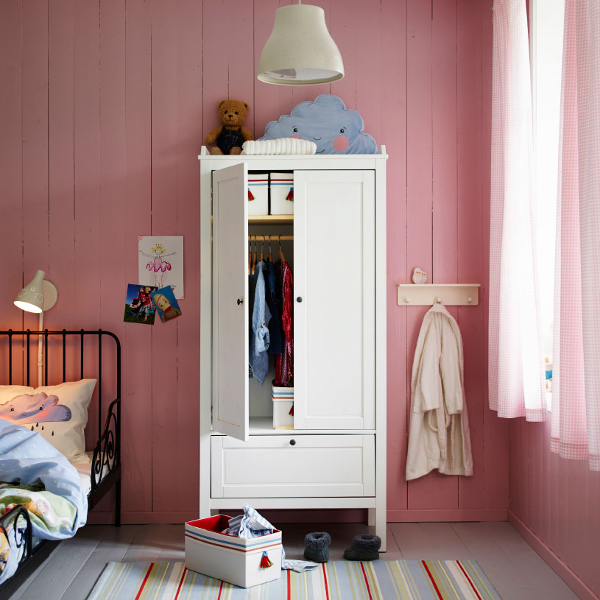 Image source: IKEA.com
I love designing children's bedrooms. Creating a magical space for the kids to play and thrive is one of the most rewarding aspects of my job. With child-friendly interior design there are fewer 'rules' and boundaries; you're free to be as imaginative and creative as you like.
There are however a few challenges to designing a child's bedroom. They grow up so fast, and their needs and tastes change just as quickly. If you don't fancy redecorating every few years, you'll need to find a style and furnishings that will suit them all the way through childhood.
Space and storage is another challenge. Children's bedrooms are often some of the smallest in the house or you may have two siblings sharing one room. Negotiating a lack of space is hard enough but when combined with the sheer amount of clothes and toys children have… well, it can become a bit of a nightmare. Fortunately, there are some really smart storage solutions to save the day.
Finally, it's important that the interior design of the room appeals as much to you as it does to the little ones. You have to live with the bright colours and bold furniture, so choose carefully. I've seen some beautifully designed rooms that I know my toddler would love and I wouldn't mind sleeping in myself; good news for those who aren't so keen on primary colours and an excess of plastic!
So how do you design a room that is child (and adult) friendly, free from clutter and mess and will last a good few years? I'm glad you asked…
Smart Furniture
There are a lot of demands on children's furniture. It needs to be extremely hardwearing whilst serving a practical purpose, it needs to look good and (preferably) be easy to clean. It also needs to grow with the child and last as long as possible. As a result children's furniture is some of the most innovative – and fun – around.
Loaf create beautiful modern-rustic designs, handmade with care. There are no garish colours here, only subtly worn wood or pristine white. Favourite pieces include the Letter Head chest of drawers and the truly delightful Roofus playhouse-slash-desk.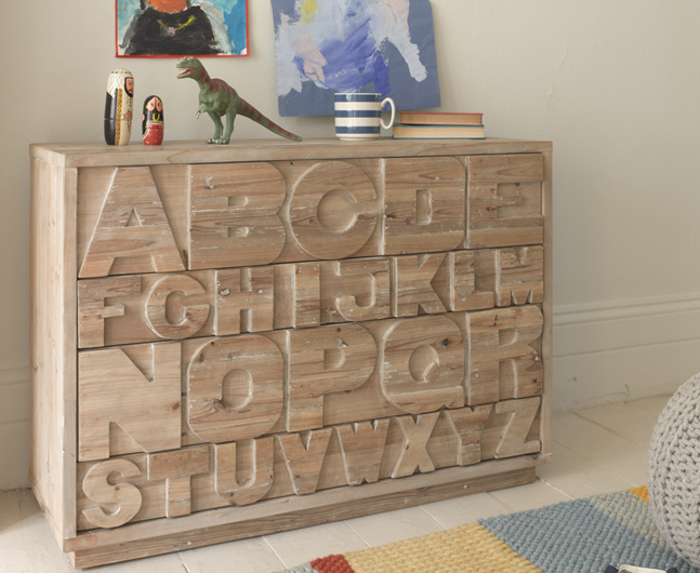 Letter Head chest of drawers by Loaf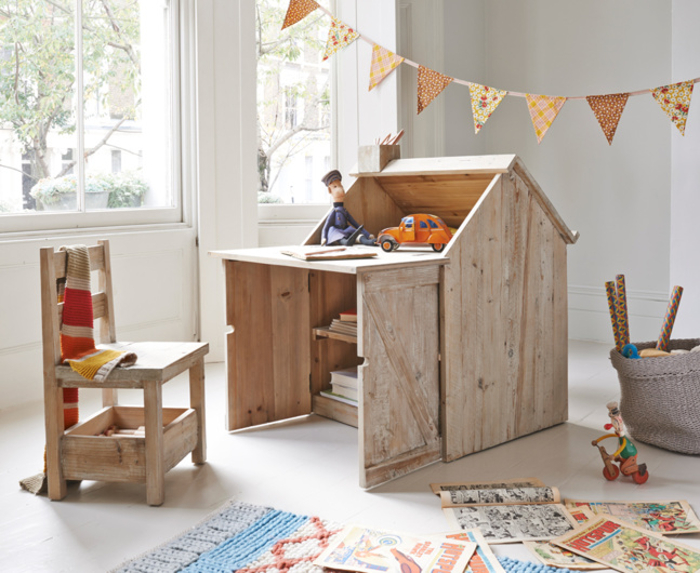 Roofus Play Desk by Loaf
Modern, cool and practically bespoke, Bambini offer beautifully crafted furniture that is arranged to fit your room specs. They specialise in furniture for small spaces with loft beds that double as wardrobes or desks, and ultra sleek bunk beds. Their furniture is suitable for children of all ages, and adults too.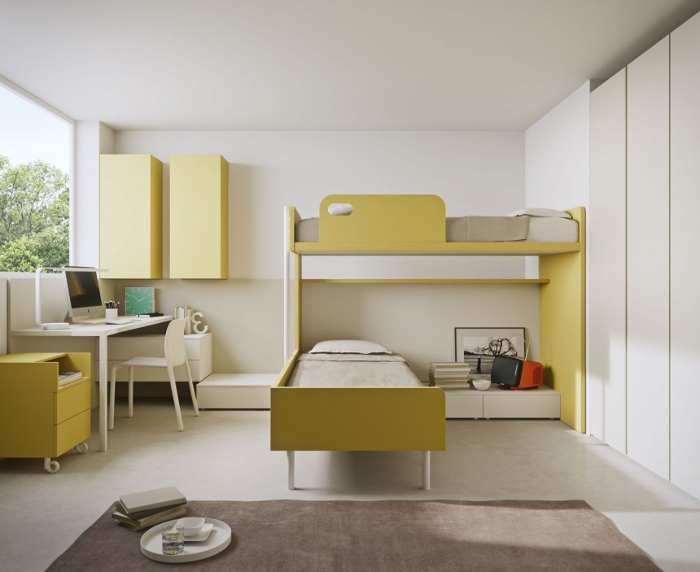 Bunk bed set by Bambini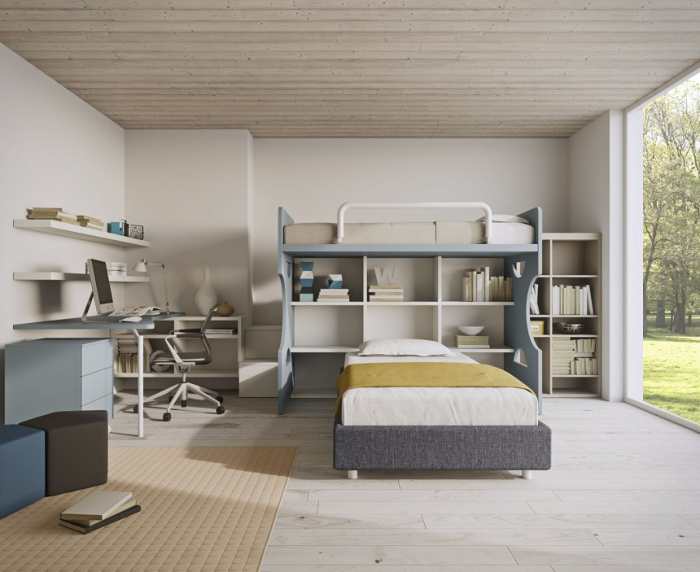 Teen bunk bed set by Bambini
Choosing Colour Schemes
Blue and pink are obvious choices, and you may feel that they're a bit uninspiring but there's actually a lot you can do with these classics. If your little princess is crazy for pink but you dread the thought of such a saccharine hue, try choosing a shade of sophisticated dusky rose or go bold with vibrant magenta.
If you want to avoid gender specific colours altogether, or prefer more neutral tones, try these gorgeous colours combinations…
Grey and yellow:
Image source: IKEA.com
Black and white:
Image source: The White Company
White and multi-coloured: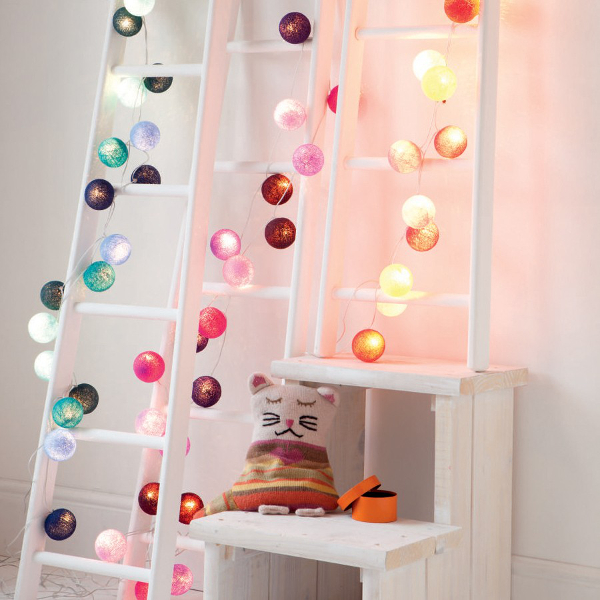 Image source: ASPACE