Sustainability is no longer just a trendy buzzword; it's becoming a way of life. Today I'm sharing a recent article I wrote for The Bath Magazine, which shows you how to make your home more sustainable.
Save Energy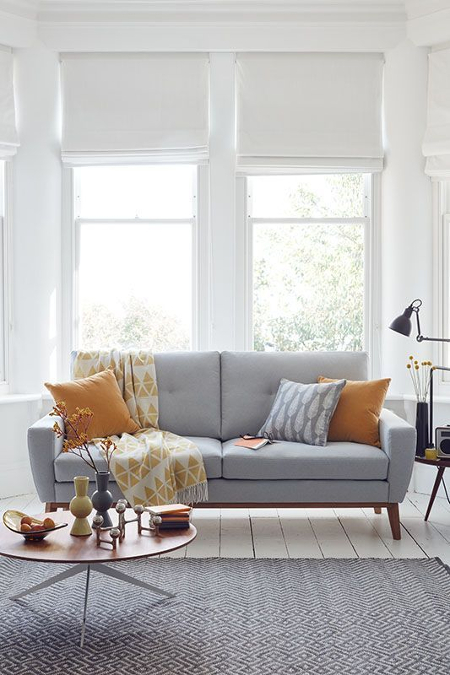 Image source: Sofa.com
The first, and perhaps most obvious, area for concern in sustainable design is the ways in which we might save energy. In the home, this usually starts with reducing our heat and light output.
Most of a building's heat escapes through the windows, especially if they're old or single glazed. If new windows aren't in your budget or if you have constraints such as your building being listed, hang thick insulating curtains or blinds to keep cold air out and warm air in. You can even buy curtains with a thermal lining, or add a lining of fleece to an existing pair. When having new windows installed, opt for double or triple glazed energy efficient windows. The initial cost may be high, but you will save on your heating bill year after year.
To reduce the amount of energy spent on lighting your home, choose LED bulbs. They are extremely energy efficient, very long-lasting (one bulb could last up to 20 years) and 100% recyclable.
Consider Design Longevity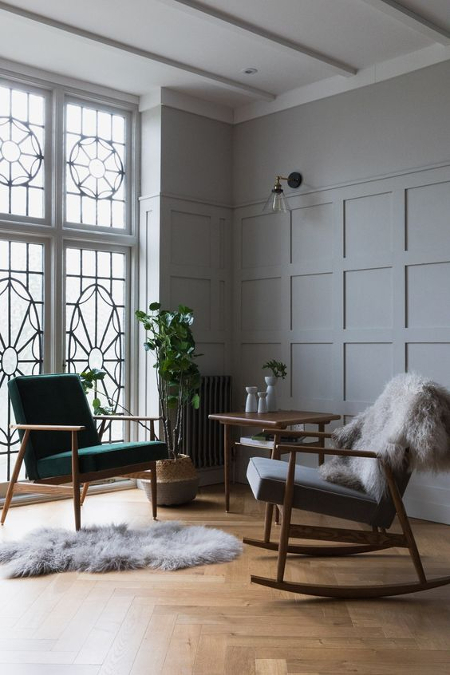 Image source: Rose & Grey
One of the other ways in which we can create sustainable homes is by reducing the amount of waste we produce. Not just in our everyday lives, which is definitely important, but in the way we design our homes. It's vital that we consider the longevity of items – how long flooring will last, how often we update furnishings or re-paint. A lot of waste is created when we decorate our homes, so reducing the need for frequent renovations will help.
You can do this by choosing durable, timeless materials and always opting for quality over quantity. You might avoid trendy items that could look outdated in a year's time or cheap furnishings that will quickly need to be replaced. Designing flexible, functional spaces that can grow and evolve with the family will reduce the need for eventual renovation, whilst allowing you to update as necessary.
Choose Natural (or Recycled) Materials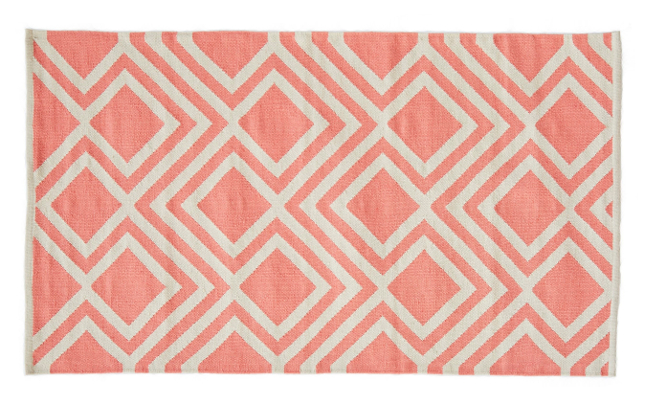 100% recycled plastic rug by Weaver Green
The damaging effects of plastic on the environment are well reported. And while the main culprit is single-use plastics, it's definitely helpful to reduce your use of all plastics.
Natural materials such as wood, marble, stone, clay, cotton, wool, jute are a much more sustainable option for your home. Why? Because they're renewable, often recyclable, and highly durable. Plus, they don't leach nasty toxins into the environment when they break down.
It's really important to note that some plastic is recyclable and there are several innovative designers working in this area. Weaver Green is one company leading the charge in recycled homewares. Their rugs are made entirely from recycled plastic bottles and as a result they are hardwearing, machine washable, and suitable for indoor and outdoor use.
Learn to Upcycle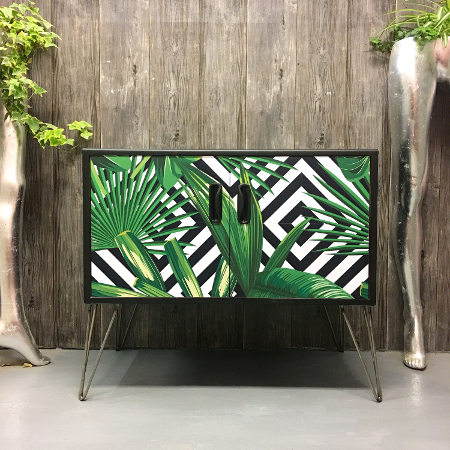 Upcycled Gplan cabinet by Muck & Brass
Upcycling is a major movement, inspired by a desire to reduce waste and create bespoke items for the home. It's a form of recycling where old, damaged or unfashionable items are given an entirely new look. Upcycling takes many forms, and there are thousands of ways to breathe new life into old items. From repainting furniture to recovering lampshades and everything in between.
The benefits of upcycling for the environment are obvious. Instead of being thrown away and replaced, items are renewed. It's a very cost-effective way to live more sustainably, and it allows you the opportunity to create looks that are entirely your own.