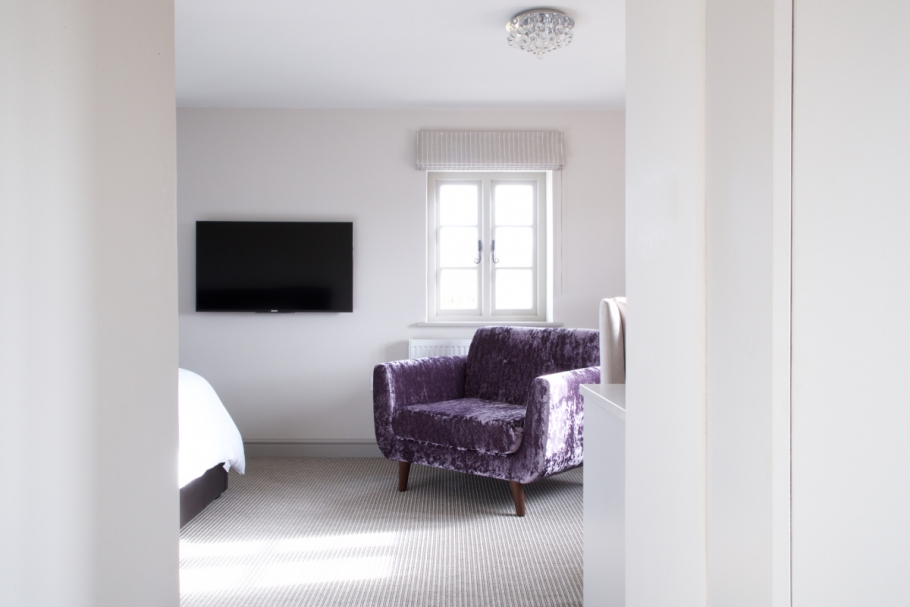 Image: Clair Strong Interior Design
Almost every home has the need for an array of electronic devices. But while helpful and necessary, electronic devices tend to bring with them lots of unwanted clutter. Here I suggest helpful way to clear and camouflage all those cables, cords and the more unsightly of your devices, allowing you to reclaim your restful space.
 Hiding cables and cords
If you do any kind of work from home you likely have a laptop or PC. These are the biggest culprits for cables that can become unruly, entangled and more than a little irritating! It's not always possible to completely hide all cables but there are a couple of simple solutions to tidying them up; use cable ties or tape to secure them along a table or desk leg, purchase clips to secure together multiple cables running in the same direction, or buy (or make) a cord organiser to fit to your desk.
Disguising TVs
We all love a bit of Netflix but the devices we watch it on rarely match the look we're trying to achieve in our carefully decorated living rooms. Large televisions can quickly become an unintentional focal point so here are some efficient ways to disguise yours:
Draw attention away from your TV when it's not in use by matching its size and shape with artwork and prints.
Embrace the recent trend of TV mirrors. When not in use they look like a beautiful statement mirror, hiding the fact you have a television at all! This isn't a cheap option but a possible alternative for those with a bigger budget.
For those seeking a very simple yet stylish solution, utilise a wall unit or TV cabinet that will enclose your television set when it's not being used.
Camouflaging with Accessories
Smaller devices like internet routers, speakers and DVD players can be easily disguised behind or amongst stacks of books, plant pots and prints. Think strategically about the placement of your router, perhaps placing it on a bookcase behind a framed print or photograph. DVD players can be tucked behind the TV, or unplugged and kept in a drawer when not in use. Tablets and e-readers can be stacked amongst magazines on the coffee table, disguised but within easy reach. And remote controls can be kept in a small basket, or in a sleeve attached to the sofa. As for ugly, unusable or just plain odd wall outlets, fuse boxes and thermostats, these can be cleverly hidden behind hinged wall art.